The Friday 56 is a weekly blog meme hosted by Freda's Voice. Join in every Friday, the rules are simple.
Rules:
*Grab a book, any book.
*Turn to page 56 or 56% in your eReader.
*Find any sentence (or a few, just don't spoil it) that grab you.
*Post it.
*Add your (url) post here in Linky. Add the post url, not your blog url. It's that simple.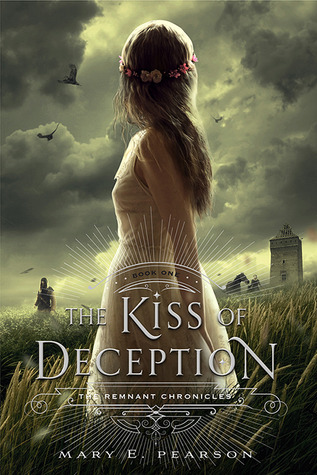 "After three days of keeping us in hiding, Berdi finally relaxed her tight grip, believing we were true to our word. No one had followed."
This week I'm spotlighting Mary E. Pearson's The Kiss of Deception about a girl who challenges the expectations of her station.
From my review:
"Princess Arabella Celestine Idris Jezelia of the House of Morrighan is to be given in marriage to the Prince of the Kingdom of Dalbreck. Duty and tradition demand the Princess relinquish control over her life, to help forge an alliance between the two kingdoms, but Princess Lia, as she prefers to be called, has other plans. The day of the wedding, she flees with her maid, Pauline, and the two of them make it to the small town of Terravin where they begin a new life. Lia thinks she has outrun and fooled everyone, but when two strangers arrive in town, her life gets even more complicated. Unbeknownst to the Princess, one of them has been sent to kill her and the other is the jilted Prince. When both begin to show a keen interest in her, Lia will discover that no matter how far she runs, she cannot outrun who she really is." You can read my full review here.