I had such a busy September and October that I'm kind of glad we have moved into November. Even though I love October and Halloween, I am ready for a little break. I will be going on hiatus around the middle of November and won't be back until the beginning of December, just to give you a heads up (I will be posting a hiatus announcement around the 15th). This month I picked up an interesting variety of books. I read two graphic novels, four novels, a novella, and an anthology. I wrapped up Latinx Heritage Month with a couple more posts this month and had a myriad of Halloween-themed posts go up for October Fright 2018. Kind of sad my blog is no longer Halloween-themed, but until next year, I suppose. I'm already thinking about Christmas despite my resolve to wait until after Halloween. Already bought Christmas gifts for my nephews (yes, they are books).
(Book covers below are linked to my reviews, unless otherwise specified.) 
Favorite Book This Month:
I read several really good novels in October, but no five star. Still, Courtney Summers's Sadie was a really great mystery read that had me wishing for a better outcome for several of the characters even when evidence indicated otherwise. Going to see if I can squeeze in my review of this one before I go on hiatus. Cover is linked to Goodreads.
Least Favorite Book This Month: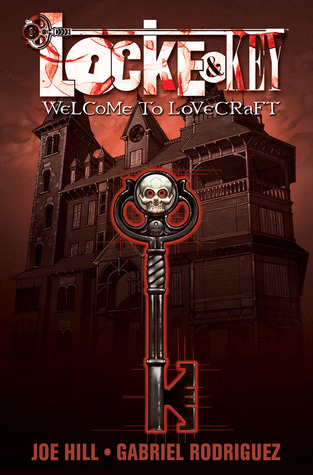 I wish I enjoyed Welcome to Lovecraft (Locke & Key, #1) by Joe Hill (illustrated by Gabriel Rodríguez) more, but we just didn't vibe. I really don't have any complaints about the story, but it just wasn't for me.
Reviews Posted This Month:
Read, Review Coming Soon:
(covers linked to Goodreads)
Notable Blog Posts This Month:
Latinx Heritage Month 2018, Part IV: Backlist TBR – In this post I list some books by Latinx authors that I still need to get to. Crossing my fingers I get to most of these in the next year.
Latinx Heritage Month 2018, Part V: Wish List – For my final post for Latinx Heritage Month, I discuss things I'd like to see more of in books about Latinx characters and by Latinx authors.
October Fright 2018: The Bone-Chilling Recap – Instead of listing every October Fright post, I made a wrap-up post where you can find all my posts.
Can't-Wait Wednesday: The Resolutions by Mia Garcia – Mia Garcia's upcoming sophomore novel is perfect for contemporary readers and those looking for books that focus on friend groups.
Can't Wait-Wednesday: Bloodwitch by Susan Dennard – I am beyond excited for this third book in the Witchlands series. I've been waiting almost two years for this one!
Top Ten Tuesday: Fictional Villains I Can't Help But Root For – This was a fun post to put together where I talk about some bookish villains that I absolutely love and sometimes root for.
Reading Challenges:
Aside from the Goodreads challenge, I'm only participating in one reading challenge this year.
1. The 2018 Debut Author Challenge is hosted by That Artsy Reader Girl. I read two debuts this month and wasn't even trying. I read The Wicked Deep by Shea Ernshaw and Not Even Bones by Rebecca Schaeffer. There might still be hope for this challenge!
Challenge Goal: 12 books; Current Count: 8 books
November Releases I'm Excited For:
How was your October? Do you pick up any great, creepy reads? Any hiatus plans now that the holidays are coming around? Let me know in the comments and feel free to leave me a link to your own wrap-up post and I'll be sure to visit.