After starting the month kind of sluggish, I feel like January ended up being a really good month in terms of reading and blogging. My Kernels of Nonsense feature feels like its been in hibernation for the last couple of years, but I've already done two posts for it with a couple more drafts in the works. I'm really looking forward to all the backlist books I have lined up and am hoping in general to get to more of the books I own. With my Goodreads challenge goal set at 50, I feel like I have more time to spend on the books I'm reading and maybe even some more time rereading. This month I read six books which included two rereads. I did another buddy read this month with Carolyn @ A Hundred Thousand Stories. We tackled Holly Black's The Wicked King which was really good and whose review is already up on the blog. I have three ARCs lined up for February and they are all by Latinx authors. I'm very excited to get started. I introduced a different format for reviews called the snapchat review this month, which might be replacing my mini-reviews. I've already done two and am kind of in love with the format.
(Book covers below are linked to my reviews, unless otherwise specified.) 
Favorite Book This Month: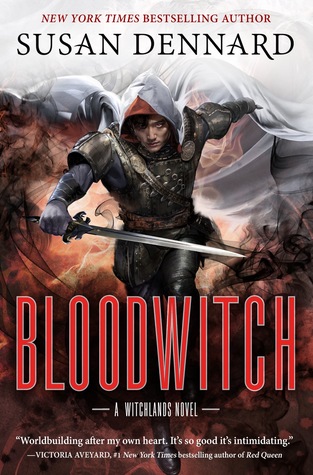 My favorite read in January was Susan Dennard's Bloodwitch. I've been waiting for this one for ages and it lived up to all my expectations. It's my first five-star read of 2019 and I'm so happy that I made time to reread the first two books before diving into this one. I forgot so much. My review for this one goes up this upcoming week, so be on the lookout. Cover is linked to Goodreads.
Least Favorite Book This Month:
No book this month received less than three stars.
Reviews Posted This Month:
Read, Review Coming Soon:
(covers linked to Goodreads)
Notable Blog Posts This Month:
2018 Fourth Quarter Book Haul: Is This Self-Control? – My final book haul of 2018 where I actually didn't spend that much money on books.
2019 Beat the Backlist Challenge TBR – I was a little late getting this out, but here is my list of priority TBR books I'm going to get to this year.
Kernels of Nonsense: I've Been a Bad, Bad Book Blogger – In which I showcase all the ways in which I fail at book blogging. Despite the title, this was actually a really fun post to put together.
Kernels of Nonsense: Favorite Four-Star Reads of 2018 – I'm on fire with two Kernels of Nonsense posts this month. Here I highlight my favorite four-star reads that even though they weren't five-stars, still deserve a lot of love.
Top Ten Tuesday: Best Books I Read in 2018 – Let's also go ahead and highlight those 2018 five-star reads though.
Top Ten Tuesday: Most Anticipated Releases for the First Half of 2019 by Latinx Authors – There are so many amazing books by Latinx authors coming out this year. Here is a peek at some of them.
Reading Challenges:
Aside from the Goodreads challenge, I'm only taking part in one reading challenge.
1. The Beat the Backlist Challenge 2019 is hosted by NovelKnight. I haven't picked up any books toward this goal yet.
Challenge Goal: 10 books; Current Count: 0 books
February Releases I'm Excited For:
Did you have a sluggish start to your 2019? Anything new on your blog you're featuring in 2019? Which January read was your favorite? Let me know in the comments and feel free to leave me a link to your own wrap-up post and I'll be sure to visit.