If you haven't visited my blog in the last few days, you may notice some changes and that's because I gave my blog a little makeover. I've been thinking about a change for a while and I finally took the plunge. It took me several hours to find just the right colors, theme, and make the graphics, but I think I'm satisfied…at least for now.
I would have finished my fifth book of the month, but I was busy working on the blog, so I only got to four. This month the Latinx Book Club read it's first pick, The Storm Runner by J.C. Cervantes, I did a buddy read with Carolyn @ A Hundred Thousand Stories of The Lies of Locke Lamora, ran a Twitter giveaway (ends at 4pm PST today, check it out here), and won a couple of exciting giveaways myself. I feel like April was a really busy month for me and I'm honestly kind of itching for another mini-break. We'll see how that goes. Also, it's my birthday next week and I splurged a bit on books. I'm so excited!
(Book covers below are linked to my reviews, unless otherwise specified.) 
Favorite Book This Month: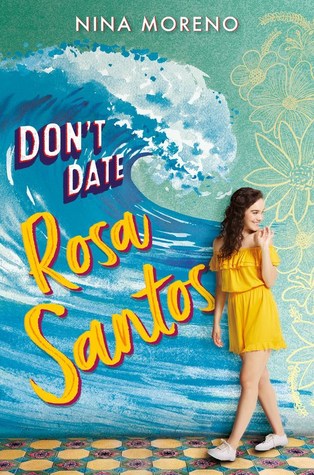 My favorite April read was Don't Date Rosa Santos by Nina Moreno. I loved this one so much, I think it's my favorite 2019 read so far. My review is coming up very soon. Warning: lots and lots of gushing!
Least Favorite Book This Month:
No book this month received less than three stars.
Reviews Posted This Month:
Read, Review Coming Soon:
(None)
Books I Didn't Review:
Okay, I am so guilty this month of skipping out on reviews. I was very tired this month and I just couldn't find the brain capacity to write even a snapshot review. So here is some very pithy reviews of the following:
J.C. Cervantes's The Storm Runner was overall enjoyable, but there were a few choices with regard to the main character's arc that I wished had been resolved sooner.  Rating: 3/5
Scott Lynch's The Lies of Locke Lamora was so enjoyable and a great heist book. I loved how intricate the schemes were, but also the fact that Lynch kept me on my toes. As good as Locke Lamora is, there were still people who were capable of outsmarting him. Rating: 4/5
Notable Blog Posts This Month:
Latinx Book Club: May's Book Club Pick – We've selected our next book club pick. Come join us on Twitter in May!
Can't-Wait Wednesday: Nocturna by Maya Motayne – I am ready to be swept away by this Latinx-inspired fantasy. It comes out on my birthday, so it's basically destiny.
Can't-Wait Wednesday: With the Fire on High by Elizabeth Acevedo – I might cry when I finally hold a copy of this one on my hands. Also comes out on my birthday which makes it feel extra special.
Top Ten Tuesday: Things Book Bloggers Love That Non-Readers Don't Understand – Loved putting this post together and loved that it was so relatable to other bloggers.
Kernels of Nonsense: 2019 Preorders So Far (Part II) – To no one's surprise, I preodered more books!
Reading Challenges:
Aside from the Goodreads challenge, I'm only taking part in one reading challenge.
1. The Beat the Backlist Challenge 2019 is hosted by NovelKnight. This month I picked up The Lies of Locke Lamora by Scott Lynch.
Challenge Goal: 10 books; Current Count: 4 books
May Releases I'm Excited For:
Did you have a busy April? Are you participating in any book clubs this year? Which May release are you most looking forward to? Let me know in the comments and feel free to leave me a link to your own wrap-up post and I'll be sure to visit.