I cannot believe that we are already in July. The pandemic really messed with time because these last few months have flown by. I regularly have to check my phone for the day of the week. And then double check because my brain feels like it is playing tricks on me. I am so excited to participate in the Mid-Year Book Freak Out Tag, created by booktubers Read Like Wildfire and Earl Grey Books. I know a lot of people have been reading more than usual, but I've been pretty consistent in my reading, but I will take that as a win. Let's take a look at my favorites so far…Covers below are linked to Goodreads.
If you are able, consider donating to groups supporting the Black trans community. You can split your donation between organizations here.
1. Best Book You've Read So Far in 2020?
I am not even going to pretend that any of you will be surprised by this pick. I have been singing Silvia Moreno-Garcia's praises for years and have been pushing Mexican Gothic for months. This book literally revived my love for horror. If you enjoy novels with creepy atmospheres, strong characters, and a storytelling that keeps you up at night, this is the one for you. You can read my review here.
2. Best Sequel You've Read So Far in 2020?
I have not read a ton of sequels this year but both R.F. Kuang's The Dragon Republic (read my review here) and S.A. Chakraborty's The Kingdom of Copper were stellar (read my review here). I am scared of both of the final books in these series.
3. New Release You Haven't Read Yet, But Want To?
I know A Song of Wraiths and Ruin by Rosanne A. Brown has only been out for a month and a half, but it is one of my most anticipated 2020 releases, so I kind of feel guilty about not getting to it yet.
4. Most Anticipated Release For Second Half of 2020?
I am so stoked for Miss Meteor by Anna-Marie McLemore and Tehlor Kay Mejia. I just got approved for an eARC of this one and cannot wait to read it, ah!!!! I am also one of the cohosts for a readathon of these authors' work if you would like to join. Head over to the Meteor Shower Readathon Twitter account here for more info.
5. Biggest Disappointment?
Wilder Girls by Rory Power let me down big time. I had heard that not a lot of people loved it, but I still went into it with high hopes because I know people don't often rate horror novels high. In the end, I wanted more from it. You can read my review here.
6. Biggest Surprise?
I don't read a whole lot of non-fiction books, but this year I have been picking up more than usual. I really enjoyed Marcelo Hernandez Castillo's memoir, Children of the Land. It was deeply moving and deserved more attention than a certain fictional book that still ended up on the NYT bestseller list despite all the concerns by Latinx authors and readers. Forever bitter. Read my review of Children of the Land here.
7. Favorite New Author?
Claire Kann, Claire Kann, Claire Kann!!!! I had the pleasure of reading two Claire Kann books this year. Let's Talk About Love (read my review here) is about a Black biromantic, ace teen finding her way in the world. I loved Alice to pieces and she's become one of my favorite protagonist's ever. If It Makes You Happy is about a queer, fat Black girl who finds herself queen of her small town's pageant. If you haven't read Claire Kann you are missing out on some of the best and most precious protagonists and swoons galore.
8. Newest Fictional Crush?
I know it's technically from after mid-year, but I am going to name Zafir from Take a Hint, Dani Brown by Talia Hibbert as my newest fictional crush. He is just so soft.
9. Newest Favorite Character?
Noemí Taboado from Mexican Gothic by Silvia Moreno-Garcia stole my heart the moment her date asked for a kiss good night and she responded with: "'I've got to run, but you can have a bit of my lipstick,' she replied, taking her cigarette and putting it in his mouth."
10. Book That Made You Cry?
I am trying to recall if any of the books I read this year had me in tears and it feels like it happened, but I don't have any distinct memories. I am going to say Jade City by Fonda Lee because it may not have made me cry, but it certainly had me shouting in pain.
11. Book That Made You Happy?
Trying not to repeat myself, but the book that made me the most happy was probably Claire Kann's Let's Talk About Love.
12. Favorite Book To Movie Adaptation You Saw This Year?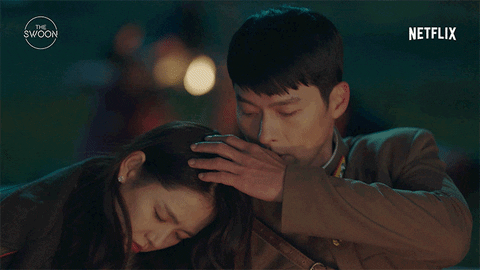 I don't think I watched too many adaptations this year. At the top of my head, I cannot recall any, so I am going to take the opportunity to shout out my favorite K-Drama I watched this year. Crash Landing on You was an absolute delight. No other K-Drama this year has lived up to its perfection, so at some point I will probably rewatch it.
13. Favorite Review You've Written This Year?
I'm quite proud of my review of Mexican Gothic, which you can once again read here.
14. Most Beautiful Book You Bought So Far This Year?
No, I won't name Mexican Gothic again, but let's just say it was in the running. Elizabeth Acevedo's Clap When You Land is one of the most beautiful books I've ever seen. The naked hardback is incredible.
15. What Books Do You Need To Read By The End of The Year?
This question! How about I name a couple of ARCs I need to get to that I haven't mentioned yet: Mark Oshiro's Each of Us a Desert and Aida Salazar's Land of the Cranes. Both of these are high on my TBR.
What's your favorite book of 2020? What book are you most looking forward to reading before the end of the year? Leave me a link in the comments to your own Mid-Year Book Freak Out Tag post, so I can visit.