Friends, where has 2022 gone? This summer heat is killing me. I already want it to be winter, but that would mean the end of the year and I am definitely not ready for that. I am barely ready for this mid-year book freak out tag. I read more books this first half of the year than I've read in a long time. I am currently on schedule to read more books than I've read in like ten years (also I've been on Goodreads for this long?!). That is if I don't end up in a terrible slump. I've been flirting with periods of slumpiness though. This first reading half of the year has been largely defined by comfort reads. I haven't picked up much fantasy, but I have been devouring romance and manga. Both of which bring me such joy and I suppose that is why I've had so much fun reading this year. I am hoping to pick up more fantasy in this latter part of the year as well as horror. I've been neglecting both genres and I just feel like I am missing out on so many books as a result. With all that behind said, let's take a look at reads from the first half of the year. Covers below are linked to Goodreads.
For those unfamiliar, this tag was created many years ago by booktubers Read Like Wildfire and Earl Grey Books.
1. Best Book You've Read So Far in 2022?
I am actually on schedule to have more five-star reads than like any other year. I've picked up so many amazing reads, it's almost overwhelming. But if I am going to choose one book for this question, I am going with Sonora Reyes's The Lesbiana's Guide to Catholic School. This book felt in many ways like a cathartic read. It was heartbreaking and emotional, but had some of the sweetest moments between characters. I really became attatched to Yami and her brother, Cesar, especially.
2. Best Sequel You've Read So Far in 2022?
I enjoyed Sonali Dev's Pride, Prejudice, and Other Flavors, but Recipe for Persuasion, the second book in this romance series felt like it was written especially for me. Although P&P remains my favorite Jane Austen novel, I don't think anything beats a great Persuasion retelling.
3. New Release You Haven't Read Yet, But Want To?
Uh…there are so many! I don't even like to think about all the books I've bought this year that I haven't gotten to. One book high on my TBR is Claribel A. Ortega's Witchlings. I adored Ghost Squad and have been really looking forward to this second middle grade novel by them. I just know it's going to be incredibly enchanting.
4. Most Anticipated Release For Second Half of 2022?
Surprisingly there aren't a ton of books I'm looking forward to the second half of the year. Hopefully means that I won't be spending an absurd amount of money on books (This is all a lie. This is future Alicia editing this and past Alicia didn't know what she was talking about. She has a ton of books on her TBR for the second half of 2022). One book I am really looking forward is Silvia Moreno-Garcia's The Daughter of Doctor Moreau. I know this is a surprise to no one. I actually have an eARC of this one and will be picking it up in the next week or two (about to start this one tonight).
5. Biggest Disappointment?
I had a few lackluster reads, but none that really stand out to me as big disappointments. They just ended up being pretty average and I can see other people enjoying them more than me, so…
6. Biggest Surprise?
I honestly feel like a little kid discovering reading for the first time when it comes to manga. There are just so many stories out there that I have yet to discover and I am having a blast doing so. That being said, Kamome Shirahama's Witch Hat Atelier has absolutely put a spell on me. I am utterly enthralled by it and can't wait to continue the series.
7. Favorite New Author?
I am going to highlight two romance novelists that I picked up for the first time this year. I absolutely loved Denise William's The Fastest Way to Fall and Alexis Daria's You Had Me at Hola. Both of these books were just so good and they will probably not be the only books I pick up from these authors this year.
8. Newest Fictional Crush?
Claire Kann has become one of my favorite authors. Her recent release, The Romantic Agenda, was such a delight. My crush on the leading man, Fox, can only be rivaled by my love for the leading lady, Joy.
9. Newest Favorite Character?
Tatsuya Endo's Spy x Family has been such a fun reading experience, so I am going to go with the entire Forger family for this question. Loid, Anya, and Yor all have their individual charms, but together they make such an elegant family.
10. Book That Made You Cry?
I probably cried while reading about half a dozen books this year, but one that stands out is Sonora Reyes's The Lesbiana's Guide to Catholic School. I mentioned that reading it felt cathartic and sometimes this includes tears.
11. Book That Made You Happy?
Can a book that made you feel pain also make you happy? The answer is an astounding yes. Where the Rhythm Takes You by Sarah Dass is such a gem of a novel and it made me realize how enjoyable Persuasion retellings can be.
12. Favorite Book To Movie Adaptation You Saw This Year?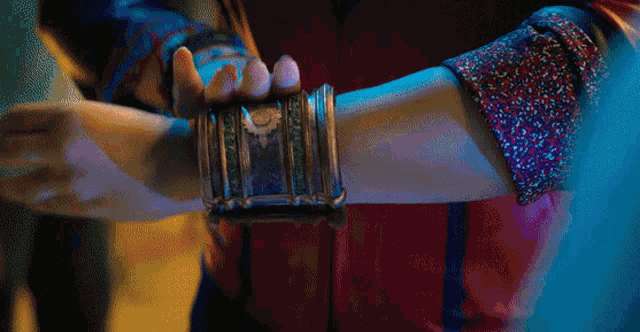 The Ms. Marvel adaptation is making me so happy. I am having a blast watching this one and it's kind of making me want to revisit the comics.
13. Favorite Review You've Written This Year?
Lol, I've been so bad at writing reviews this year. I don't know what it is, but hopefully I can do better in the latter part of the year. My review of Recipe for Persuasion didn't completely suck, so I guess I'll go with that one. You can read it here.
14. Most Beautiful Book You Bought So Far This Year?
Sue Lynn Tan's Daughter of the Moon Goddess has one of the most beautiful book covers I've ever seen. I haven't read it yet, but I have no doubt it's just as lovely as the cover.
15. What Books Do You Need To Read By The End of The Year?
I already mentioned one ARC I need to get to, but I also have Francesca Padilla's What's Coming to Me on my ARC list. This one comes out in August, so I better get to it soon. I am also hoping to shake off this fantasy slump so I can get to Rebecca Roanhorse's Fevered Star. Though it does scare me a little bit.
What's your favorite book of 2022 so far? What book are you most looking forward to reading before the end of the year? Leave me a link in the comments to your own Mid-Year Book Freak Out Tag post, so I can visit.