I felt like such a productive blogger in September. I didn't read a whole lot of books, but I posted more than usual throughout the month which made me really happy considering my lackluster August. I finished six books in September and spent a lot of time preparing for October. October might be my easiest blogging month because of all the preparation I did in September. I'm so glad that we've finally entered fall. I'm not a fan of the dry weather we've been experiencing as of late, but have hopes that we officially cool down soon. I have an official announcement for my October Fright posts later today, so look for that. My blog is about to undergo a Halloween themed makeover, so don't be surprised if you visit today and things look a little different.
(Book covers below are linked to my reviews, unless otherwise specified.) 
Favorite Book This Month: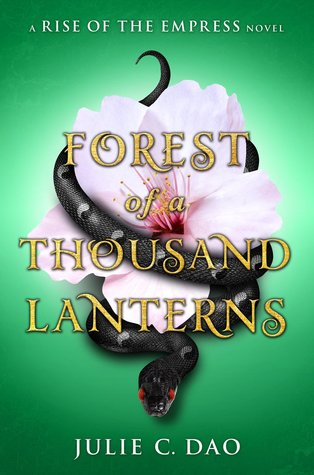 Have you preordered Julie C. Dao's Forest of a Thousand Lanterns yet? It's a must for anyone who likes a villain origin story. Cover linked to Goodreads. Review coming soon!
Least Favorite Book This Month:
No books this month received less than three stars from me.
Reviews Posted This Month:
Read But Not Reviewed Yet:
(covers linked to Goodreads)
Notable Blog Posts This Month:
Top Ten Tuesday: Favorite '17 Reads With PoC MCs – I've read a lot of amazing diverse reads this year and here share ten of my favorite 2017 books with PoC Mcs.
Summer 2017: Comment Challenge: Wrap Up + Newsletter Sign Up – Our summer challenge has come to an end and though we won't be bringing this challenge back until next summer, we have created a newsletter for those who want to be emailed when we do bring it back. Click the link and sign up now.
Latinx Heritage Month, Part I: Favorite Books – September 15th marks the start of Hispanic Heritage Month and in celebration I made a couple of post to highlight Latinx authors. For this post I shared my favorite books by Latinx authors that I read over the last year.
Latinx Heritage Month, Part II: TBR Books – Because there are so many amazing books by Latinx authors out there, I shared some of the few book on my TBR that I'm dying to get to.
2017 Third Quarter Book Haul: A Moderate Haul – I wasn't out of control when it came to my book buying over the last two month, but I also didn't exhibit as much self-control as maybe should have.
FLYTIP: for the Love of Cartography – Had a blast putting this post together. If you think you can recognize a popular YA book based on their maps, take a peek at this post.
Reading Challenges:
Back to including my reading challenges progress with my monthly wrap-up.
1. The 2017 Debut Author Challenge is hosted by That Artsy Reader Girl. This month I picked up three debut books. Why are there so many tempting debuts this year? In September I read Julie C. Dao's Forest of a Thousand Lanterns, Janelle Milanes's The Victoria in My Head, and Nic Stone's Dear Martin.
Challenge Goal: 12 books; Current Count: 16 books
2. Flights of Fantasy Reading Challenge 2017 is hosted by Alexa Loves Books and Hello, Cherry. This month I read Julie C. Dao's Forest of a Thousand Lanterns and Emily Lloyd-Jones's The Hearts We Sold. I'm so close to completing this challenge, can I do it?
Challenge Goal: 20 books; Current Count: 15 books
September Releases I'm Excited For:
Did you enjoy the final days of summer? What book are you most looking forward to reading this fall? Let me know in the comments and feel free to leave me a link to your own wrap-up post and I'll be sure to visit.