This is only my second Bookish Indecisions post where I ask you to help me decide if I should read a book or not. Michelle Hodkin's The Unbecoming of Mara Dyer was first published in 2011 and for whatever reason, I always avoided picking it up. Now, four years later and the entire series is now complete, and I'm on the fence about whether I should read the first book.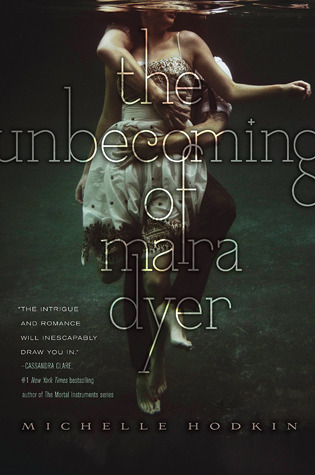 There are several different opinions on this book. Despite the fact that it has a 4.12 rating on Goodreads, I have come across several bloggers who were not very impressed by this book. I've recently been running out of books to put on hold for the library while I wait for certain books to become available and this is one I've been thinking about and have considered buying since it's pretty cheap at the moment.
From Goodreads:
Mara Dyer believes life can't get any stranger than waking up in a hospital with no memory of how she got there.
It can.

She believes there must be more to the accident she can't remember that killed her friends and left her strangely unharmed.
There is.

She doesn't believe that after everything she's been through, she can fall in love.
She's wrong.
I think my main concern about this book is the love story. I haven't heard any specifics, but for some reason I associate instalove with this book. I have no idea if this is accurate, so I'd love to hear from you. Is this a book I should pick up? Is my fear of instalove unfounded? Is there good character development? How's the writing? Tell me the good and the bad, but try not to spoil. Please feel free to add a link in the comments to your review if you have written one. Please, help me decide!