October just wasn't a great month for me which was such a bummer since it's one of my favorite months because of Halloween. Crossing my fingers that November is better. I'm kind of just ready to move on from this month and am just really sad I wasn't able to enjoy the Halloween season as much as I wanted to. I read seven books this month. Less than I have been used to this year, but considering all the ups and downs I had, this feels like a huge accomplishment. Technically I have already reached my Goodreads goal of 50 books this year, but I'm lowkey aiming for 100 books. I am currently at 84, so I think I have a pretty good chance. I am planning to take two or three weeks away from the blog in November. I love my blog, but the holiday season can be truly exhausting and if I can give myself a little break, I will.
Favorite Book in October:
I absolutely loved Isabel Cañas's The Hacienda. It was the perfect book for October. If you are looking for a good atmospheric gothic horror novel, this debut has to be on your must read list. Cover linked to Goodreads.
Least Favorite Book This Month:
No book received less than three stars from me.
Other Books I read in October:
(Covers linked to Goodreads.)
✿ A Proposal They Can't Refuse by Natalie Caña
✿ The Last House on Needless Street by Catriona Ward
✿ Tiny Nightmares: Very Short Stories of Horror edited by Lincoln Michel and Nadxieli Nieto
✿ Tomie by Junji Ito
✿ The Between by Tananarive Due
✿ Bad Witch Burning by Jessica Lewis
Reviews Posted:
(Covers linked to reviews)
Notable Blog Posts:
Talk Chisme to Me: SFF Middle Grade Books by Latinx Authors – Loved making this list of SFF middle grade books by Latine authors for Latinx Heritage Month. I highly recommend checking them all out!
Talk Chisme to Me: Latinx Romance Authors on My Radar – I want to try to pick up more romance books by Latine authors, so I made this list of writers on my radar.
Talk Chisme to Me: 2023 Releases by Latine Authors I'm Excited For – For my final Talk Chisme to Me post for Latine Heritage Month I highlighted my most anticipated reads for the new year. There are so many amazing sounding books by Latine authors coming our way.
Top Ten Tuesday: Latinx-Owned Bookstores – Consider supporting these Latine-owned independent bookstores!
Top Ten Tuesday: Last Ten Horror Books Added to My TBR – Sharing the last ten horror books I added to my TBR for Halloween freebie week!
The Horror Movie Book Tag – I didn't have time to do my usual October Fright posts this year, but I had fun doing a couple of tags including this one where I recommend both books and horror movies.
Halloween Book Covers Tag – Another Halloween-themed book tag I enjoyed putting together!
What I Watched/Am Watching:
Hellraiser (2022) – I watched the second original Hellraiser and actually enjoyed it more than the first. I wanted to get to the third movie before the new one came out since that was the one that terrified me as a kid, but wasn't able to. I ended up watching the new one and thought it was just okay. I feel like it lacked urgency and wanted more from the sister-brother relationship supposedly at its center.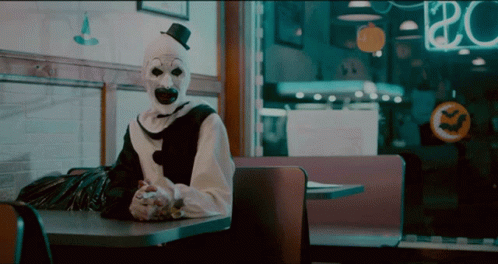 Terrifier – I was curious and I wish I hadn't been. This is definitely not my kind of horror movie. It was gory for gory's sake without much substance. I'm kind of disappointed I didn't watch more horror this month because what I did watch was kind of a letdown.
November Releases I'm Excited For:
(Covers linked to Goodreads.)
How was your October? Did you read any scary books or watch any scary movies? Which November release are you most looking forward to? Let me know in the comments and be sure to leave a link to your own wrap-up post, so I can visit!