Top Ten Tuesday is an original blog meme created by The Broke and the Bookish and is currently being hosted by That Artsy Reader Girl. This week's topic is "Bookish Characters." If you can believe it, I am actually the literal worst at remembering which characters are bookish. I don't know why, but it's not something that I pay particular attention to. Which makes zero sense since I am a bookworm and surely, I would notice if I had this in common with one of them and yet…Soooo, instead I am going to share ten nonsensical reasons why I love being a bookworm. These things can only truly be understood by a fellow reader. I am confident all of you can relate.
1. That euphoric feeling you get when entering a bookstore
2. Being able to recommend a book (or ten) to anyone on the fly
3. Telling people how many books you've read in any given time just to see the awe on their faces
4. Nerding out over a book with a complete stranger
5. Pretty book editions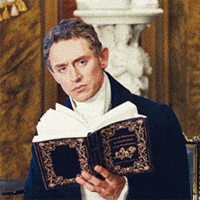 6. The joy when your library holds come in
7. Book sales
8. Book mail
9. Knowing there are always new books, new mediums, and new genres to discover
10. The online book community
What are some reasons you love being a bookworm? Let me know in the comments and be sure to leave me a link to your own TTT post, so I can visit!