It's May, friends, which means it is finally my birthday month (May 7th)! Going to be shameless and drop my wish list here. Birthday celebrations ought to last a month or at least a couple of weeks. Last month I talked about how I had slid into a reading slump and although I picked up a lot more books than I thought I would, I hesitate to say I am fully over it. In April I read nine books. It was mostly a mixture of romance and manga because those were the books that gave me the most comfort. This month I want to concentrate on reading many of the fantasy books on my shelf. I have far too many that I have let collect dust over the last few months and am really itching to dive back into the genre. Here's hoping that reading slump doesn't rear it's ugly head again this month. I don't have anything special upcoming on the blog and I think I might just take it slow this month. Hopefully this will give me more time to think of new posts to put together come June.
Favorite Book This Month:
Sharing two favorite reads for April. Sonali Dev's Recipe for Persuasion made me bawl like a baby, but I really loved it. I have a feeling it will end up being my favorite after I finish the whole series. My favorite manga this month was Witch Hat Atelier, Vol. 1 by Kamome Shirahama. This book was such a treat. I instantly fell in love with Coco and this world. Covers linked to Goodreads.
Least Favorite Book This Month:
No book received lower than three stars from me.
Other Books I Read This Month:
(Covers linked to Goodreads.)
✿ XOXO by Axie Oh
✿ Sweethand by N.G. Peltier
✿ Cherish Farrah by Bethany C. Morrow
✿ The Fastest Way to Fall by Denise Williams
✿ Spy x Family, Vol. 1 by Tatsuya Endo
✿ The Astonishing Color of After by Emily X.R. Pan
✿ The Tea Dragon Society by Katie O'Neill
Reviews Posted:
(Covers linked to reviews)
Notable Blog Posts:
Top Ten Tuesday: Upcoming Adult Fantasy Books on my TBR – This post has me so excited for so many future fantasy releases!
Book Lists: Twenty-Two 2022 Middle Grade Books To Be Excited For – 2022 is full of amazing middle grade releases. Have a look at twenty-two (technically twenty-six) MG books that should be on your radar.
Rereading Corner: This Is How You Lose the Time War by Amal El-Mohtar and Max Gladstone – Started a new feature on the blog where I talk about rereads!
What I Watched/Am Watching: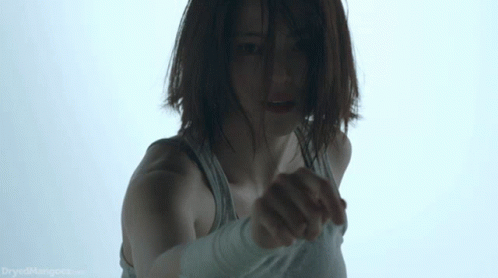 My Name – This was a pretty intense show about the lengths one young woman will go to to get revenge for her father's murder. I really enjoyed the action scenes in this one, but did feel like the romance was rushed. But it was only eight episodes long and I can't really be mad at it for developing the other relationships it did. TW: attempted rape and sexual harassment.
Business Proposal – Finished Business Proposal (and loved it!) as well as Touch Your Heart (I struggled with this one in the middle as it felt like it moved at a snail's pace, but luckily it picked up the last few episodes).
May Releases I'm Excited For:
(Covers linked to Goodreads.)
What May release are you most looking forward to? Let's talk in the comments and be sure to leave a link to your own wrap-up post, so I can visit!