Raise your hand if you've been blogging less even though you have more time on your hands *raises both hands* You would think that I would just throw myself into blogging as a way to keep busy, but I've found it incredibly difficult to concentrate on blogging. I even incorporated a "What I'm Watching" section to this wrap-up because that is where a lot of my energy is going, haha. Luckily I've had a few drafts at the ready. I haven't participated in a meme for the last two weeks but will probably start working on those again in the next week or two. This month I read and listened to (thanks, Scribd) eight books. I was able to read three ARCs which I am really happy about, but it turns out April is going to be full of ARCs as well. With the exception of the Latinx Book Club pick, I don't have any other definitive reading plans for April. The library is currently closed, so I will have to reach for my own shelves. Never a bad thing.
(Book covers below are linked to my reviews, unless otherwise specified.) 
Favorite Book This Month:
I had a really good reading month in terms of ratings, but only one five-star read. My favorite March read was Carmen Maria Machado's In the Dream House. I listened to the audiobook which she narrates and was incredible moved by this memoir. Her writing is so powerful and her narration gave me chills. If you decide to pick this one up, I highly recommend the audiobook. Cover linked to Goodreads.
Least Favorite Book This Month:
No read received less than three stars.
Reviews Posted This Month:
Books I Read, Review Coming Soon:
(Covers linked to Goodreads)
Books I Read, Not Reviewed:
(Covers Linked to Goodreads)
A Dash of Trouble by Anna Meriano – This was a reread for the Latinx Book Club (Twitter/Goodreads). It was just as charming the second time around. If you love sweet MG novels this is the perfect series to pick up. Rating: 4/5
A Blade So Black by L.L. McKinney – I've heard a lot of mixed things about this one, so went into it not expecting to hate it but not expecting to love it either. I really enjoyed Alice and the setting for this one. It was really fun, but I think it faltered a bit in the relationship department. Rating 3/5
Long Way Down by Jason Reynolds – I feel like I've been meaning to pick this one up for years and I finally got around to listening to the audiobook. I love how much story Reynolds was able to fit in to such a small book. I loved that he plays with time and how reality is bent in this small stretch of time while the main character takes an elevator ride. Also really enjoyed Reynolds narration of this one. Rating: 4/5
Notable Blog Posts This Month + Looking Ahead:
Talk Chisme to Me: Last Ten Books By Latinx Authors I Added to My TBR – Curious about what books I've recently discovered and added to the TBR? Head on over to this post.
Talk Chisme to Me: Spotlighting March 2020 Releases – Here are some March releases you need to know about by Latinx authors.
Top Ten Tuesday: Spring '20 Releases I'm Excited For – There are some great spring releases coming our way. Check out my top ten most anticipated!
2020 First Quarter Book Haul: Well at Least I Have Some Books – Take a look at the books I've acquired so far this year.
Latinx Book Club's April Pick – The Latinx Book Club will be reading The Victoria in My Head by Janelle Milanes as we wanted to pick up something light. We'd love for you to join us! Find us: Twitter/Goodreads.
What I'm Watching: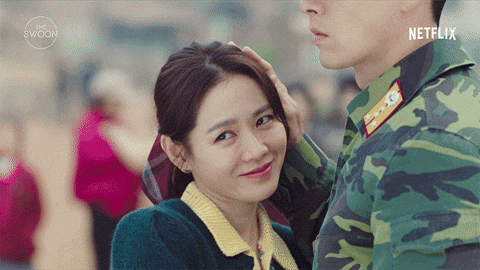 Crash Landing on You – This K-drama on Netflix is exactly what I needed. It's about a South Korean woman who accidentally finds herself in North Korea and the soldier who ends up hiding her. I love it so much and by the time this is posted, I will have finished it. I laughed, I cried, I swooned. It was perfect. Just looking at this gif puts a huge smile on my face. Please, if you have any recommendations of something similar, give them to me in the comments. I have a mighty need.
Spider-Man: Into the Spider-Verse – I rewatched this one for the sixth…seventh time? Gah, I love this movie so much and demand a live action Miles Morales movie now!!!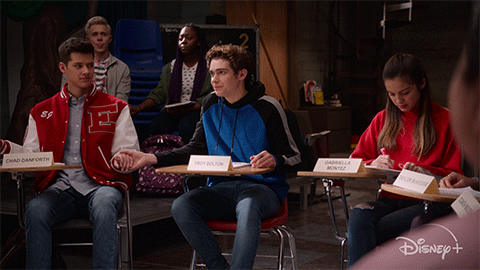 High School Musical: The Musical: The Series – I started this one and am really enjoying it so far. I have very fond memories of the original movie and this homage is a lot of fun and filled with so much distracting drama.
On My Block: Season 3 – I love this show so much but the ending for season three was just cruel. If we don't get a season 4, I am going to riot! Also, what happened to all the Jamal and Abuelita scenes? Did you forget to shoot them? Where are they?!
April Releases I'm Excited For:
What 2020 ARCs have you been reading? Have you been blogging more or less this month? What have you been watching? Let me hear from you in the comments and feel free to leave me a link to your own wrap-up post and I'll be sure to visit!