I came across this meme on Camillea @ Camillea Reads's blog a few months ago and loved the idea so much, but never got around to participating. Off Tangent Thoughts Meme is hosted by Charvi @ Not Just Fiction and takes place every first and third Saturday of the month (but you can post anytime between prompts, which I am doing now). There is a very loose structure to this meme which I really love and which will probably be a challenge for me to embrace, but I'm going to do my best to do so. November 2nd's topic:
Thoughts You Have When You Get Spoilers

(Do you accidentally or deliberately spoil yourself or do others keep spoiling books for you? Do you love or hate spoilers? You can even base off your post on that time you got spoiled for a particular book, series, movie or television show)
Spoilers are the worst and one of the reasons I avoid social media whenever a really big book comes out because people love sharing all their spoilery thoughts.
There are times when I just get super cynical and go on social media because I might as well get it over with. Being spoiled is inevitable.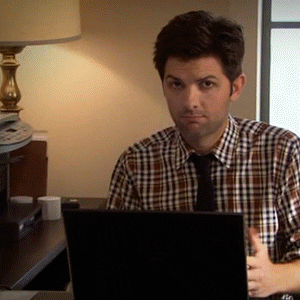 When I do come across a spoiler, I become the embodiment of this gif because I don't understand why you would deliberately spoil things for other people.
Please, please, please, at least give people a week before you start spoiling movies/books.
I know you are excited, but I am excited too, but I also want to be surprised like you were.
Why can't you scream about that book in your DMs instead? That way you get to flail about your favorite and I don't have to be spoiled.
Yes, muting you would be nice, but Twitter doesn't care sometimes and when people start liking your spoilery tweets or quote tweeting them, I can no longer avoid them.
Yes, I do side-eye you through my computer/phone/tablet if you post spoilers. Maybe I don't visit your blog for a while in protest. I can be very passive aggressive.
This post wouldn't be complete without me admitting that sometimes, very rarely, but sometimes, I will flip ahead in a book just to see where it is going and spoil myself.
What are your thoughts on spoilers? Do you go out of your way to avoid them? Do you mind spoilers? Does it affect your enthusiasm when it comes to consuming a book or movie? Let's discuss in the comments!