It's my favorite time of the year, it's Latinx Heritage Month! This is one of my favorite series to put together each year as it gives me a chance to flail about all the wonderful books I've picked up by Latinx authors and future ones that I'm excited to see published. Check out my previous post in this series:
Talk Chisme to Me, Part I: The TBR
For this second post, I am sharing with you my top ten favorite books I read since last Latinx Heritage Month. Feel free to flail in the comments with me and if you haven't picked up these titles, I hope this post gets you excited about them. Also be sure to check out my Twitter giveaway here. Covers are linked to Goodreads.
Favorite Books By Latinx Authors:
1. Blanca y Roja by Anna-Marie McLemore
Anna-Marie McLemore hasn't let me down yet. Complex sister relationship, colorism, generational curses, two very different romances, four multi-layered POVs. McLemore once again dazzles. Bury me in a coffin with pages from their novels. I will die happy.
      "The biggest lie of all is the story you think you already know.
      The del Cisne girls have never just been sisters; they're also rivals, Blanca as obedient and graceful as Roja is vicious and manipulative. They know that, because of a generations-old spell, their family is bound to a bevy of swans deep in the woods. They know that, one day, the swans will pull them into a dangerous game that will leave one of them a girl, and trap the other in the body of a swan.
      But when two local boys become drawn into the game, the swans' spell intertwines with the strange and unpredictable magic lacing the woods, and all four of their fates depend on facing truths that could either save or destroy them. Blanca & Roja is the captivating story of sisters, friendship, love, hatred, and the price we pay to protect our hearts."
2. Don't Date Rosa Santos by Nina Moreno

Nina Moreno cast a spell on me with her debut about a Cuban-American teen trying to outrun the family curse. It's a love letter to the Latinx diaspora with one of the most complex and charming settings I've read in a contemporary. Don't Date Rosa Santos is one of those rare novels that feels perfect from start to finish.
      "Rosa Santos is cursed by the sea-at least, that's what they say. Dating her is bad news, especially if you're a boy with a boat.
      But Rosa feels more caught than cursed. Caught between cultures and choices. Between her abuela, a beloved healer and pillar of their community, and her mother, an artist who crashes in and out of her life like a hurricane. Between Port Coral, the quirky South Florida town they call home, and Cuba, the island her abuela refuses to talk about.
      As her college decision looms, Rosa collides – literally – with Alex Aquino, the mysterious boy with tattoos of the ocean whose family owns the marina. With her heart, her family, and her future on the line, can Rosa break a curse and find her place beyond the horizon?"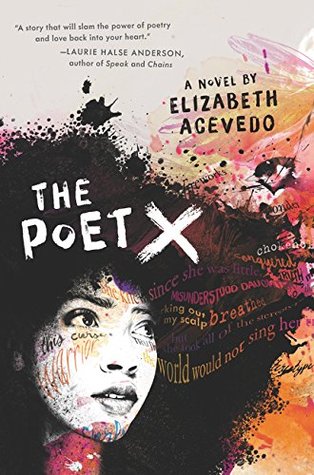 3. The Poet X by Elizabeth Acevedo
Technically this was a reread, but I had the pleasure of reading it again for Latinx Book Club. This time I listened to the audiobook which Elizabeth Acevedo narrated herself. Fell even more in love with this novel in verse. My heart soared with every accomplishment Xiomara made and broke every time the world told her she was not enough or too much.
      "A young girl in Harlem discovers slam poetry as a way to understand her mother's religion and her own relationship to the world. Debut novel of renowned slam poet Elizabeth Acevedo.
      Xiomara Batista feels unheard and unable to hide in her Harlem neighborhood. Ever since her body grew into curves, she has learned to let her fists and her fierceness do the talking.
      But Xiomara has plenty she wants to say, and she pours all her frustration and passion onto the pages of a leather notebook, reciting the words to herself like prayers—especially after she catches feelings for a boy in her bio class named Aman, who her family can never know about. With Mami's determination to force her daughter to obey the laws of the church, Xiomara understands that her thoughts are best kept to herself.
      So when she is invited to join her school's slam poetry club, she doesn't know how she could ever attend without her mami finding out, much less speak her words out loud. But still, she can't stop thinking about performing her poems.
      Because in the face of a world that may not want to hear her, Xiomara refuses to be silent."
4. The Moon Within by Aida Salazar

This might very well be my favorite MG novel ever. Salazar's charming coming-of-age novel in verse tackles menstruation, gender identity, bigotry, and cultural heritage. It's the book I wish I could gift to my tween self.
      "Celi Rivera's life swirls with questions. About her changing body. Her first attraction to a boy. And her best friend's exploration of what it means to be genderfluid.
      But most of all, her mother's insistence she have a moon ceremony when her first period arrives. It's an ancestral Mexica ritual that Mima and her community have reclaimed, but Celi promises she will NOT be participating. Can she find the power within herself to take a stand for who she wants to be?
      A dazzling story told with the sensitivity, humor, and brilliant verse of debut talent Aida Salazar."
5. Gods of Jade and Shadow by Silvia Moreno-Garcia
Silvia Moreno-Garcia! Silvia Moreno-Garcia! I cannot hype up this author enough. Her latest novel combines fairytale storytelling with Mayan mythology in this mesmerizing story of a young woman caught up in a battle between two brother gods. Please read and hype this author along with me.
      "The Mayan god of death sends a young woman on a harrowing, life-changing journey in this dark, one-of-a-kind fairy tale inspired by Mexican folklore.
      The Jazz Age is in full swing, but Casiopea Tun is too busy cleaning the floors of her wealthy grandfather's house to listen to any fast tunes. Nevertheless, she dreams of a life far from her dusty small town in southern Mexico. A life she can call her own.
      Yet this new life seems as distant as the stars, until the day she finds a curious wooden box in her grandfather's room. She opens it—and accidentally frees the spirit of the Mayan god of death, who requests her help in recovering his throne from his treacherous brother. Failure will mean Casiopea's demise, but success could make her dreams come true.
In the company of the strangely alluring god and armed with her wits, Casiopea begins an adventure that will take her on a cross-country odyssey from the jungles of Yucatán to the bright lights of Mexico City—and deep into the darkness of the Mayan underworld."
6. We Set the Dark on Fire by Tehlor Kay Mejia

I love books with really interesting mythology and Mejia builds this world where religious origins directly influence politics while simultaneously making commentary on border walls and classism. Also has a great f/f romamce at its center. Can't wait to read the sequel.
      "At the Medio School for Girls, distinguished young women are trained for one of two roles in their polarized society. Depending on her specialization, a graduate will one day run a husband's household or raise his children. Both paths promise a life of comfort and luxury, far from the frequent political uprisings of the lower class.
      Daniela Vargas is the school's top student, but her pedigree is a lie. She must keep the truth hidden or be sent back to the fringes of society.
      And school couldn't prepare her for the difficult choices she must make after graduation, especially when she is asked to spy for a resistance group desperately fighting to bring equality to Medio.
      Will Dani cling to the privilege her parents fought to win for her, or will she give up everything she's strived for in pursuit of a free Medio—and a chance at a forbidden love?"
7. Pride by Ibi Zoboi
I love Jane Austen, but haven't read as many retellings as I'd like and have had very little opportunity to read ones that star PoC. Zoboi's P&P retelling is about an Afro-Latina with a focus on community and family.
      "Zuri Benitez has pride. Brooklyn pride, family pride, and pride in her Afro-Latino roots. But pride might not be enough to save her rapidly gentrifying neighborhood from becoming unrecognizable.
      When the wealthy Darcy family moves in across the street, Zuri wants nothing to do with their two teenage sons, even as her older sister, Janae, starts to fall for the charming Ainsley. She especially can't stand the judgmental and arrogant Darius. Yet as Zuri and Darius are forced to find common ground, their initial dislike shifts into an unexpected understanding.
      But with four wild sisters pulling her in different directions, cute boy Warren vying for her attention, and college applications hovering on the horizon, Zuri fights to find her place in Bushwick's changing landscape, or lose it all.
      In a timely update of Jane Austen's Pride and Prejudice, critically acclaimed author Ibi Zoboi skillfully balances cultural identity, class, and gentrification against the heady magic of first love in her vibrant reimagining of this beloved classic."
I need publishing to invest in more Latinx high fantasy. I adored this one so much and loved that it also addressed colonization. I fell in love with both Alfie and Finn and spent the final pages of this book wishing it would last longer.
      "Set in a Latinx-inspired world, a face-changing thief and a risk-taking prince must team up to defeat a powerful evil they accidentally unleashed.
      To Finn Voy, magic is two things: a knife to hold under the chin of anyone who crosses her…and a disguise she shrugs on as easily as others pull on cloaks.
      As a talented faceshifter, it's been years since Finn has seen her own face, and that's exactly how she likes it. But when Finn gets caught by a powerful mobster, she's forced into an impossible mission: steal a legendary treasure from Castallan's royal palace or be stripped of her magic forever.
      After the murder of his older brother, Prince Alfehr is first in line for the Castallan throne. But Alfie can't help but feel that he will never live up to his brother's legacy. Riddled with grief, Alfie is obsessed with finding a way to bring his brother back, even if it means dabbling in forbidden magic.
      But when Finn and Alfie's fates collide, they accidentally unlock a terrible, ancient power—which, if not contained, will devour the world. And with Castallan's fate in their hands, Alfie and Finn must race to vanquish what they have unleashed, even if it means facing the deepest darkness in their pasts. "
9. Her Body and Other Parties by Carmen Marie Machado
I haven't read too many short story collections, but this one is my favorite. Machado's stories are a great blend of odd and creepy. Definitely one I can see myself revisiting multiple times.
      "In Her Body and Other Parties, Carmen Maria Machado blithely demolishes the arbitrary borders between psychological realism and science fiction, comedy and horror, fantasy and fabulism. While her work has earned her comparisons to Karen Russell and Kelly Link, she has a voice that is all her own. In this electric and provocative debut, Machado bends genre to shape startling narratives that map the realities of women's lives and the violence visited upon their bodies.
      A wife refuses her husband's entreaties to remove the green ribbon from around her neck. A woman recounts her sexual encounters as a plague slowly consumes humanity. A salesclerk in a mall makes a horrifying discovery within the seams of the store's prom dresses. One woman's surgery-induced weight loss results in an unwanted houseguest. And in the bravura novella Especially Heinous, Machado reimagines every episode of Law & Order: Special Victims Unit, a show we naively assumed had shown it all, generating a phantasmagoric police procedural full of doppelgangers, ghosts, and girls with bells for eyes.
      Earthy and otherworldly, antic and sexy, queer and caustic, comic and deadly serious, Her Body and Other Parties swings from horrific violence to the most exquisite sentiment. In their explosive originality, these stories enlarge the possibilities of contemporary fiction."
10. Signal to Noise by Silvia Moreno-Garcia

Silvia Moreno-Garcia has earned two spots on my list this year. Her novels never disappoint me and I finally had the pleasure of picking up her debut. Her use of dual timelines were perfection and I loved how she utilizes music as a tool for magic. Read it!
      "A literary fantasy about love, music and sorcery, set against the background of Mexico City.
      Mexico City, 1988: Long before iTunes or MP3s, you said 'I love you' with a mixtape. Meche, awkward and fifteen, has two equally unhip friends — Sebastian and Daniela — and a whole lot of vinyl records to keep her company. When she discovers how to cast spells using music, the future looks brighter for the trio. With help from this newfound magic, the three friends will piece together their broken families, change their status as non-entities, and maybe even find love…
      Mexico City, 2009: Two decades after abandoning the metropolis, Meche returns for her estranged father's funeral. It's hard enough to cope with her family, but then she runs into Sebastian, and it revives memories from her childhood she thought she buried a long time ago. What really happened back then? What precipitated the bitter falling out with her father? And, is there any magic left?"
Have you read any of these? Which book are you most intrigued by? Any you are planning to pick up? Let's discuss in the comments.