Can't-Wait Wednesday is a weekly meme hosted by Tressa @ Wishful Endings where bloggers share which upcoming releases they're most looking forward to. Join us every Wednesday and watch your TBR list multiply.
Tiffany D. Jackson's Let Me Hear a Rhyme sounds so different from her previous two novels (both of which pulled the rug right from under me), but I'm really curious to see what she does with this story. And this cover is so dynamic, I can't wait to see it in person. Cover is linked to Goodreads.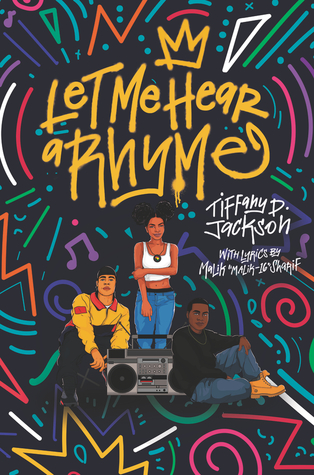 Title: Let Me Hear a Rhyme
Author: Tiffany D. Jackson
Series: N/A
Pages: 384
Publisher: Katherine Tegen Books
Release Date: May 21, 2019
      "In the next striking and vibrant standalone novel by the critically acclaimed author of Allegedly and Monday's Not Coming, Tiffany D. Jackson tells the story of three Brooklyn teens who plot to turn their murdered friend into a major rap star by pretending he is still alive.
      Biggie Smalls was right. Things done changed. But that doesn't mean that Quadir and Jarrell are okay letting their best friend Steph's tracks lie forgotten in his bedroom after he's killed—not when his beats could turn any Bed-Stuy corner into a celebration, not after years of having each other's backs.
      Enlisting the help of Steph's younger sister, Jasmine, Quadir and Jarrell come up with a plan to promote Steph's music under a new rap name: The Architect. Soon, everyone in Brooklyn is dancing to Steph's voice. But then his mixtape catches the attention of a hotheaded music rep and—with just hours on the clock—the trio must race to prove Steph's talent from beyond the grave.
      Now, as the pressure—and danger—of keeping their secret grows, Quadir, Jarrell, and Jasmine are forced to confront the truth about what happened to Steph. Only each has something to hide. And with everything riding on Steph's fame, together they need to decide what they stand for before they lose everything they've worked so hard to hold on to—including each other."
Are you participating in Can't-Wait Wednesday or Waiting on Wednesday? Is this book on your TBR? Be sure to leave a link to your post in the comments and I'll visit!