Can't-Wait Wednesday is a weekly meme hosted by Tressa @ Wishful Endings where bloggers share which upcoming releases they're most looking forward to. Join us every Wednesday and watch your TBR list multiply.
Words can't express how excited I am for With the Fire on High by Elizabeth Acevedo. I'm a huge fan of her debut novel The Poet X and am really looking forward to this novel about a teen mom with aspirations of becoming a chef. Also, the cover for this one is stunning and I can't wait to hold a copy of it in my hands. Cover is linked to Goodreads.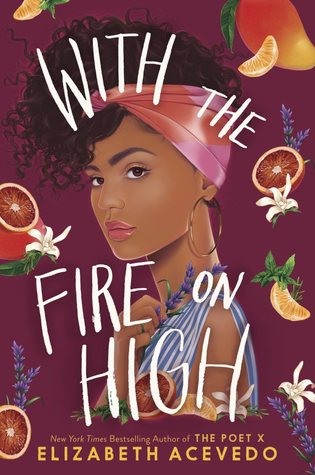 Title: With the Fire on High
Author: Elizabeth Acevedo
Series: N/A
Pages: 400
Publisher: HarperTeen
Release Date: May 7, 2019
      "From the New York Times bestselling author of the National Book Award longlist title The Poet X comes a dazzling novel in prose about a girl with talent, pride, and a drive to feed the soul that keeps her fire burning bright.
      Ever since she got pregnant freshman year, Emoni Santiago's life has been about making the tough decisions—doing what has to be done for her daughter and her abuela. The one place she can let all that go is in the kitchen, where she adds a little something magical to everything she cooks, turning her food into straight-up goodness.
      Even though she dreams of working as a chef after she graduates, Emoni knows that it's not worth her time to pursue the impossible. Yet despite the rules she thinks she has to play by, once Emoni starts cooking, her only choice is to let her talent break free."
Are you participating in Can't-Wait Wednesday or Waiting on Wednesday? Is this book on your TBR? Be sure to leave a link to your post in the comments and I'll visit!