Can't-Wait Wednesday is a weekly meme hosted by Tressa @ Wishful Endings where bloggers share which upcoming releases they're most looking forward to. Join us every Wednesday and watch your TBR list multiply. Cover is linked to Goodreads.
One of my most anticipated 2019 debuts is Tehlor Kay Mejia's We Set the Dark on Fire. I am all kinds of excited for this title and have already preordered it. I love that this one tackles immigration issues in a dystopian-type setting and that it will feature a f/f romance. Make sure you add this one to your TBR if you haven't already!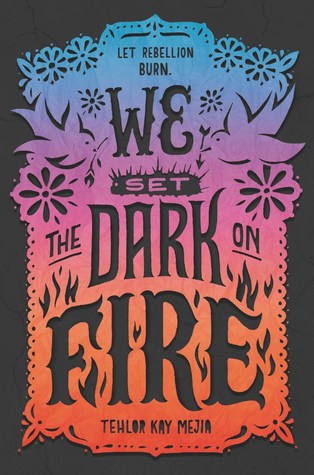 Title: We Set the Dark on Fire
Author: Tehlor Kay Mejia
Series: We Set the Dark on Fire, #1
Pages: 384
Publisher: Katherine Tegen Books
Release Date: February 26, 2019
      "At the Medio School for Girls, distinguished young women are trained for one of two roles in their polarized society. Depending on her specialization, a graduate will one day run a husband's household or raise his children. Both paths promise a life of comfort and luxury, far from the frequent political uprisings of the lower class.
      Daniela Vargas is the school's top student, but her pedigree is a lie. She must keep the truth hidden or be sent back to the fringes of society.
      And school couldn't prepare her for the difficult choices she must make after graduation, especially when she is asked to spy for a resistance group desperately fighting to bring equality to Medio.
      Will Dani cling to the privilege her parents fought to win for her, or will she give up everything she's strived for in pursuit of a free Medio—and a chance at a forbidden love?"
Are you participating in Can't-Wait Wednesday or Waiting on Wednesday? Is this book on your TBR? Be sure to leave a link to your post in the comments and I'll visit!