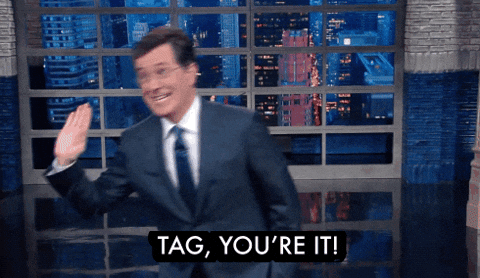 I love doing end of the year tags and while I am still working on completing the annual End of the Year Book Survey, I thought I'd tackle this short one in the meantime. I was tagged by the lovely Annemieke @ A Dance With Books. She is one of my favorite bloggers and if you haven't had a chance to check out her blog, you should do so now. Covers are linked to Goodreads.
1. Are there any books you started this year that you need to finish?
I am usually a strict one-book-at-a-time kind of bookworm, so I don't have any partially read books I'm scrambling to complete by the end of the year.
2. Do you have an autumnal book to transition into the end of the year?
I feel like the only time there is a dramatic shift in my reading choices is back in October when I pick up all the spooky reads I can get my hands on. While I do associate big fantasy books with the winter, it doesn't necessarily translate to a change in my reading habits.
3. Is there a new release that you're still waiting for?
There are several new releases I wish I had my hands on, but I think any more book buying I may do will have to wait until the next year.
4. What are three books you want to read before the end of the year?
I am planning a buddy reread of Holly Black's The Cruel Prince with Carolyn @ A Hundred Thousand Stories, I have an ARC of The Similars by Rebecca Hanover I need to start today, and I'm hoping to pick up Girls of Paper and Fire by Natasha Ngan, but I've been in the mood for rereads, so we will see.
5. Is there a book you think could still shock you & become a favorite of the year?
If I do get to Girls of Paper and Fire I am sure I will be blown away.
6. Have you already started making reading plans for 2019?
No, I have not, but I am contemplating joining the Beat the Backlist challenge hosted by Austine @ NovelKnight. It's a pretty popular challenge that I think would do me some good. I have way too many backlist books on my shelf that need reading.
Tagging anyone who would like to take part. Leave me a link to your post and I will be sure to visit!