Can't-Wait Wednesday is a weekly meme hosted by Tressa @ Wishful Endings where bloggers share which upcoming releases they're most looking forward to. Join us every Wednesday and watch your TBR list multiply. Cover is linked to Goodreads.
I feel like I've been waiting forever for Susan Dennard's Bloodwitch. I'm so excited for this third book in the Witchlands series. It's one of my favorite fantasies and I'm beyond ecstatic that this will be Aeduan's novel. Iseult is my favorite character, but I have a soft spot for this grey character.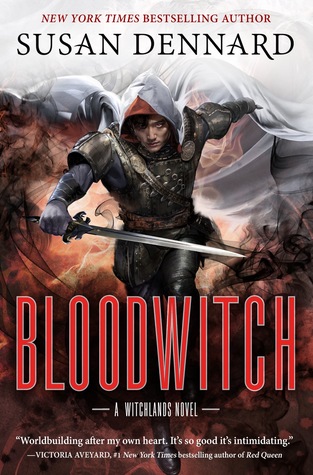 Title: Bloodwitch
Author: Susan Dennard
Series: The Witchlands, #3
Pages: 464
Publisher: Tor Teen
Release Date: February 12, 2019
      "Fans of Susan Dennard's New York Times bestselling Witchlands series have fallen in love with the Bloodwitch Aeduan. And now, finally, comes his story.
      High in a snowy mountain range, a monastery that holds more than just faith clings to the side of a cliff. Below, thwarted by a lake, a bloodthirsty horde of raiders await the coming of winter and the frozen path to destroy the sanctuary and its secrets.
      The Bloodwitch Aeduan has teamed up with the Threadwitch Iseult and the magical girl Owl to stop the destruction. But to do so, he must confront his own father, and his past."
Are you participating in Can't-Wait Wednesday or Waiting on Wednesday? Is this book on your TBR? Be sure to leave a link to your post in the comments and I'll visit!