Happy October! All month long I've been celebrating Halloween and if you're like me, October isn't the only month you like to pick up spooky reads. I've compiled a list of dark and strange book releases coming out in 2019 that have caught my eye. Be sure to keep your TBR spooky all year long with these wicked reads! Covers/Titles are linked to Goodreads.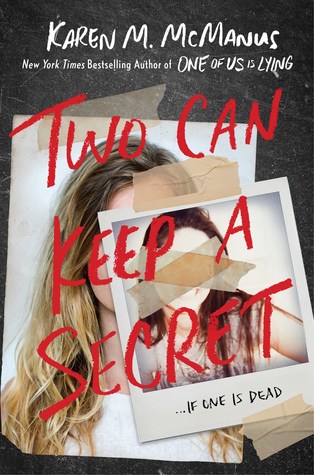 1. Two Can Keep a Secret by Karen M. Manus
Publication Date: January 8th 2019
      "Echo Ridge is small-town America. Ellery's never been there, but she's heard all about it. Her aunt went missing there at age seventeen. And only five years ago, a homecoming queen put the town on the map when she was killed. Now Ellery has to move there to live with a grandmother she barely knows.
      The town is picture-perfect, but it's hiding secrets. And before school even begins for Ellery, someone's declared open season on homecoming, promising to make it as dangerous as it was five years ago. Then, almost as if to prove it, another girl goes missing.
      Ellery knows all about secrets. Her mother has them; her grandmother does too. And the longer she's in Echo Ridge, the clearer it becomes that everyone there is hiding something. The thing is, secrets are dangerous–and most people aren't good at keeping them. Which is why in Echo Ridge, it's safest to keep your secrets to yourself."
2. More Deadly Than Male: Masterpieces from the Queens of Horror by Graeme Davis

Publication Date: February 5th 2019
      "Readers are well aware that Mary Shelley wrote Frankenstein: few know how many other tales of terror she created. In addition to Uncle Tom's Cabin, Harriet Beecher Stowe wrote some surprisingly effective horror stories. The year after Little Women appeared, Louisa May Alcott published one of the first mummy tales. These ladies weren't alone. From the earliest days of Gothic and horror fiction, women were exploring the frontiers of fear, dreaming dark dreams that will still keep you up at night.
      More Deadly than the Male includes unexpected horror tales by Louisa May Alcott and Harriet Beecher Stowe, and forgotten writers like Mary Cholmondely and Charlotte Riddell, whose work deserves a modern audience. Readers will be drawn in by the familiar names and intrigued by their rare stories.
      In The Beckside Boggle, Alice Rea brings a common piece of English folklore to hair-raising life, while Helene Blavatsky, best known as the founder of the spiritualist Theosophical Society, paints a picture of A Witch's Den as vivid as any vision conjured up by the great pulp writers. Edith Wharton's great novel The Age of Innocence won her the Pulitzer prize, yet her horror stories are known only to a comparative few.
      Readers will discover lost and forgotten women who wrote horror every bit as effectively as their male contemporaries. They will learn about their lives and careers, the challenges they faced as women working in a male-dominated field, the way they overcame those challenges, and the way they approached the genre—which was often subtler, more psychological, and more disturbing."
3. The Devouring Gray by Christine Lynn Herman
Publication Date: April 2nd 2019
      "Branches and stones, daggers and bones,
They locked the Beast away.
      After the death of her sister, seventeen-year-old Violet Saunders finds herself dragged to Four Paths, New York. Violet may be a newcomer, but she soon learns her mother isn't: They belong to one of the revered founding families of the town, where stone bells hang above every doorway and danger lurks in the depths of the woods.
      Justin Hawthorne's bloodline has protected Four Paths for generations from the Gray—a lifeless dimension that imprisons a brutal monster. After Justin fails to inherit his family's powers, his mother is determined to keep this humiliation a secret. But Justin can't let go of the future he was promised and the town he swore to protect.
      Ever since Harper Carlisle lost her hand to an accident that left her stranded in the Gray for days, she has vowed revenge on the person who abandoned her: Justin Hawthorne. There are ripples of dissent in Four Paths, and Harper seizes an opportunity to take down the Hawthornes and change her destiny-to what extent, even she doesn't yet know.
      The Gray is growing stronger every day, and its victims are piling up. When Violet accidentally unleashes the monster, all three must band together with the other Founders to unearth the dark truths behind their families' abilities—before the Gray devours them all."
4. The Raven's Tale by Cat Winters
Publication Date: April 16th 2019
      "Seventeen-year-old Edgar Poe counts down the days until he can escape his foster family—the wealthy Allans of Richmond, Virginia. He hungers for his upcoming life as a student at the prestigious new university, almost as much as he longs to marry his beloved Elmira Royster. However, on the brink of his departure, all his plans go awry when a macabre Muse named Lenore appears to him. Muses are frightful creatures that lead Artists down a path of ruin and disgrace, and no respectable person could possibly understand or accept them. But Lenore steps out of the shadows with one request: 'Let them see me!'"
5. Dreaming Darkly by Caitlin Kittredge
Publication Date: April 9th 2019 
      "Ivy Bloodgood's mother is dead, and she should probably be sad about it. But she isn't. Myra Bloodgood was confusing mix of protective and abusive, a manipulative personality who never told the truth—about where she came from, who Ivy's father was, or why they were living their lives on the run.
      Now that Ivy has been sent to Darkhaven, an island off the New England coast, to live with a rich uncle she didn't know existed, she is forced to reckon with her mother's past. Ivy can tell right away there are long-held family secrets buried within these walls, but when she wakes up from one of her nightmares covered in someone else's blood, Ivy fears that whatever demons her mother battled while she was alive have come to roost in her own mind. Scared that she can no longer trust what she sees, Ivy seeks the help of a boy who thinks her episodes are connected to the sordid history of Darkhaven—but what they don't know might kill them both.
      A moody and twisty gothic mystery with an impossible romance, Dreaming Darkly is an atmospheric, fast-paced page-turner written by comics veteran Caitlin Kittredge. "
6. Five Midnights by Ann Dávila Cardinal
Publication Date: June 4th 2019
      "Five friends cursed. Five deadly fates. Five nights of retribución.
      If Lupe Dávila and Javier Utierre can survive each other's company, together they can solve a series of grisly murders sweeping though Puerto Rico. But the clues lead them out of the real world and into the realm of myths and legends. And if they want to catch the killer, they'll have to step into the shadows to see what's lurking there—murderer, or monster?"
7. Teeth in the Mist by Dawn Kurtagich
Publication Date: June 2019
      "A genre-bending epic horror-fantasy, inspired by the legend of Faust, spans generations as an ancient evil is uncovered—perfect for fans of Kendare Blake and Ransom Riggs.
Seventeen-year-old Zoey has been fascinated by the haunted, burnt-out ruins of Medwyn Mill House for as long as she can remember—so she and her best friend Poulton decide to explore the ruins. But are they really alone in the house?
      In 1851, sixteen-year-old Roan arrives at the Mill House as a ward—one of three, all with their own secrets. When Roan learns that she is connected to an ancient secret, she must escape the house before she is trapped forever.
      This haunting horror and captivating mystery redefines the horror and fantasy space."
8. Bad Apples by Moïra Fowley-Doyle
Publication Date: August 1st 2019
      "The day after the funeral all our mourning clothes hung out on the line like sleeping bats. 'This will be really embarrassing,' I kept saying to my family, 'when she shows up at the door in a week or two.'
When Deena's wild and mysterious sister Mandy disappears – presumed dead – her family are heartbroken. But Mandy has always been troubled. It's just another bad thing to happen to Deena's family. Only Deena refuses to believe it's true.
And then the letters start arriving. Letters from Mandy, claiming that their family's blighted history is not just bad luck or bad decisions – but a curse, handed down through the generations. Mandy has gone in search of the curse's roots, and now Deena must find her. What they find will heal their family's rotten past – or rip it apart forever."
9. Here There Are Monsters by Amelinda Bérubé
Publication Date: August 2019
      "Pitched as The Blair Witch Project meets Imaginary Girls, the story follows 16-year-old Skye, who must confront her most savage secrets to save her missing sister, Deirdre, from the terrifying stick-and-bone monsters that have come to life in the woods behind their new home."
10. Children of the River Ghost by Alexandra Aceves
Publication Date: 2019
      "A YA horror novel in which 16-year-old Katie, reeling from bullying after her last relationship, moves to New Mexico and falls for a mysterious, beautiful girl who may be the ghost La Llorona. Publication is set for spring 2019."
11. Ghost Squad by Claribel A. Ortega
Publication Date: 2019
      "Coco meets Stranger Things in Claribel Ortega's middle grade debut, based on Dominican folklore in which 12-year-old girl Lucely Luna must save the ghosts of her lost loved ones, living as fireflies, with the help of her best friend Syd and her witch grandmother Babette, before evil spirits haunting St. Augustine destroy them and the only home she's ever known."
12. Brooklyn Brujas, #3 by Zoraida Córdova
Publication Date: 2019
No synopsis available.
13. These Witches Don't Burn by Isabel Sterling
Publication Date: Summer 2019
      "Razorbill has acquired Isabel Sterling's These Witches Don't Burn. The contemporary fantasy features a teen witch living in modern-day Salem who discovers that the tension with her ex-girlfriend doesn't much matter when there's a Blood Witch on the loose. To stop the attacks and score a second date with the new girl in town, she must uncover who's causing the deadly fires before her coven is destroyed. The first book is scheduled for summer 2019."
14. The Bone Houses by Emily Lloyd-Jones
Publication Date: 2019
      "A historical horror-fairy tale that follows a pair of teens on quest to reverse a curse that causes the dead to rise every night, terrorizing the villages of medieval Wales."
15. The Tenth Girl by Sara Faring
Publication Date: Fall 2019
      "Argentine-American author Sara Faring's genre-busting international debut The Tenth Girl was acquired by Erin Stein at Imprint in a two-book pre-empt. Inspired by the author's Argentine family history and lore, the novel follows a young woman fleeing the country's 1970s Dirty War who joins the staff of a notorious haunted boarding school on a remote icy cliff in Patagonia. She befriends a strange young man with a terrible secret as shadowy figures roam the halls at night and the students fall ill to a mysterious illness. The gothic mystery builds to a jaw-dropping twist when they need to escape from more than just the cursed manor. Author Sara Faring is represented by Sarah Bedingfield at Levine Greenberg Rostan, and film rights are represented by Michelle Kroes at CAA. The novel is set for release in fall 2019."
16. These Wicked Waters by Emily Layne
Publication Date: Fall 2019
      "Hannah Smith at Owl Hollow Press has bought Emily Layne's These Wicked Waters, a YA paranormal novel in which 17-year-old Annie Mayfield moves to a cursed island with an ancient enemy lurking beneath the water. Annie channels her inner Nancy Drew—minus the skirt and pearls—in an attempt to uncover the ocean's secrets. Publication is planned for 2019; Becky LeJeune at Bond Literary Agency did the deal for world English rights."
Do you like to pick up spooky reads throughout the year? Which creepy reads or thrillers are you looking forward to in 2019? Let's talk in the comments!