Happy October! I'm celebrating Halloween all month long with themed posts and books. Be sure to stick around for all the thrills and chills. I love picking up creepy and atmospheric reads during the month of October. I don't stick to monthly TBRs because I always end up straying from them, but I make an exception for this month. I probably won't get to all of these, but I hope the list might inspire some of you if you aren't quite sure what to pick up this October. Covers are linked to Goodreads.
1. The Wicked Deep by Shea Ernshaw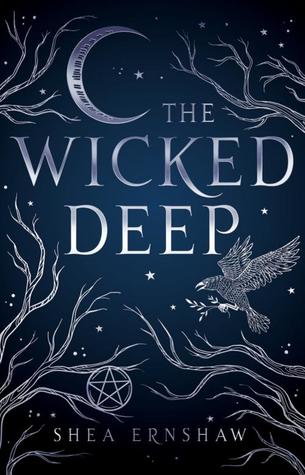 "Where, two centuries ago, three sisters were sentenced to death for witchery. Stones were tied to their ankles and they were drowned in the deep waters surrounding the town.
      Now, for a brief time each summer, the sisters return, stealing the bodies of three weak-hearted girls so that they may seek their revenge, luring boys into the harbor and pulling them under.
      Like many locals, seventeen-year-old Penny Talbot has accepted the fate of the town. But this year, on the eve of the sisters' return, a boy named Bo Carter arrives; unaware of the danger he has just stumbled into.
      Mistrust and lies spread quickly through the salty, rain-soaked streets. The townspeople turn against one another. Penny and Bo suspect each other of hiding secrets. And death comes swiftly to those who cannot resist the call of the sisters.
      But only Penny sees what others cannot. And she will be forced to choose: save Bo, or save herself."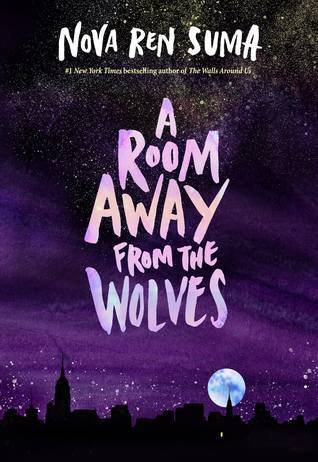 2. A Room Away From the Wolves by Nova Ren Suma

      "Bina has never forgotten the time she and her mother ran away from home. Her mother promised they would hitchhike to the city to escape Bina's cruel father and start over. But before they could even leave town, Bina had a new stepfather and two new stepsisters, and a humming sense of betrayal pulling apart the bond with her mother—a bond Bina thought was unbreakable.
      Eight years later, after too many lies and with trouble on her heels, Bina finds herself on the side of the road again, the city of her dreams calling for her. She has an old suitcase, a fresh black eye, and a room waiting for her at Catherine House, a young women's residence in Greenwich Village with a tragic history, a vow of confidentiality, and dark, magical secrets. There, Bina is drawn to her enigmatic downstairs neighbor Monet, a girl who is equal parts intriguing and dangerous. As Bina's lease begins to run out, and nightmare and memory get tangled, she will be forced to face the terrible truth of why she's come to Catherine House and what it will take for her to leave…"
3. Not Even Bones by Rebecca Schaeffer
      "Nita doesn't murder supernatural beings and sell their body parts on the internet—her mother does that. Nita just dissects the bodies after they've been 'acquired.' Until her mom brings home a live specimen and Nita decides she wants out; dissecting a scared teenage boy is a step too far. But when she decides to save her mother's victim, she ends up sold in his place—because Nita herself isn't exactly 'human.' She has the ability to alter her biology, a talent that is priceless on the black market. Now on the other side of the bars, if she wants to escape, Nita must ask herself if she's willing to become the worst kind of monster."
4. Toil & Trouble: 15 Tales of Women and Witchcraft Edited by Jessica Spotswood and Tess Sharpe
      "A young adult fiction anthology of 15 stories featuring contemporary, historical, and futuristic stories featuring witchy heroines who are diverse in race, class, sexuality, religion, geography, and era."
5. Sadie by Courtney Summers
      "Sadie hasn't had an easy life. Growing up on her own, she's been raising her sister Mattie in an isolated small town, trying her best to provide a normal life and keep their heads above water.
      But when Mattie is found dead, Sadie's entire world crumbles. After a somewhat botched police investigation, Sadie is determined to bring her sister's killer to justice and hits the road following a few meagre clues to find him.
      When West McCray—a radio personality working on a segment about small, forgotten towns in America—overhears Sadie's story at a local gas station, he becomes obsessed with finding the missing girl. He starts his own podcast as he tracks Sadie's journey, trying to figure out what happened, hoping to find her before it's too late."
6. Down Among the Sticks and Bones by Seanan McGuire
      "Twin sisters Jack and Jill were seventeen when they found their way home and were packed off to Eleanor West's Home for Wayward Children.
      This is the story of what happened first…
      Jacqueline was her mother's perfect daughter—polite and quiet, always dressed as a princess. If her mother was sometimes a little strict, it's because crafting the perfect daughter takes discipline.
      Jillian was her father's perfect daughter—adventurous, thrill-seeking, and a bit of a tom-boy. He really would have preferred a son, but you work with what you've got.
      They were five when they learned that grown-ups can't be trusted.
      They were twelve when they walked down the impossible staircase and discovered that the pretense of love can never be enough to prepare you a life filled with magic in a land filled with mad scientists and death and choices."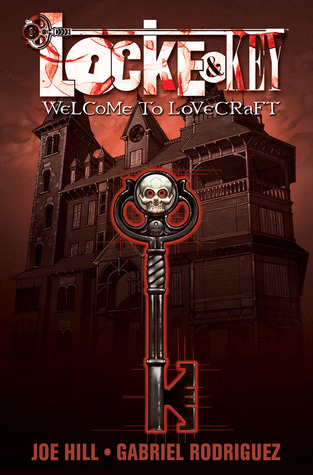 7. Locke & Key, Vol. 1: Welcome to Lovecraft by Joe Hill, Illustrated by Gabriel Rodriquez
      "Locke & Key tells of Keyhouse, an unlikely New England mansion, with fantastic doors that transform all who dare to walk through them. Home to a hate-filled and relentless creature that will not rest until it forces open the most terrible door of them all…"
8. The Merciless III: Origins of Evil by Danielle Vega
      "Brooklyn knows that there's no good without evil, no right without wrong. And when a helpless girl calls her teen helpline, whispering that someone is hurting her, Brooklyn knows that she needs to save her anonymous caller, even if it means doing something bad.
      Her parents and friends assure her the call was probably a prank but Brooklyn has always had a tendency to take over, whether someone has asked for help or not.
      She discovers the call came from Christ First Church and finds herself plunged into the cultish community of its youth group. She's especially drawn to Gavin, the angelic yet tortured pastor's son.
      Torn between an unstoppable attraction to Gavin and her obsession with the truth, Brooklyn is forced to make a devastating choice to rid Christ Church of evil once and for all. . . . But the devil has plans for Brooklyn's soul."
9. #Murdertrending by Gretchen McNeil
      "WELCOME TO THE NEAR FUTURE, where good and honest 8/18 citizens can enjoy watching the executions of society's most infamous convicted felons, streaming live on The Postman app from the suburbanized prison island Alcatraz 2.0.
      When eighteen-year-old Dee Guerrera wakes up in a haze, lying on the ground of a dimly lit warehouse, she realizes she's about to be the next victim of the app. Knowing hardened criminals are getting a taste of their own medicine in this place is one thing, but Dee refuses to roll over and die for a heinous crime she didn't commit. Can Dee and her newly formed posse, the Death Row Breakfast Club, prove she's innocent before she ends up wrongfully murdered for the world to see? Or will The Postman's cast of executioners kill them off one by one?"
10. Baba Yaga's Assistant by Marika McCoola, Illustrated by Emily Carroll
      "ASSISTANT WANTED ASAP
      Must have skills in hauling, obeying orders, cooking, and cleaning. Magical talent a bonus. Must be good with heights. Enter Baba Yaga's house to apply.
      Most children think twice before braving a haunted wood filled with terrifying beasties to match wits with a witch, but not Masha. Her beloved grandma taught her many things: that stories are useful, that magic is fickle, and that nothing is too difficult or too dirty to clean. The fearsome witch of folklore needs an assistant, and Masha needs an adventure. She may be clever enough to enter Baba Yaga's house on chicken legs, but within its walls, deceit is the rule. To earn her place, Masha must pass a series of tests, outfox a territorial bear, and make dinner for her host. No easy task, with children on the menu!
      Wry, spooky and poignant, Marika McCoola's debut–with richly layered art by acclaimed graphic artist Emily Carroll–is a storytelling feat and a visual fest."
11. Warren the 13th and the All-Seeing Eye by Tania del Rio, Illustrated by Will Staehle
      "Warren the 13th is the lone bellhop, valet, waiter, groundskeeper, and errand boy of his family's ancient hotel. It's a strange, shadowy mansion full of crooked corridors and mysterious riddles—and it just might be home to a magical object known as the All-Seeing Eye. Can Warren decipher the clues and find the treasure before his sinister Aunt Annaconda (and a slew of greedy hotel guests) beats him to it?
      This middle-grade adventure features gorgeous two-color illustrations on every page and a lavish two-column Victorian design that will pull young readers into a spooky and delightful mystery."
Are you planning a spooky readathon this October? Which creepy read would you recommend I read? Let me know in the comments!