Can't-Wait Wednesday is a weekly meme hosted by Tressa @ Wishful Endings where bloggers share which upcoming releases they're most looking forward to. Join us every Wednesday and watch your TBR list multiply. Cover is linked to Goodreads.
I enjoyed Julie C. Dao's debut Forest of a Thousand Lanterns so much. I loved that we got to embrace a character who gave into the darkness inside her while simultaneously keeping readers engaged. I'm really looking forward to Kingdom of the Blazing Phoenix, where our villainess from the previous novel is challenged by the protagonist from this one. I also got some surprise mail a couple of days ago and am now in possession of the paperback edition of Forest with its cover makeover and an ARC of this title. I'm so excited!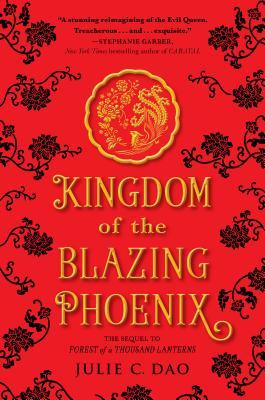 Title: Kingdom of the Blazing Phoenix
Author: Julie C. Dao
Series: Rise of the Empress, #2
Pages: 384
Publisher: Philomel Books
Release Date: November 6, 2018
      "Princess Jade has grown up in exile, hidden away in a monastery while her stepmother, the ruthless Xifeng, rules as Empress of Feng Lu. But the empire is in distress and its people are sinking into poverty and despair. Even though Jade doesn't want the crown, she knows she is the only one who can dethrone the Empress and set the world right. Ready to reclaim her place as rightful heir, Jade embarks on a quest to raise the Dragon Lords and defeat Xifeng and the Serpent God once and for all. But will the same darkness that took Xifeng take Jade, too? Or will she find the strength within to save herself, her friends, and her empire?
      Set in an East Asian-inspired fantasy world filled with breathtaking pain and beauty, Kingdom of the Blazing Phoenix is filled with dazzling magic, powerful prose, and characters readers won't soon forget."
Are you participating in Can't-Wait Wednesday or Waiting on Wednesday? Is this book on your TBR? Be sure to leave a link to your post in the comments and I'll visit!