Happy Latinx Heritage Month! This celebration of Latinx culture runs September 15th through October 15th. I'm taking the opportunity to share a few posts over the course of the month to help highlight Latinx authors and their books. Check out my previously post for this series where I share my top ten (eleven) reads by Latinx authors I've read over the last year:
Latinx Heritage Month, 2018: Part I: Favorite Reads
I am also running a Twitter giveaway for Latinx Heritage Month. You can win any book by a Latinx author. Head on over to this tweet for all the info. For this post, I am listing books by Latinx authors set to be released September 2018 through 2019. This is by far my favorite post for this series because we have some amazing books on the horizon. 2019 especially looks like it's going to be a really good reading year. This is in no way a comprehensive list, but I've tried to include as many MG and YA titles that I could find since those are the books I read most. We've got debuts, sophomore novels, and books by a few seasoned authors. If you're looking to read more books by Latinx authors throughout the year, be sure to add these to your TBR. Covers are linked to Goodreads.
September 2018 through 2019 Books by Latinx Authors:
1. Citizen Illegal by José Olivarez
Publication Date: September 4, 2018
      "In this stunning debut, poet José Olivarez explores the stories, contradictions, joys, and sorrows that embody life in the spaces between Mexico and America. He paints vivid portraits of good kids, bad kids, families clinging to hope, life after the steel mills, gentrifying barrios, and everything in between. Drawing on the rich traditions of Latinx and Chicago writers like Sandra Cisneros and Gwendolyn Brooks, Olivarez creates a home out of life in the in-between. Combining wry humor with potent emotional force, Olivarez takes on complex issues of race, ethnicity, gender, class, and immigration using an everyday language that invites the reader in. Olivarez has a unique voice that makes him a poet to watch."
2. Seventh Born by Monica Sanz
Publication Date: September 4, 2018
      "Abomination. Curse. Murderer. All names hurled at eighteen-year-old Seraphina Dovetail. As the seventh-born daughter to a witch, she's the cause of her mother losing her powers and, in turn, her life.
      Abandoned as a child, Sera dreams of becoming an inspector and finding her family. To do that, she must be referred into the Advanced Studies Program at the Aetherium's Witchling Academy. Her birth order, quick temper, and tendency to set things on fire, however, have left her an outcast with failing marks…and just what Professor Nikolai Barrington is looking for.
      The tall, brooding, yet exceedingly handsome young professor makes her a proposition: become his assistant and he'll give her the referral she needs. Sera is quickly thrust into a world where witches are being kidnapped, bodies are raised from the dead, and someone is burning seventhborns alive. As Sera and Barrington grow ever closer, she'll discover that some secrets are best left buried…and fire isn't the only thing that makes a witch burn."
3. Tight by Torrey Maldonado
Publication Date: September 4, 2018
      "Tight: Lately, Bryan's been feeling it in all kinds of ways . . .
      Bryan knows what's tight for him–reading comics, drawing superheroes, and hanging out with no drama. But drama is every day where he's from, and that gets him tight, wound up.
And now Bryan's friend Mike pressures him with ideas of fun that are crazy risky. At first, it's a rush following Mike, hopping turnstiles, subway surfing, and getting into all kinds of trouble. But Bryan never really feels right acting so wrong, and drama really isn't him. So which way will he go, especially when his dad tells him it's better to be hard and feared than liked?
      But if there's one thing Bryan's gotten from his comic heroes, it's that he has power–to stand up for what he feels . . .
      Torrey Maldonado delivers a fast-paced, insightful, dynamic story capturing urban community life. Readers will connect with Bryan's journey as he navigates a tough world with a heartfelt desire for a different life."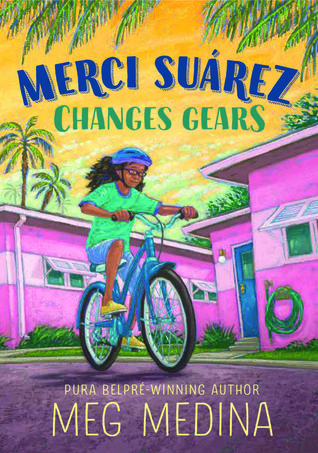 4. Merci Suárez Changes Gears by Meg Medina
Publication Date: September 11, 2018
      "Merci Suarez knew that sixth grade would be different, but she had no idea just how different. For starters, Merci has never been like the other kids at her private school in Florida, because she and her older brother, Roli, are scholarship students. They don't have a big house or a fancy boat, and they have to do extra community service to make up for their free tuition. So when bossy Edna Santos sets her sights on the new boy who happens to be Merci's school-assigned Sunshine Buddy, Merci becomes the target of Edna's jealousy. Things aren't going well at home, either: Merci's grandfather and most trusted ally, Lolo, has been acting strangely lately — forgetting important things, falling from his bike, and getting angry over nothing. No one in her family will tell Merci what's going on, so she's left to her own worries, while also feeling all on her own at school. In a coming-of-age tale full of humor and wisdom, award-winning author Meg Medina gets to the heart of the confusion and constant change that defines middle school — and the steadfast connection that defines family."
5. Dactyl Hill Squad by Daniel José Older
Publication Date: September 11, 2018
"It's 1863 and dinosaurs roam the streets of New York as the Civil War rages between raptor-mounted armies down South. Magdalys Roca and her friends from the Colored Orphan Asylum are on a field trip when the Draft Riots break out, and a number of their fellow orphans are kidnapped by an evil magistrate, Richard Riker.
      Magdalys and her friends flee to Brooklyn and settle in the Dactyl Hill neighborhood, where black and brown New Yorkers have set up an independent community–a safe haven from the threats of Manhattan. Together with the Vigilance Committee, they train to fly on dactylback, discover new friends and amazing dinosaurs, and plot to take down Riker. Can Magdalys and the squad rescue the rest of their friends before it's too late?"
6. All the Stars Denied by Guadalupe García McCall
Publication Date: September 15, 2018
      "In a companion novel to her critically acclaimed Shame the Stars, Guadalupe Garcia McCall tackles the hidden history of the United States and its first mass deportation event that swept up hundreds of thousands of Mexican American citizens during the Great Depression."
7. Analee in Real Life by Janelle Milanes
Publication Date: September 18, 2018
      "Ever since her mom died three years ago, Analee Echevarria has had trouble saying out loud the weird thoughts that sit in her head. With a best friend who hates her and a dad who's marrying a yogi she can't stand, Analee spends most of her time avoiding reality and role-playing as Kiri, the night elf hunter at the center of her favorite online game.
      Through Kiri, Analee is able to express everything real-life Analee cannot: her bravery, her strength, her inner warrior. The one thing both Kiri and Analee can't do, though, is work up the nerve to confess her romantic feelings for Kiri's partner-in-crime, Xolkar—aka a teen boy named Harris whom Analee has never actually met in person.
      So when high school heartthrob Seb Matias asks Analee to pose as his girlfriend in an attempt to make his ex jealous, Analee agrees. Sure, Seb seems kind of obnoxious, but Analee could use some practice connecting with people in real life. In fact, it'd maybe even help her with Harris.
      But the more Seb tries to coax Analee out of her comfort zone, the more she starts to wonder if her anxious, invisible self is even ready for the real world. Can Analee figure it all out without losing herself in the process?"
8. Pride by Ibi Zoboi
Publication Date: September 18, 2018
      "Zuri Benitez has pride. Brooklyn pride, family pride, and pride in her Afro-Latino roots. But pride might not be enough to save her rapidly gentrifying neighborhood from becoming unrecognizable.
      When the wealthy Darcy family moves in across the street, Zuri wants nothing to do with their two teenage sons, even as her older sister, Janae, starts to fall for the charming Ainsley. She especially can't stand the judgmental and arrogant Darius. Yet as Zuri and Darius are forced to find common ground, their initial dislike shifts into an unexpected understanding.
      But with four wild sisters pulling her in different directions, cute boy Warren vying for her attention, and college applications hovering on the horizon, Zuri fights to find her place in Bushwick's changing landscape, or lose it all.
      In a timely update of Jane Austen's Pride and Prejudice, critically acclaimed author Ibi Zoboi skillfully balances cultural identity, class, and gentrification against the heady magic of first love in her vibrant reimagining of this beloved classic."
9. The Storm Runner by J.C. Cervantes
Publication Date: September 18, 2018
      "Zane has always enjoyed exploring the dormant volcano near his home in New Mexico, even though hiking it is challenging. He'd much rather hang out there with his dog, Rosie, than go to middle school, where kids call him Sir Limps a Lot, McGimpster, or Uno—for his one good leg. What Zane doesn't know is that the volcano is a gateway to another world and he is at the center of a powerful prophecy. A new girl at school, Brooks, informs him that he's destined to release an evil god from the ancient Maya relic he is imprisoned in—unless she can find and remove it first. Together they return to the volcano, where all kinds of crazy happens. Brooks turns into a hawk, a demon attacks them in a cave, and Rosie gives her all while trying to protect Zane. When Zane decides to save his dog no matter the cost, he is thrust into an adventure full of surprising discoveries, dangerous secrets, and an all-out war between the gods, one of whom happens to be his father. To survive, Zane will have to become the Storm Runner. But how can he run when he can't even walk well without a cane?
      Feisty heroes, tricky gods, murderous demons, and spirited giants are just some of the pleasures that await in this fresh and funny take on Maya mythology, as rich and delicious as a mug of authentic hot chocolate."
10. American Road Trip by Patrick Flores-Scott
Publication Date: September 18, 2018
      "With a strong, loving family, an incredibly loyal best friend, and a budding romance with the girl of his dreams, life shows promise for seventeen-year-old Teodoro "T" Avila. But he takes some hard hits the summer before his senior year when his nearly perfect brother Manny returns from a tour in Iraq with a devastating case of PTSD.
      In a desperate effort to save Manny from himself and pull their family back together, T's fiery sister Xochitl hoodwinks her brothers into a road trip with many stops along the road to visit loved ones from their past."
11. The Wind Called My Name by Mary Louise Sanchez
Publication Date: September 18, 2018
      "Some days, ten-year-old Margaríta Sandoval feels as if the wind might blow her away. The country has been gripped by the Great Depression, so times are hard everywhere. Then she has to leave her família in New Mexico — especially her beloved Abuelita — to move to Fort Steele, Wyoming, where her father has taken a job on the railroad.
      When Margaríta meets Evangeline, she's excited to have a friend her own age in Wyoming. But it often seems like Evangeline, like many other people in town, doesn't understand or appreciate the Sandovals' Hispanic heritage. At the same time, the Sandovals discover they might lose Abuelita's land and their ancestral home unless they can pay off her tax bill. Can Margaríta keep her friend, help her family in New Mexico, and find a place in Fort Steele for good?"
12. They Call Me Güero: A Border Kid's Poems by David Bowles
Publication Date: October 1, 2018
      "Twelve-year-old Güero is Mexican American, at home with Spanish or English and on both sides of the river. He's starting 7th grade with a woke English teacher who knows how to make poetry cool.
      In Spanish, "Güero" is a nickname for guys with pale skin, Latino or Anglo. But make no mistake: our red-headed, freckled hero is puro mexicano, like Canelo Álvarez, the Mexican boxer. Güero is also a nerd—reader, gamer, musician—who runs with a squad of misfits like him, Los Bobbys. Sure, they get in trouble like anybody else, and like other middle-school boys, they discover girls. Watch out for Joanna! She's tough as nails.
      But trusting in his family's traditions, his trusty accordion and his bookworm squad, he faces seventh grade with book smarts and a big heart. Life is tough for a border kid, but Güero has figured out how to cope.
      He writes poetry."
13. Ana Maria Reyes Does Not Live in a Castle by Hilda Eunice Burgos
Publication Date: October 2, 2018
      "Her last name may mean "kings," but Ana Maria Reyes REALLY does not live in a castle. Rather, she's stuck in a tiny apartment with two parents (way too lovey-dovey), three sisters (way too dramatic), everyone's friends (way too often), and a piano (which she never gets to practice). And when her parents announce a new baby is coming, that means they'll have even less time for Ana Maria.
      Then she hears about the Eleanor School, New York City's best private academy. If Ana Maria can win a scholarship, she'll be able to get out of her Washington Heights neighborhood school and achieve the education she's longed for. To stand out, she'll need to nail her piano piece at the upcoming city showcase, which means she has to practice through her sisters' hijinks, the neighbors' visits, a family trip to the Dominican Republic . . . right up until the baby's birth! But some new friends and honest conversations help her figure out what truly matters, and know that she can succeed no matter what. Ana Maria Reyes may not be royal, but she's certain to come out on top."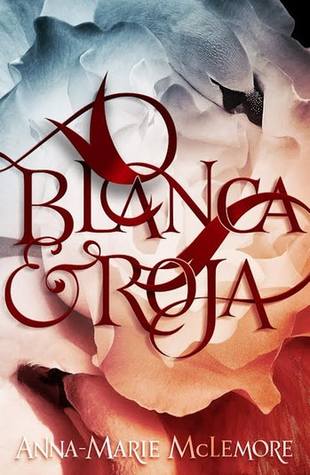 14. Blanca & Roja by Anna-Marie McLemore
Publication Date: October 9, 2018
      "The biggest lie of all is the story you think you already know.
      The del Cisne girls have never just been sisters; they're also rivals, Blanca as obedient and graceful as Roja is vicious and manipulative. They know that, because of a generations-old spell, their family is bound to a bevy of swans deep in the woods. They know that, one day, the swans will pull them into a dangerous game that will leave one of them a girl, and trap the other in the body of a swan.
      But when two local boys become drawn into the game, the swans' spell intertwines with the strange and unpredictable magic lacing the woods, and all four of their fates depend on facing truths that could either save or destroy them. Blanca & Roja is the captivating story of sisters, friendship, love, hatred, and the price we pay to protect our hearts."</span
15. Beneath the Citadel by Destiny Soria
Publication Date: October 9, 2018
      "In the city of Eldra, people are ruled by ancient prophecies. For centuries, the high council has stayed in power by virtue of the prophecies of the elder seers. After the last infallible prophecy came to pass, growing unrest led to murders and an eventual rebellion that raged for more than a decade.
      In the present day, Cassa, the orphaned daughter of rebels, is determined to fight back against the high council, which governs Eldra from behind the walls of the citadel. Her only allies are no-nonsense Alys, easygoing Evander, and perpetually underestimated Newt, and Cassa struggles to come to terms with the legacy of rebellion her dead parents have left her — and the fear that she may be inadequate to shoulder the burden. But by the time Cassa and her friends uncover the mystery of the final infallible prophecy, it may be too late to save the city — or themselves."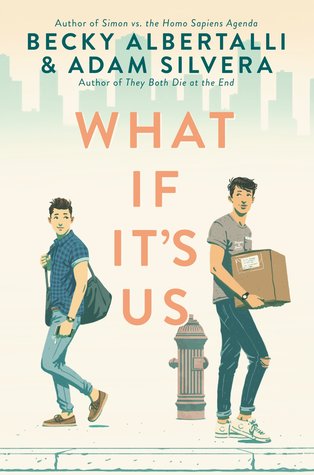 16. What If It's Us by Adam Silvera (with Becky Albertalli)
Publication Date: October 9, 2018
      "Arthur is only in New York for the summer, but if Broadway has taught him anything, it's that the universe can deliver a showstopping romance when you least expect it.
      Ben thinks the universe needs to mind its business. If the universe had his back, he wouldn't be on his way to the post office carrying a box of his ex-boyfriend's things.
      But when Arthur and Ben meet-cute at the post office, what exactly does the universe have in store for them?
      Maybe nothing. After all, they get separated.
      Maybe everything. After all, they get reunited.
      But what if they can't quite nail a first date . . . or a second first date . . . or a third?
      What if Arthur tries too hard to make it work . . . and Ben doesn't try hard enough?
      What if life really isn't like a Broadway play?
      But what if it is?"
17. Charlie Hernández and the League of Shadows by Ryan Calejo
Publication Date: October 23, 2018
      "Charlie Hernández has always been proud of his Latin American heritage. He loves the culture, the art, and especially the myths. Thanks to his abuela's stories, Charlie possesses an almost encyclopedic knowledge of the monsters and ghouls who have spent the last five hundred years haunting the imaginations of children all across the Iberian Peninsula, as well as Central and South America. And even though his grandmother sometimes hinted that the tales might be more than mere myth, Charlie's always been a pragmatist. Even barely out of diapers, he knew the stories were just make-believe—nothing more than intricately woven fables meant to keep little kids from misbehaving.
      But when Charlie begins to experience freaky bodily manifestations—ones all too similar to those described by his grandma in his favorite legend—he is suddenly swept up in a world where the mythical beings he's spent his entire life hearing about seem to be walking straight out of the pages of Hispanic folklore and into his life. And even stranger, they seem to know more about him than he knows about himself.
      Soon, Charlie finds himself in the middle of an ancient battle between La Liga, a secret society of legendary mythological beings sworn to protect the Land of the Living, and La Mano Negra (a.k.a. the Black Hand), a cabal of evil spirits determined to rule mankind. With only the help of his lifelong crush, Violet Rey, and his grandmother's stories to guide him, Charlie must navigate a world where monsters and brujas rule and things he couldn't possibly imagine go bump in the night. That is, if he has any hope of discovering what's happening to him and saving his missing parents (oh, and maybe even the world).
      No pressure, muchacho."
18. welcome to ghost town by Gretchen Gomez
Publication Date: October 23, 2018
      "these are the stories of
      people i once knew.
      they have come and
      gone like ghosts in
      the night. you might
      not be a part of my
      life anymore but
      you're still the ghosts
      who haunt me.
      – welcome to ghost town"
19. the Chaos inside Me by Elisabet Salas
Publication Date: November 8, 2018
      "the Chaos inside Me, is a journey of self discovery. It is a story about owning the emotions that live inside the heart and the head. It is the cathartic experience of pain and loss but also the bittersweet feelings of joy and the complexity of beauty.
Elisabet expresses the unraveling of herself and the complexity of emotions that stemmed from heartache, her own mental health and the struggles of growing up and into a world with no precedence for a first generation child. This is the accumulation of three years of tears and long nights figuring out that chaos isn't always a bad thing."
20. The Resolutions by Mia Garcia
Publication Date: November 13, 2018
      "New Years are for fresh starts, but Jess just wants everything to go back to the way it was.
From hiking trips, to four-person birthday parties, to never-ending group texts, Jess, Lee, Ryan, and Nora have always been inseparable—and unstoppable. But now, with senior year on the horizon, they've been splintering off and growing apart. And so, as always, Jess makes a plan.
      Reinstating their usual tradition of making resolutions together on New Year's Eve, Jess adds a new twist: instead of making their own resolutions, the four friends assign them for each other—dares like kiss someone you know is wrong for you, show your paintings, learn Spanish, say yes to everything.
      But not even the best laid plans can take into account the uncertainties of life. As the year unfolds, Jess, Ryan, Nora, and Lee each test the bonds that hold them together. And amid first loves, heart breaks, and life-changing decisions, beginning again is never as simple as it seems."
21. Blizzard Besties by Yamile Saied Méndez
Publication Date: December 26, 2018
      "Vanesa Campos can't wait for winter vacation. Skiing on the slopes, sipping hot cocoa . . . her week at Pinecloud Lodge promises to be cozy and perfect. And maybe she can make some new friends! Never mind that glamorous Beck writes off Vanesa right away; twins Emma and Eric are ready to join the fun out in the snow.
      But when the flakes start falling, everything changes. Vanesa's little brother, Hunter, might be stranded out in the blizzard! Vanesa will have to team up with all the kids — plus one giant dog — to rescue him. Can she save her brother and discover which real friends will weather the storm with her?"
22. A Sprinkle of Spirits by Anna Meriano  
Publication Date: February 5, 2019
      "Leonora Logroño has finally been introduced to her family's bakery bruja magic—but that doesn't mean everything is all sugar and spice. Her special power hasn't shown up yet, her family still won't let her perform her own spells, and they now act rude every time Caroline comes by to help Leo with her magic training.
      She knows that the family magic should be kept secret, but Caroline is her best friend, and she's been feeling lonely ever since her mom passed away. Why should Leo have to choose between being a good bruja and a good friend?
      In the midst of her confusion, Leo wakes up one morning to a startling sight: her dead grandmother, standing in her room, looking as alive as she ever was. Both Leo and her abuela realize this might mean trouble—especially once they discover that Abuela isn't the only person in town who has been pulled back to life from the other side.
      Spirits are popping up all over town, causing all sorts of trouble! Is this Leo's fault? And can she reverse the spell before it's too late?
      Anna Meriano's unforgettable family of brujas returns in a new story featuring a heaping helping of amor, azúcar, and magia."
23. The Moon Within by Aida Salazar
Publication Date: February 26, 2019
      "Celi Rivera's life swirls with questions. About her changing body. Her first attraction to a boy. And her best friend's exploration of what it means to be genderfluid.
      But most of all, her mother's insistence she have a moon ceremony when her first period arrives. It's an ancestral Mexica ritual that Mima and her community have reclaimed, but Celi promises she will NOT be participating. Can she find the power within herself to take a stand for who she wants to be?
      A dazzling story told with the sensitivity, humor, and brilliant verse of debut talent Aida Salazar."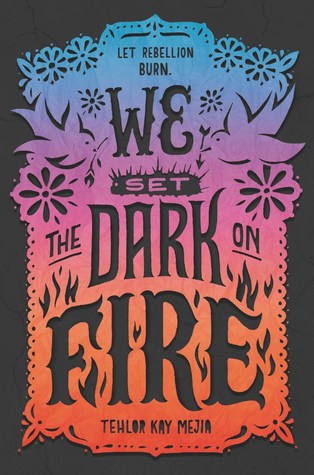 24. We Set the Dark on Fire by Tehlor Kay Mejia
Publication Date: February 26, 2019
      "At the Medio School for Girls, distinguished young women are trained for one of two roles in their polarized society. Depending on her specialization, a graduate will one day run a husband's household or raise his children. Both paths promise a life of comfort and luxury, far from the frequent political uprisings of the lower class.
      Daniela Vargas is the school's top student, but her pedigree is a lie. She must keep the truth hidden or be sent back to the fringes of society.
      And school couldn't prepare her for the difficult choices she must make after graduation, especially when she is asked to spy for a resistance group desperately fighting to bring equality to Medio.
      Will Dani cling to the privilege her parents fought to win for her, or will she give up everything she's strived for in pursuit of a free Medio—and a chance at a forbidden love?"
25. The Last 8 by Laura Pohl
Publication Date: March 5, 2019
      "Clover Martinez has always been a survivor, which is the only reason she isn't among the dead when aliens invade and destroy Earth as she knows it.
      When Clover hears an inexplicable radio message, she's shocked to learn there are other survivors—and that they're all at the former Area 51. When she arrives, she's greeted by a band of misfits who call themselves The Last Teenagers on Earth.
      Only they aren't the ragtag group of heroes Clover was expecting. The group seems more interested in hiding than fighting back, and Clover starts to wonder if she was better off alone. But then she finds a hidden spaceship, and she doesn't know what to believe…or who to trust."
26. Dealing in Dreams by Lilliam Rivera
Publication Date: March 5, 2019
      "At night, Las Mal Criadas own these streets.
      Nalah leads the fiercest all-girl crew in Mega City. That roles brings with it violent throw downs and access to the hottest boydega clubs, but the sixteen-year-old grows weary of the life. Her dream is to get off the streets and make a home in the exclusive Mega Towers, in which only a chosen few get to live. To make it to the Mega towers, Nalah must prove her loyalty to the city's benevolent founder and cross the border in a search for a mysterious gang the Ashé Ryders. Led by a reluctant guide, Nalah battles other crews and her own doubts, but the closer she gets to her goal, the more she loses sight of everything—and everyone— she cares about.
      Nalah must do the unspeakable to get what she wants—a place to call home. But is a home just where you live? Or who you choose to protect?"
27. Barely Missing Everything by Matt Mendez
Publication Date: March 5, 2019
      "Juan has plans. He's going to get out of El Paso, Texas, on a basketball scholarship and make something of himself—or at least find something better than his mom Fabi's cruddy apartment, her string of loser boyfriends, and a dead dad. Basketball is going to be his ticket out, his ticket up. He just needs to make it happen.
      His best friend JD has plans, too. He's going to be a filmmaker one day, like Quinten Tarantino or Guillermo del Toro (NOT Steven Spielberg). He's got a camera and he's got passion—what else could he need?
      Fabi doesn't have a plan anymore. When you get pregnant at sixteen and have been stuck bartending to make ends meet for the past seventeen years, you realize plans don't always pan out, and that there some things you just can't plan for…
      Like Juan's run-in with the police, like a sprained ankle, and a tanking math grade that will likely ruin his chance at a scholarship. Like JD causing the implosion of his family. Like letters from a man named Mando on death row. Like finding out this man could be the father your mother said was dead.
      Soon Juan and JD are embarking on a Thelma and Louise­–like road trip to visit Mando. Juan will finally meet his dad, JD has a perfect subject for his documentary, and Fabi is desperate to stop them. But, as we already know, there are some things you just can't plan for…"
28. Sal & Gabi Break the Universe by Carlos Hernandez
Publication Date: March 5, 2019
      "How did a raw chicken get inside Yasmany's locker?
When Sal Vidon meets Gabi Real for the first time, it isn't under the best of circumstances. Sal is in the principal's office for the third time in three days, and it's still the first week of school. Gabi, student council president and editor of the school paper, is there to support her friend Yasmany, who just picked a fight with Sal. She is determined to prove that somehow, Sal planted a raw chicken in Yasmany's locker, even though nobody saw him do it and the bloody poultry has since mysteriously disappeared. Sal prides himself on being an excellent magician, but for this sleight of hand, he relied on a talent no one would guess . . . except maybe Gabi, whose sharp eyes never miss a trick. When Gabi learns that he's capable of conjuring things much bigger than a chicken–including his dead mother–and she takes it all in stride, Sal knows that she is someone he can work with. There's only one slight problem: their manipulation of time and space could put the entire universe at risk. A sassy entropy sweeper, a documentary about wedgies, a principal who wears a Venetian bauta mask, and heaping platefuls of Cuban food are just some of the delights that await in his mind-blowing novel gift-wrapped in love and laughter."
29. Sabrina & Corina: Stories by Kali Fajardo-Anstine
Publication Date: April 2, 2019
      "Indigenous Latina women living in the American West take center stage in this debut collection of stories–a powerful meditation on friendship, mothers and daughters, and the deep-rooted truths of our homelands.
      Kali Fajardo-Anstine's magnetic debut story collection breathes life into her Indigenous Latina characters and the land they inhabit. Set against the remarkable backdrop of Denver, Colorado–a place that is as fierce as it is exquisite–these women navigate the land the way they navigate their own lives: with caution, grace, and quiet force.
      In 'Sugar Babies,' ancestry and heritage are hidden inside the earth, but have the tendency to ascend during land disputes. 'Any Further West' follows a sex worker and her daughter as they leave their ancestral home in southern Colorado only to find a foreign and hostile land in California. In "Tomi," a woman returns home from prison, finding herself in a gentrified city that is a shadow of the one she remembers from her childhood. And in the title story, 'Sabrina & Corina,' a Denver family falls into a cycle of violence against women, coming together only through ritual.
      Sabrina & Corina is an exploration of the universal experiences of abandonment, heritage, and an eternal sense of home; and a moving narrative of unrelenting feminine power."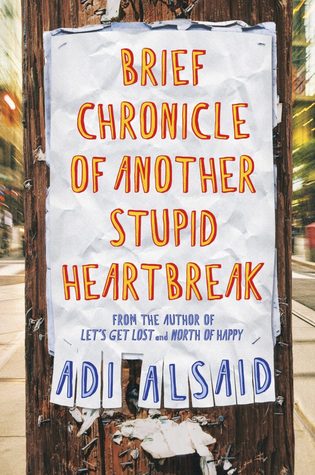 30. Brief Chronicles of Another Stupid Heartbreak by Adi Alsaid
Publication Date: April 30, 2019
      "The summer after senior year is not going as eighteen-year-old Lu Charles expected: after her longtime boyfriend unexpectedly breaks up with her, Lu can't write a single word, despite the fact that her college scholarship is tied to her columnist job at hip online magazine Misnomer. Then, she meets Cal.
      Cal's ever-practical girlfriend Iris is looking ahead to her first year of college, and her plans do not include a long-distance boyfriend. When Lu learns that Cal and Iris have planned to end their relationship at the end of the summer, she becomes fascinated and decides to chronicle the last months the couple will spend together.
      The closer she gets to the couple, the more she likes them, and the more she wants to write about them. The summer unfurls, and Lu discovers what it really means to be in love. On the page, or off it. The book is touching exploration of love and how it shapes us both during a relationship and after it has ended."
31. Silver Meadows Summer by Emma Otheguy
Publication Date: April 30, 2019
      "Eleven-year-old Carolina's summer–and life as she knows it–is upended when Papi loses his job, and she and her family must move from Puerto Rico to her Tía Cuca and Uncle Porter's house in upstate New York. Now Carolina must attend Silver Meadows camp, where her bossy older cousin Gabriela rules the social scene.
      Just as Carolina worries she'll have to spend the entire summer in Gabriela's shadow, she makes a friend of her own in Jennifer, a fellow artist. Carolina gets another welcome surprise when she stumbles upon a long-abandoned cottage in the woods near the campsite and immediately sees its potential as a creative haven for making art. There, with Jennifer, Carolina begins to reclaim the parts of the life she loved in Puerto Rico and forget about how her relationship with Mami has changed and how distant Papi has become.
      But when the future of Silver Meadows and the cottage is thrown into jeopardy, Carolina and–to everyone's surprise–Gabriela come up with a plan to save them. Will it work?"
32. Don't Date Rosa Santos by Nina Moreno
Publication Date: 2019
      "Rosa is cursed by the sea–at least that's what they say.
      Dating her is bad news, especially if you're a boy with a boat.
      But Rosa feels more caught than cursed. Caught between cultures and choices. Between her abuela, a beloved healer and pillar of their community, and her mother, an artist who crashes in and out of her life like a hurricane. Between Port Coral, the quirky South Florida town they call home, and Cuba, the island her abuela refuses to talk abou
      As her college decision looms, Rosa collides—literally—with Alex Aquino, the mysterious boy with tattoos of the ocean whose family owns the marina. With her heart, her family, and her future on the line, can Rosa break a curse and find her place beyond the horizon?"
33. The Tesla Legacy by K.K. Pérez
Publication Date: 2019
      "THE TESLA LEGACY follows a precocious young scientist named Lucy Phelps whose fateful encounter in the Tesla Suite of the New Yorker Hotel unlocks her dormant electrical powers. As Lucy struggles to understand her new abilities through scientific experimentation, she is thrust into a centuries old battle between rival alchemical societies.
      One side wants her help and the other wants her dead, but both believe she is the next step in human evolution. Unfortunately, carriers of the genetic mutation—including Nikola Tesla—have a greatly reduced life expectancy. Even if Lucy can outrun her enemies, she can't outrun herself. "
The Following Titles Do Not Have Covers Yet/Have Tentative Release Dates (Titles linked to Goodreads)
34. The Grief Keeper by Alex Villasante
Publication Date: February 26, 2019
      "Seventeen-year-old Marisol Morales and her little sister Gabi are detainees of the United States government. They were caught crossing the U.S. border, to escape the gang violence in their country after their brother was murdered. When Marisol learns that the old family friend who had offered them refuge in America has died and they are going to be sent home, they flee.
      They hitchhike, snagging a ride with an unassuming woman who agrees to drive them to New Jersey, but when Marisol wakes up in D.C. she learns the woman is actually a government agent. Indranie Patel has a proposal for Marisol: she wants Marisol to be a Grief Keeper, someone who will take another's grief into their body. It's a dangerous experimental study, but if Marisol agrees she and Gabi will be allowed to stay in the United States. If the experiment fails the girls will be sent home, which is a death sentence. Things become more complicated when Marisol meets Rey, the wealthy daughter of a D.C. Senator, and the girl she's helping to heal. Marisol likes Rey's short hair and sarcastic attitude. But she didn't expect the connection from their shared grief to erupt into a powerful love.
      Suddenly being forced from the United States isn't just a matter of life and death, but a matter of the heart."
35. Gods of Jade and Shadow by Silvia Moreno-Garcia
Publication Date: April 2019
      "A dark fantasy set in 1920s Mexico inspired by Mayan mythology, about a provincial girl who undertakes a perilous quest to restore the throne of the underworld of a death god."
36. Hollow Crown by Zoraida Córdova
Publication Date: May 7, 2019
      "When the royal family of Puerto Leones sets out to destroy magic through a grand and terrible inquisition, spy and memory-thief Renata seeks to kill the prince, leader of the King's Justice, who plans to use a terrible new weapon to wipe out the magic of the Moria…"
37. Nocturna by Maya Motayne
Publication Date: May 7, 2019
      "To Finn Voy, magic is two things. The first: a knife to hold under the chin of anyone who crosses her. The second: a disguise she shrugs on as easily as others pull on cloaks. A talented shapeshifter, it's been years since Finn has seen her own face, and that's exactly how she likes it. But when Finn gets caught by a powerful mobster she's indebted to, she's forced into an impossible mission—steal a legendary treasure from the palace or lose her shapeshifting magic forever.
      After the murder of his older brother, Prince Alfehr is first in line for the Castallan throne. But Alfie can't help but feel that he will never live up to his brother's legacy. Riddled with grief, Alfie is obsessed with finding a way to bring his brother back, even if it means dabbling in forbidden magic.
      In a cruel twist of fate, Alfie's best friend is nearly killed in the crossfire of Finn's heist, and Alfie accidentally unlocks a terrible, ancient magic to save him—a magic, which, if not contained, will devour the world. Alfie and Finn race to vanquish what they have unleashed. But to do so, they each must contend with the darkness hiding in their pasts.
      Set in a Latin-inspired kingdom based in part on the author's own Dominican heritage, A Forgery of Magic uses a society built on incredibly inventive magic to highlight real-world themes such as culture in the aftermath of colonialism and the anxiety of those who stand to inherit that legacy."
38. With the Fire on High by Elizabeth Acevedo
Publication Date: May 7, 2019
      "With the Fire on High by Elizabeth Acevedo, in which teen mom Emoni dreams of turning her talent for cooking into a career."
39. Five Midnights by Ann Dávila Cardinal
Publication Date: June 4, 2019
      "Five friends cursed. Five deadly fates. Five nights of retribución.
      If Lupe Dávila and Javier Utierre can survive each other's company, together they can solve a series of grisly murders sweeping though Puerto Rico. But the clues lead them out of the real world and into the realm of myths and legends. And if they want to catch the killer, they'll have to step into the shadows to see what's lurking there—murderer, or monster?"
40. All of Us with Wings by Michelle Ruiz Keil
Publication Date: June 18, 2019
      "All of Us With Wings, Michelle Ruiz Keil's mythology-inspired #OwnVoices debut is a post-punk San Francisco fairytale about a seventeen-year-old Latinx governess, her tween genius charge, the girl's rockstar family, and a pair of ancient children bound to right the wrongs of her stolen childhood.
      Seventeen-year-old Xochi loves her job as live-in governess for tween genius Pallas, enchanted by the girl's pagan rockstar parents and the storybook Victorian mansion they share with their band, Lady Frieda. Determined to deserve the fairytale life she's fallen into, Xochi does her best to put Pallas's needs before her own–ignoring the grief that lingers from her grandmother's death and rejecting her growing attraction to Pallas's guitar player dad, who shares her half Mexican heritage and troubled past.
      Then, on the night of the Vernal Equinox with a party raging in the house below, Xochi and Pallas perform a riot-grrrl ritual that unintentionally summons the Waterbabies.
      When her new life and past traumas collide, Xochi must come to terms with her complicated feelings for Pallas's father, save the mother who abandoned her and find a way to send the Waterbabies home before the San Francisco fog extinguishes their fierce magic."
41. Ghost Squad by Claribel A. Ortega
Publication Date: 2019
      "Coco meets Stranger Things in Claribel Ortega's middle grade debut, based on Dominican folklore in which 12-year-old girl Lucely Luna must save the ghosts of her lost loved ones, living as fireflies, with the help of her best friend Syd and her witch grandmother Babette, before evil spirits haunting St. Augustine destroy them and the only home she's ever known."
42. Chilling Effect by Valerie Valdes
Publication Date: 2019
      "An #ownvoices space opera where a mercenary space captain risks her life and crew to save her sister from a secret galactic organization."
43. Woven in Moonlight by Isabel Ibanez
Publication Date: 2019
      "An #OwnVoices Bolivian-inspired political fantasy. A magically gifted weaver plays the role of double agent to restore her queen to a troubled throne, but upon confronting a masked vigilante and a warm-hearted princess, she discovers that corruption comes in all forms."
44. Untitled (Brooklyn Brujas, #3) by Zoraida Córdova
Publication Date: 2019
      No synopsis currently.
45. Color Me In by Natasha Diaz
Publication Date: 2019
      "A YA novel based on the author's own story, is about a mixed-race Jewish girl as she faces coming-of-age issues before she has decided who she is and where she fits within her two very different worlds—one in Harlem and the other in Westchester County. Publication is set for spring 2019."
46. Children of the River Ghost by Alexandra Aceves
Publication Date: 2019
      "A YA horror novel in which 16-year-old Katie, reeling from bullying after her last relationship, moves to New Mexico and falls for a mysterious, beautiful girl who may be the ghost La Llorona. Publication is set for spring 2019."
47. The Book of Love by NoNieqa Ramos
Publication Date: 2019
      "Lerner/Carolrhoda Lab has acquired The Book of Love, a standalone novel by NoNieqa Ramos. Overachiever Verdad is struggling to process her best friend's death while meeting her mother's high expectations. When she falls for a classmate—who happens to be trans—their romance forces her to confront her demons and figure out who she really is. Publication is planned for fall 2019."
48. Paperback Midnight by Laura Taylor Namey
Publication Date: 2019
      "Lauren Smulski at Inkyard Press has bought debut author Laura Taylor Namey's YA novel, Paperback Midnight, pitched as Amber Smith meets Hoarders, about a young woman striving to find a balance between the ordinary life she wants and the reality of living with her hoarding mother. Publication is slated for fall 2019; Natascha Morris at BookEnds Literary Agency negotiated the deal for world rights."
49. This Just In by Maritza Moulite and Maika Moulite
Publication Date: 2019
      "Quick-witted high school journalist Alaine Beauparlant gets booted from her elite private school after an intricate prank goes cruelly awry. She warily accepts an invitation from her aunt to spend her suspension at the family's estate in Haiti–where her estranged mom is recuperating from a political fiasco. In her homeland for the first time, Alaine is immediately put to work at her aunt's start-up helping native children in need. Alaine meets locals, interacts with kids connected to donors, and is shown the ropes by Jason, a fellow intern whose charming ways are making work a bit more challenging. What she doesn't expect to find are letters, articles, emails, and diary entries that she compiles into a final project that will not only save her academic standing in school, but also help her finally know the mother she's never really understood."
50. They Could Have Named Her Anything by Stephanie Jimenez
Publication Date: 2019
      "Fulbright recipient Stephanie Jimenez's THEY COULD HAVE NAMED HER ANYTHING, the story of two teenaged girls—one Latina and one white—questioning what it means to live up to the name you've been given and how far you'll go for the life you've always dreamed of living, grappling with racism, class privilege, female friendship, and familial expectations, to Vivian Lee at Little A."
51. Becoming Beatriz by Tami Charles
Publication Date: 2019
No Goodreads page or synopsis at this time. Check out her website here.
Are any of these title on your TBR? Any that caught your eye? Something I've missed that you're excited about? Let's discuss in the comments.