Happy Latinx Heritage Month! September 15th marks the first day of Latinx Heritage Month, which continues through October 15th. Every Saturday on my blog a post will go up highlighting Latinx authors in a five-part series. Be sure to stick around and check them out. Also, I am running a Twitter giveaway for #LatinxHeritageMonth be sure to head on over here to check out the tweet. For this first post, I'm listing the top ten eleven books I've read over the past year written by Latinx authors. Covers are linked to Goodreads.
Favorite Books By Latinx Authors:
1. Wild Beauty by Anna-Marie McLemore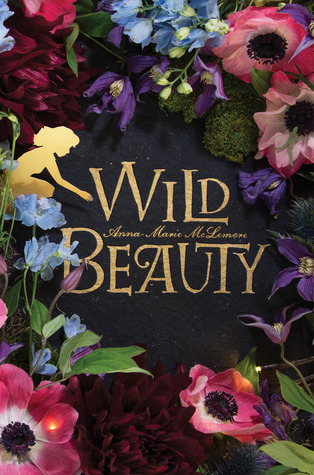 But was there any doubt Anna-Marie McLemore would make this list? When I need my magical realism fix, I immediately reach for McLemore's novels. Wild Beauty is about a generation of bisexual cousins from a family of horticulturalist who try to stop a family curse.
      "For nearly a century, the Nomeolvides women have tended the grounds of La Pradera, the lush estate gardens that enchant guests from around the world. They've also hidden a tragic legacy: if they fall in love too deeply, their lovers vanish. But then, after generations of vanishings, a strange boy appears in the gardens.
      The boy is a mystery to Estrella, the Nomeolvides girl who finds him, and to her family, but he's even more a mystery to himself; he knows nothing more about who he is or where he came from than his first name. As Estrella tries to help Fel piece together his unknown past, La Pradera leads them to secrets as dangerous as they are magical in this stunning exploration of love, loss, and family."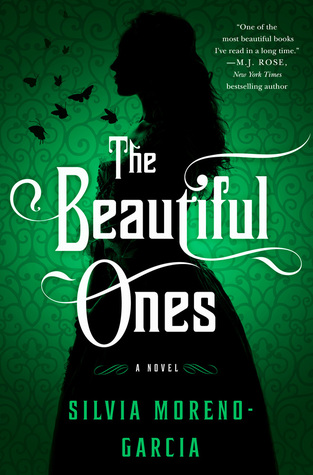 2. The Beautiful Ones by Silvia Moreno-Garcia

The Beautiful Ones is my favorite 2018 read. I love it for its subtlety and the care Silvia Moreno-Garcia took in developing her three lead characters. This will be reread by me very soon.
      "A young woman finding her way. 
It is Antonina Beaulieu's first Grand Season in the elegant city of Loisail. A chance to take her place in high society, to find a suitable husband, and to leave her checkered past behind. Because Antonina possesses telekinetic powers, powers she can't control, that have made her the subject of cruel gossip.
      A gentleman with a secret
      Famed telekinetic performer Hector Auvray is also new to the city. He arrives in Loisail with the intent of recapturing the heart of his former flame, the beautiful Valérie Beaulieu, and finds his way into her household by courting Antonina.
      Astounded by Hector's abilities, which she wishes to master, and flattered by his attention, Antonina does not suspect the duplicitous drama which will unfold.
      A romance with a dash of the fantastic
      Set in a sumptuous world inspired by the Belle Epoque, where scandal is a dreaded weapon, The Beautiful Ones is a tale of desire and betrayal, and the struggle between conformity and passion."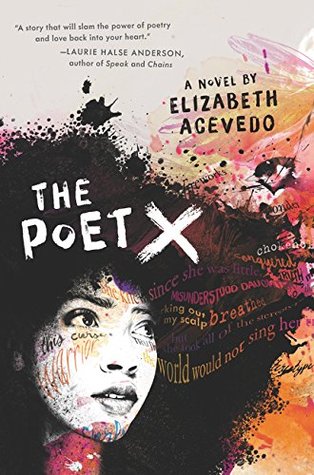 3. The Poet X by Elizabeth Acevedo
I never really thought of myself as a reader who enjoys novels in verse, by Elizabeth Acevedo debut, The Poet X, has changed my mind. Xiomara felt like an extension of who I was as a teen and I felt every emotion reading this one.
      "A young girl in Harlem discovers slam poetry as a way to understand her mother's religion and her own relationship to the world. Debut novel of renowned slam poet Elizabeth Acevedo.
      Xiomara Batista feels unheard and unable to hide in her Harlem neighborhood. Ever since her body grew into curves, she has learned to let her fists and her fierceness do the talking.
      But Xiomara has plenty she wants to say, and she pours all her frustration and passion onto the pages of a leather notebook, reciting the words to herself like prayers—especially after she catches feelings for a boy in her bio class named Aman, who her family can never know about. With Mami's determination to force her daughter to obey the laws of the church, Xiomara understands that her thoughts are best kept to herself.
      So when she is invited to join her school's slam poetry club, she doesn't know how she could ever attend without her mami finding out, much less speak her words out loud. But still, she can't stop thinking about performing her poems.
      Because in the face of a world that may not want to hear her, Xiomara refuses to be silent."
4. Peluda by Melissa Lozado-Oliva

This year not only did I discover that I enjoyed novels in verse, but also poetry. Melissa Lozado-Oliva is a slam poet and if you haven't checked her out on YouTube, stop what you are doing and do so now. I knew I had to own this one after watching her.
      "One of the most original performance poets of her generation, Melissa Lozada-Oliva has captivated crowds across the country and online with her vivid narratives. Humorous and biting, personal and communal, self-deprecating and unapologetically self-loving, peluda (meaning "hairy" or "hairy beast") is the poet at her best. The book explores the relationship between femininity and body hair as well as the intersections of family, class, the immigrant experience, Latina identity, and much more, all through Lozada-Oliva's unique lens and striking voice. peluda is a powerful testimony on body image and the triumph over taboo."
5. Bruja Born by Zoraida Córdova
Bruja Born by Zoraida Córdova is probably my favorite sequel I read this year. Labyrinth Lost was one of the first books that made me feel seen. I am beyond stoked for the third novel.
      "Three sisters. One spell. Countless dead.
      Lula Mortiz feels like an outsider. Her sister's newfound Encantrix powers have wounded her in ways that Lula's bruja healing powers can't fix, and she longs for the comfort her family once brought her. Thank the Deos for Maks, her sweet, steady boyfriend who sees the beauty within her and brings light to her life.
      Then a bus crash turns Lula's world upside down. Her classmates are all dead, including Maks. But Lula was born to heal, to fix. She can bring Maks back, even if it means seeking help from her sisters and defying Death herself. But magic that defies the laws of the deos is dangerous. Unpredictable. And when the dust settles, Maks isn't the only one who's been brought back…"
6. Not Now, Not Ever by Lily Anderson

I love books that make me laugh and every Lily Anderson novel as accomplished this. Her characters are so smart and witty and I just love the nerdy world she's built.
      "Elliot Gabaroche is very clear on what she isn't going to do this summer.
      1. She isn't going to stay home in Sacramento, where she'd have to sit through her stepmother's sixth community theater production of The Importance of Being Earnest.
      2. She isn't going to mock trial camp at UCLA.
      3. And she certainly isn't going to the Air Force summer program on her mother's base in Colorado Springs. As cool as it would be to live-action-role-play Ender's Game, Ellie's seen three generations of her family go through USAF boot camp up close, and she knows that it's much less Luke/Yoda/"feel the force," and much more one hundred push-ups on three days of no sleep. And that just isn't appealing, no matter how many Xenomorphs from Alien she'd be able to defeat afterwards.
      What she is going to do is pack up her attitude, her favorite Octavia Butler novels, and her Jordans, and go to summer camp. Specifically, a cutthroat academic-decathlon-like competition for a full scholarship to Rayevich College, the only college with a Science Fiction Literature program. And she's going to start over as Ever Lawrence, on her own terms, without the shadow of all her family's expectations. Because why do what's expected of you when you can fight other genius nerds to the death for a shot at the dream you're sure your family will consider a complete waste of time?
      This summer's going to be great."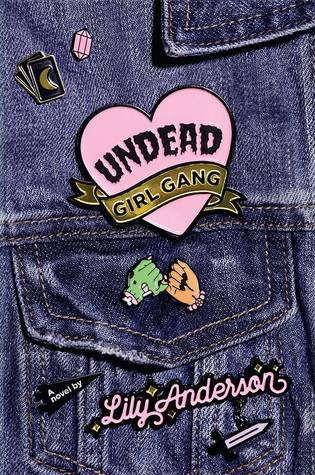 7. Undead Girl Gang by Lily Anderson
Yes, there is a second Lily Anderson book on this list because I was lucky enough to read two by her this year. Mila has the kind of confidence I wish I had; she's a fierce fat Mexican Wiccan and I wish I was a part of this amazing girl gang (hopefully as a living person and not a zombie.).
      "Mila Flores and her best friend Riley have always been inseparable. There's not much excitement in their small town of Cross Creek, so Mila and Riley make their own fun, devoting most of their time to Riley's favorite activity: amateur witchcraft.
      So when Riley and two Fairmont Academy mean girls die under suspicious circumstances, Mila refuses to believe everyone's explanation that her BFF was involved in a suicide pact. Instead, armed with a tube of lip gloss and an ancient grimoire, Mila does the unthinkable to uncover the truth: she brings the girls back to life.
      Unfortunately, Riley, June, and Dayton have no recollection of their murders, but they do have unfinished business to attend to. Now, with only seven days until the spell wears off and the girls return to their graves, Mila must wrangle the distracted group of undead teens and work fast to discover their murderer…before the killer strikes again."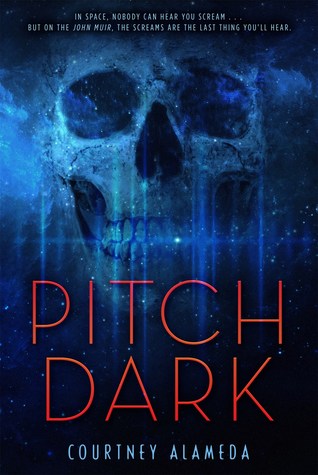 8. Pitch Dark by Courtney Alameda

I feel like I need to pay more attention to Courtney Alameda after reading her science-fiction/horror novel Pitch Dark. I didn't even know I needed a Latina protagonist in space until I read this one and now I wish this had a sequel coming out because I need more.
      "Tuck has been in stasis on the USS John Muir, a ship that houses Earth's most valued artifacts—its natural resources. Parks and mountains are preserved in space.
      Laura belongs to a shipraiding family, who are funded by a group used to getting what they want. And they want what's on the Muir.
      Tuck and Laura didn't bargain on working together, or battling mutant aliens who use sound to kill. But their plan is the only hope for their crews, their families, and themselves.
In space, nobody can hear you scream . . . but on the John Muir, the screams are the last thing you'll hear."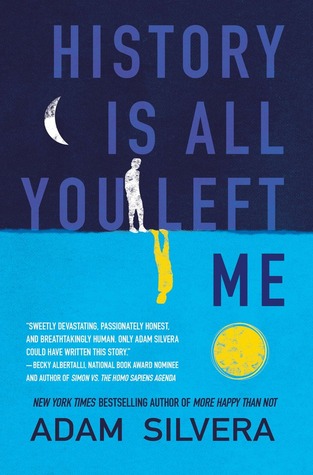 9. History Is All You Left Me by Adam Silvera
It's always dangerous to pick up an Adam Silvera book. Seriously, these novels need to come with a box of tissue. One of my favorite things about Silvera's books is how deeply flawed his protagonists; he has a gift for creating real characters that you can't help but root for.
      "When Griffin's first love and ex-boyfriend, Theo, dies in a drowning accident, his universe implodes. Even though Theo had moved to California for college and started seeing Jackson, Griffin never doubted Theo would come back to him when the time was right. But now, the future he's been imagining for himself has gone far off course
      To make things worse, the only person who truly understands his heartache is Jackson. But no matter how much they open up to each other, Griffin's downward spiral continues. He's losing himself in his obsessive compulsions and destructive choices, and the secrets he's been keeping are tearing him apart.
      If Griffin is ever to rebuild his future, he must first confront his history, every last heartbreaking piece in the puzzle of his life."
10. A Dash of Trouble by Anna Meriano

This middle grade novel is something I wish I had as a kid. Anna Meriano combines magic and cooking in a charming coming-of-age novel.
      "Leonora Logroño's family owns the most beloved bakery in Rose Hill, Texas, spending their days conjuring delicious cookies and cakes for any occasion. And no occasion is more important than the annual Dia de los Muertos festival.
      Leo hopes that this might be the year that she gets to help prepare for the big celebration—but, once again, she is told she's too young. Sneaking out of school and down to the bakery, she discovers that her mother, aunt, and four older sisters have in fact been keeping a big secret: they're brujas—witches of Mexican ancestry—who pour a little bit of sweet magic into everything that they bake.
      Leo knows that she has magical ability as well and is more determined than ever to join the family business—even if she can't let her mama and hermanas know about it yet.
      And when her best friend, Caroline, has a problem that needs solving, Leo has the perfect opportunity to try out her craft. It's just one little spell, after all…what could possibly go wrong?"
11. Gabi, a Girl in Pieces by Isabel Quintero

This list was originally ten books long, but I just finished Isabel Quintero's Gabi, a Girl in Pieces this week and had to add it to this list. I fell in love with Gabi almost from the get-go and love how honest her portrayal was.
      "Gabi Hernandez chronicles her last year in high school in her diary: college applications, Cindy's pregnancy, Sebastian's coming out, the cute boys, her father's meth habit, and the food she craves. And best of all, the poetry that helps forge her identity.
      July 24
      My mother named me Gabriella, after my grandmother who, coincidentally, didn't want to meet me when I was born because my mother was unmarried, and therefore living in sin. My mom has told me the story many, many, MANY, times of how, when she confessed to my grandmother that she was pregnant with me, her mother beat her. BEAT HER! She was twenty-five. That story is the basis of my sexual education and has reiterated why it's important to wait until you're married to give it up. So now, every time I go out with a guy, my mom says, 'Ojos abiertos, piernas cerradas.' Eyes open, legs closed. That's as far as the birds and the bees talk has gone. And I don't mind it. I don't necessarily agree with that whole wait until you're married crap, though. I mean, this is America and the 21st century; not Mexico one hundred years ago. But, of course, I can't tell my mom that because she will think I'm bad. Or worse: trying to be White."
Have you read any of these books or authors? Which book by a Latinx author have you enjoyed recently? Let's discuss in the comments.