Top Ten Tuesday is an original blog meme created by The Broke and the Bookish. and is currently being hosted by That Artsy Reader Girl. This week's topic is "Bingeworthy TV Shows/Movies." I love when you get to talk about something other than books. I think we define each other so much by the books we read and often bond over them, but I know we all have a lot of other things in common as well. Like television shows. I know many of us watch the same shows and it's just another way for us to bond. Here are a few shows that I've been really into lately.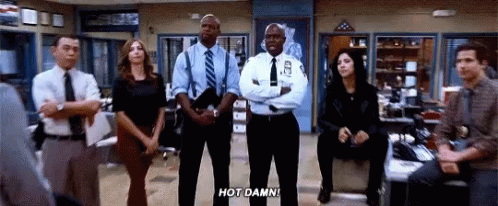 1. Brooklyn Nine-Nine (FOX/NBC) – This show is my happy place. It's the one I reach for when I want to just sit down and enjoy something. I was so heartbroken when I heard that it had been canceled and then over the moon when I found out another network had picked it up. I'm really hoping we get more than one more season. Also, at any given moment I am either a Rosa or a Amy. You've been warned.
2. The Good Place (NBC) – I unexpectedly fell in love with this comedy. I was pretty much hooked after the first episode. I know making television shows is hard, but I so wish the seasons for this one were longer. It always feels like we just got started right before the season is about to end. I love when you watch a show and can't quite decide who your favorite is because you love everyone so darn much. Really eager to know what they do with these characters in season three. Currently rewatching the first two seasons over and over until it premieres.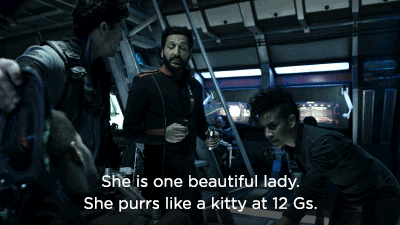 3. The Expanse (SyFy/Amazon) – I started watching this science-fiction show on Amazon Prime Video and before I knew it, I was finished with the first season and rushing to watch the second before the third premiered on SyFy. This show almost broke my heart as well as it was canceled and then picked up by Amazon. Can't wait for more.
4. Anne With an E (Netflix) – I am so charmed by this Netflix adaptation of Anne of Green Gables. I know a lot of people complained that it was way too dark in comparison to the book, but I personally love the fresh new look. Anne is just as dreamy and unreasonable as ever. I have one episode left to watch in the second season, but I've been saving it because who knows how long I will have to wait for the third season.
5. Orphan Black (BBC America) – Please, no spoilers, as I am still working my way through all the episodes. I really like the concept for this one and with each episode I watch, I grow more and more impressed with Tatiana Maslany. I marvel at all the different hats she wears. Though it doesn't make much sense to me, Alison is my favorite so far. She's so uptight and I love her.
Are you a fan of any of these shows? What's a show that you just started watching this year? Let me know in the comment and be sure to leave a link to your own TTT post.