I actually had a pretty good reading month. I'm so surprised and really pleased. These numbers won't astound anyone, but for someone who has been struggling to read "enough" books during the last few month, July felt really productive. I read seven books this July; got to a couple of that I've been putting off for a while and even snuck in a reread (To All the Boys I've Loved Before). I'm feeling really good about my summer reading right now, so hopefully this carries into August. It is also the start of the final month of the Summer 2018 Comment Challenge which I cohost with Lonna @ FLYLēF. For August, my partner is Barb @ Booker T's Farm. I'm really looking forward to interacting with her more over the course of the month.
(Book covers below are linked to my reviews, unless otherwise specified.) 
Favorite Book This Month: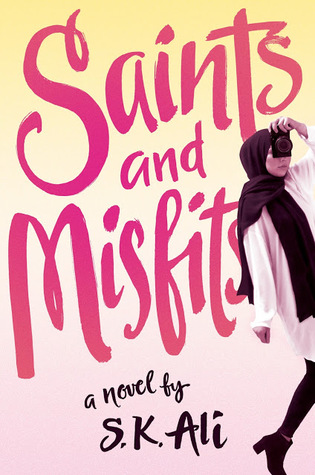 I had some really good reads this month, but my favorite was S.K. Ali's Saints and Misfits. It was such an unexpected favorite and the protagonist Janna is now among my favorite contemporary characters. My review for this one will go up in August. Cover is linked to Goodreads.
Least Favorite Book This Month:
No book this month received less than three stars.
Reviews Posted This Month:
Read, Review Coming Soon:
(covers linked to Goodreads)
Notable Blog Posts This Month:
Can't-Wait Wednesday: Seafire by Natalie C. Parker – What do you get when you combine pirates and Mad Max: Fury Road? Apparently, it's this novel. I am beyond stoked for this book.
Summer 2018 Comment Challenge: August Sign-up & August Partners – The final month of this challenge is starting. We've had such a fun time with the challenge this year and I've met so many wonderful bloggers.
Can't-Wait Wednesday: Pride by Ibi Zoboi – If you're like me, you love discovering new P&P retellings. Be sure to check out this one, it sounds all kinds of amazing.
Top Ten Tuesday: Favorite Books in 2018 So Far – Loved sharing my favorite reads so far this year.
2018 Second Quarter Book Haul: How Did This Happen? – I accidentally accumulated far too many books this quarter.
2018 Mid-Year Book Freak Out Tag – I finally got a chance to post this tag where I looked back on the first half of the year.
Reading Challenges:
Aside from the Goodreads challenge, I'm only participating in one reading challenge this year.
1. The 2018 Debut Author Challenge is hosted by That Artsy Reader Girl. I didn't read any debuts this month which make me feel a little guilty. I am now two books behind schedule >_<
Challenge Goal: 12 books; Current Count: 5 books
August Releases I'm Excited For:
How is your summer reading going? Any title your hoping to get to before the season is over? Let me know in the comments and feel free to leave me a link to your own wrap-up post and I'll be sure to visit.