Can't-Wait Wednesday is a weekly meme hosted by Tressa @ Wishful Endings where bloggers share which upcoming releases they're most looking forward to. Join us every Wednesday and watch your TBR list multiply. Cover is linked to Goodreads.
I'm pretty sure when I first heard about Ibi Zoboi's upcoming Pride & Prejudice retelling, Pride, I squealed aloud. Her debut American Street was so impressive and I feel like this is the kind of P&P retelling I've been waiting my whole life for. I've already preordered it and am anxiously awaiting its arrival.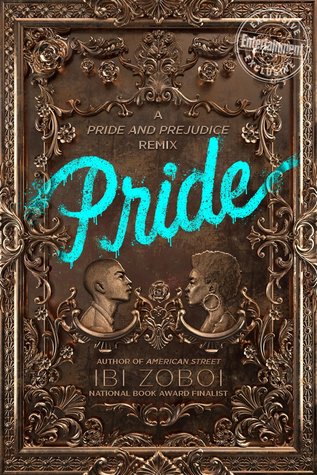 Title: Pride
Author: Ibi Zoboi
Series: N/A
Pages: 304
Publisher: Balzer + Bray
Release Date: September 18, 2018
      "Zuri Benitez has pride. Brooklyn pride, family pride, and pride in her Afro-Latino roots. But pride might not be enough to save her rapidly gentrifying neighborhood from becoming unrecognizable.
      When the wealthy Darcy family moves in across the street, Zuri wants nothing to do with their two teenage sons, even as her older sister, Janae, starts to fall for the charming Ainsley. She especially can't stand the judgmental and arrogant Darius. Yet as Zuri and Darius are forced to find common ground, their initial dislike shifts into an unexpected understanding.
      But with four wild sisters pulling her in different directions, cute boy Warren vying for her attention, and college applications hovering on the horizon, Zuri fights to find her place in Bushwick's changing landscape, or lose it all.
      In a timely update of Jane Austen's Pride and Prejudice, critically acclaimed author Ibi Zoboi skillfully balances cultural identity, class, and gentrification against the heady magic of first love in her vibrant reimagining of this beloved classic."
Are you participating in Can't-Wait Wednesday or Waiting on Wednesday? Is this book on your TBR? Be sure to leave a link to your post in the comments and I'll visit!