This week's set of mini-reviews are two of the most impressive reads I've picked up this year. N.K. Jemisin astounds me with her world-building and Elizabeth Acevedo punched me in the gut with her poetry. If you have not picked up either of these authors, you must do so immediately. Covers below are linked to Goodreads.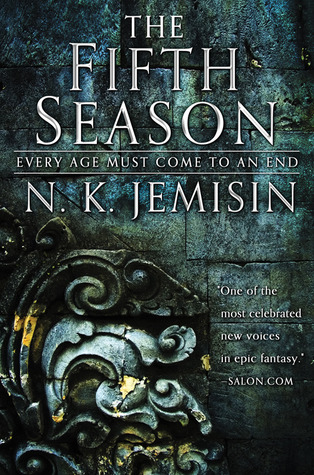 Title: The Fifth Season
Author: N.K. Jemisin
Series: The Broken Earth, #1
Pages: 468
Publisher: Orbit
Release Date: August 4th 2015 
      "THIS IS THE WAY THE WORLD ENDS. AGAIN.
      Three terrible things happen in a single day.
      Essun, masquerading as an ordinary schoolteacher in a quiet small town, comes home to find that her husband has brutally murdered their son and kidnapped their daughter. Mighty Sanze, the empire whose innovations have been civilization's bedrock for a thousand years, collapses as its greatest city is destroyed by a madman's vengeance. And worst of all, across the heartland of the world's sole continent, a great red rift has been been torn which spews ash enough to darken the sky for years. Or centuries.
      But this is the Stillness, a land long familiar with struggle, and where orogenes — those who wield the power of the earth as a weapon — are feared far more than the long cold night. Essun has remembered herself, and she will have her daughter back.
      She does not care if the world falls apart around her. Essun will break it herself, if she must, to save her daughter."
"You aren't just inflicting death on your fellow villagers, of course. A bird perched on a nearby fence falls over frozen, too. The grass crisps, the ground grows hard, and the air hisses and howls as moisture and density is snatched from its substance…but no one has ever mourned earthworms."
N.K. Jemisin's first novel, The Fifth Season, in The Broken Earth series is an example of masterful and innovative storytelling that spellbinds readers from start to finish. This is the first time that I've read a book where a substantial portion of the novel is written in second person. While I wasn't sure this would work, especially considering the other two perspectives included in the novel are told in third person, I quickly fell in step with this point of view. Jemisin has a way of weaving all three perspectives into one cohestive story that had me wanting to turn back to the beginning and experience the whole thing over again. Jemisin's world is complex and I'm in awe of how much information she is able to provide the reader in this first book without it feeling overwhelming. Essun is the first character we are introduced to and we're immediately put in her shoes as a mother who has just discovered her child has been killed. The young Damaya offers a more naive perspective and through her chapters, her and readers' disillusionment about the world is shattered. Syenite puts readers right in the middle of a powerful, but troubling institution and it is here where readers learn the full scope of terror for people living in this world. I loved how there are different types of people and beings (for lack of a better term) in this world that all have distinct functions and whose relationships with one another help shape this world. The Fifth Season launches readers into a world that is both fascinating and frightening with characters that are impossible to forget. Special shout out to Annemieke @ A Dance With Books for the great buddy read.
Rating: 4/5
★★★★
---
Title: The Poet X
Author: Elizabeth Acevedo
Series: N/A
Pages: 357
Publisher: HarperTeen
Release Date: March 6th 2018
      "A young girl in Harlem discovers slam poetry as a way to understand her mother's religion and her own relationship to the world. Debut novel of renowned slam poet Elizabeth Acevedo.
      Xiomara Batista feels unheard and unable to hide in her Harlem neighborhood. Ever since her body grew into curves, she has learned to let her fists and her fierceness do the talking.
      But Xiomara has plenty she wants to say, and she pours all her frustration and passion onto the pages of a leather notebook, reciting the words to herself like prayers—especially after she catches feelings for a boy in her bio class named Aman, who her family can never know about. With Mami's determination to force her daughter to obey the laws of the church, Xiomara understands that her thoughts are best kept to herself.
      So when she is invited to join her school's slam poetry club, she doesn't know how she could ever attend without her mami finding out, much less speak her words out loud. But still, she can't stop thinking about performing her poems.
       Because in the face of a world that may not want to hear her, Xiomara refuses to be silent."
"Late into the night I write and
the pages of my notebook swell
from all the words I've pressed onto them.
It almost feels like
the more I bruise the page
the quicker something inside me heals."
Elizabeth Acevedo stuns with her debut novel The Poet X. Xiomara is easily one of the most relatable protagonists I've ever had the pleasure of reading. For fifteen-year old Xiomara, having strangers and most especially men, draw conclusions about her based on her body is nothing new. She's developed a thick skin because she knows the only one who will fight for her is herself. Hardly one to express herself openly, Xiomara is just beginning to find her voice in the poetry she writes. Her relationship with her parents is complicated. There is unspoken resentment and anger. Xiomara is trying to discover who she is and what she believes while also trying to please her devout mother. Her father is physically present, but emotionally distant. Her twin, Xavier, whom she's always been closed to, is slowly pulling away, dealing with his own battles. Acedvedo's writing is honest and poignant. With each page turned, I grew more and more invested in Xiomara's story. Her journey to find her voice in a world that wishes to suppress it is both beautiful and devastating. Acevedo's novel in verse put me through a range of emotions from happiness to heartbreak and in the end left me feeling deeply moved.
Rating: 5/5
★★★★★