This is my first Kernels of Nonsense post since I decided to revamp the feature. It will now include discussions and other random bookish content that my brain may come up with. This week I'm sharing five books I'm really eager to check out from my library.
I know I'm not the only bookworm who struggles to read the books she buys. I have two small shelves dedicated to my TBR books and just got a package in the mail with more TBR books that I have no idea where I'm going to put. There's no doubt I have a problem buying more books than I can reasonable read.
But there's another reason why I don't get through my own books in a timely manner and that's the library. As a mood reader there are times when I would rather check out a book from the library than reach for one of my own. In an effort to read more of my own books, I've gone on an unofficial library ban. I haven't checked out a book from my library since February. I've been reading my own books for the last 2+ months and though I'm really proud of this fact, there are times when I really want to put a hold on a book, but I've resisted. I'm not sure when this library ban will end, but today I wanted to share with you five books that I've been dreaming about requesting over the last couple of weeks. Covers are linked to Goodreads.
1. Tyler Johnson Was Here by Jay Coles
Why I Want to Check It Out: Besides being in love with this cover, I've heard tremendous things about this novel. It sounds gripping and emotional and I love that teens are getting a chance to talk about police brutality through books like this.

When Marvin Johnson's twin, Tyler, goes to a party, Marvin decides to tag along to keep an eye on his brother. But what starts as harmless fun turns into a shooting, followed by a police raid.

The next day, Tyler has gone missing, and it's up to Marvin to find him. But when Tyler is found dead, a video leaked online tells an even more chilling story: Tyler has been shot and killed by a police officer. Terrified as his mother unravels and mourning a brother who is now a hashtag, Marvin must learn what justice and freedom really mean.
2. Suitors and Sabatoge by Cindy Anstey
Why I Want to Check It Out: I picked up Anstey's debut (way back when it was released) and second novel (just recently) and while I wasn't blown away by either, I do love that her books are Jane Austen-esque and right now, I am really craving some Regency Era fiction. I won't say no to recommendations in the comments!
Shy aspiring artist Imogene Chively has just had a successful Season in London, complete with a suitor of her father's approval. Imogene is ambivalent about the young gentleman until he comes to visit her at the Chively estate with his younger brother in tow. When her interest is piqued, however, it is for the wrong brother.

Charming Ben Steeple has a secret: despite being an architectural apprentice, he has no drawing aptitude. When Imogene offers to teach him, Ben is soon smitten by the young lady he considers his brother's intended.

But hiding their true feelings becomes the least of their problems when, after a series of "accidents," it becomes apparent that someone means Ben harm. And as their affection for each other grows—despite their efforts to remain just friends—so does the danger. . .
3. Moon Girl and the Devil Dinosaur, Vol. 1: BFF 
Why I Want to Check It Out: I was recently going through a list of Middle Grade graphic novels because I want to gift one to my oldest nephew and came across this one that I've only heard of in passing. It sounds amazing and I want to read it myself.
LUNELLA LAFAYETTE IS AN INHUMAN PRETEEN GENIUS WHO WANTS TO CHANGE THE WORLD!

That job would be a lot easier if she wasn't living in mortal fear of her latent Inhuman gene. There's no telling what she'll turn into – but Luna's got a plan. All she needs is an Omni-Wave Projector. Easy, right? That is, until a red-scaled beast is teleported from the prehistoric past to a far-flung future we call…today! Together they're the most Marvelous Team-Up of all – the Inhuman Moon Girl and time-tossed Devil Dinosaur! But will they be BFFs forever, or just until DD's dinner time? And Lunella soon learns that there are other problems with a having a titanic T. Rex as a pet in the modern-day Marvel Universe. School, for one. Monster hunters are another – especially when they're the Totally Awesome Hulk! Then there's the fact that everyone's favorite dino didn't journey through time alone. Beware the prehistoric savages known as the Killer-Folk – New York City's deadliest tourists! Can Lunella handle all this turmoil… and keep herself from transforming into an Inhuman monster?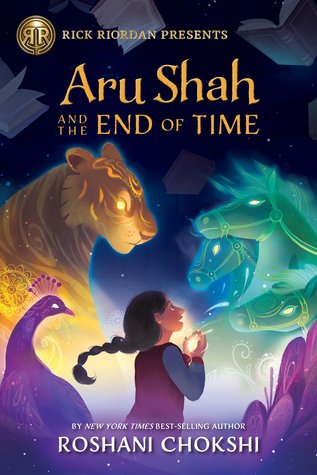 4. Aru Shah and the End of Time by Roshani Chokshi
Why I Want to Check It Out: I am still so much in love with Chokshi's A Crown of Wishes and would love to see what she does with this Middle Grade novel. Also, I really need to pick up more Middle Grade books. I need to be prepared for when the younger nieces and nephew reach this age.
Twelve-year-old Aru Shah has a tendency to stretch the truth in order to fit in at school. While her classmates are jetting off to family vacations in exotic locales, she'll be spending her autumn break at home, in the Museum of Ancient Indian Art and Culture, waiting for her mom to return from her latest archeological trip. Is it any wonder that Aru makes up stories about being royalty, traveling to Paris, and having a chauffeur?

One day, three schoolmates show up at Aru's doorstep to catch her in a lie. They don't believe her claim that the museum's Lamp of Bharata is cursed, and they dare Aru to prove it. Just a quick light, Aru thinks. Then she can get herself out of this mess and never ever fib again.

But lighting the lamp has dire consequences. She unwittingly frees the Sleeper, an ancient demon whose duty it is to awaken the God of Destruction. Her classmates and beloved mother are frozen in time, and it's up to Aru to save them.

The only way to stop the demon is to find the reincarnations of the five legendary Pandava brothers, protagonists of the Hindu epic poem, the Mahabharata, and journey through the Kingdom of Death. But how is one girl in Spider-Man pajamas supposed to do all that?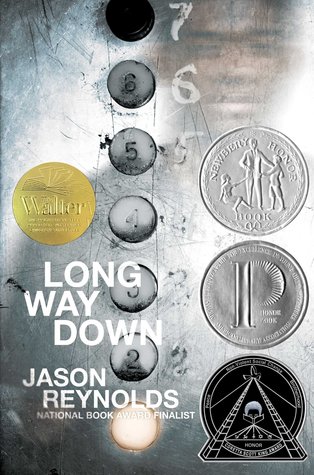 5. Long Way Down by Jason Reynolds
Why I Want to Check It Out: I really want to read more books in verse and Jason Reynold's Long Way Down is at the top of my list. I've actually heard the audio book is amazing, so I might go that route.
A cannon. A strap.
A piece. A biscuit.
A burner. A heater.
A chopper. A gat.
A hammer
A tool
for RULE

Or, you can call it a gun. That's what fifteen-year-old Will has shoved in the back waistband of his jeans. See, his brother Shawn was just murdered. And Will knows the rules. No crying. No snitching. Revenge. That's where Will's now heading, with that gun shoved in the back waistband of his jeans, the gun that was his brother's gun. He gets on the elevator, seventh floor, stoked. He knows who he's after. Or does he?

As the elevator stops on the sixth floor, on comes Buck. Buck, Will finds out, is who gave Shawn the gun before Will took the gun. Buck tells Will to check that the gun is even loaded. And that's when Will sees that one bullet is missing. And the only one who could have fired Shawn's gun was Shawn. Huh. Will didn't know that Shawn had ever actually used his gun. Bigger huh. BUCK IS DEAD. But Buck's in the elevator?

Just as Will's trying to think this through, the door to the next floor opens. A teenage girl gets on, waves away the smoke from Dead Buck's cigarette. Will doesn't know her, but she knew him. Knew. When they were eight. And stray bullets had cut through the playground, and Will had tried to cover her, but she was hit anyway, and so what she wants to know, on that fifth floor elevator stop, is, what if Will, Will with the gun shoved in the back waistband of his jeans, MISSES.

And so it goes, the whole long way down, as the elevator stops on each floor, and at each stop someone connected to his brother gets on to give Will a piece to a bigger story than the one he thinks he knows. A story that might never know an END…if WILL gets off that elevator.
Have you read any of these novels? Have you ever gone on a library ban? What's a book that you're eager to check out from your library? Let's talk in the comments!