Today I have two immensely different mini-reviews for you, but both are by Latina authors, so it kind of makes sense that I've paired them together? Yeah, let's go with that. Anna Meriano's A Dash of Trouble was so charming that I already have plans to purchase it for my niece come Christmas and I enjoyed Courtney Alameda's Pitch Dark so much, I might have to buy for myself soon. Covers below are linked to Goodreads.
Title: A Dash of Trouble
Author: Anna Meriano
Series: Love Sugar Magic, #1
Pages: 320
Publisher: Walden Pond Press
Release Date: January 2nd 2018 
      "Leonora Logroño's family owns the most beloved bakery in Rose Hill, Texas, spending their days conjuring delicious cookies and cakes for any occasion. And no occasion is more important than the annual Dia de los Muertos festival.
      Leo hopes that this might be the year that she gets to help prepare for the big celebration—but, once again, she is told she's too young. Sneaking out of school and down to the bakery, she discovers that her mother, aunt, and four older sisters have in fact been keeping a big secret: they're brujas—witches of Mexican ancestry—who pour a little bit of sweet magic into everything that they bake.
      Leo knows that she has magical ability as well and is more determined than ever to join the family business—even if she can't let her mama and hermanas know about it yet.
      And when her best friend, Caroline, has a problem that needs solving, Leo has the perfect opportunity to try out her craft. It's just one little spell, after all…what could possibly go wrong?"
"They all had sticky smiles on their faces. Leo licked cinnamon sugar off her fingers and smiled too, but her thoughts kept wandering to the recipe book under her bed. She didn't know what was worse, the guilty feeling of a secret or the impatience of wanting to try her next spell."
Anna Meriano's debut middle grade novel A Dash of Trouble is sweet, magical, and an utter delight. Eleven-year-old Leonora "Leo" Lograño just wants to be treated like her older sisters. But as the youngest of five daughters, Leo is often kept out of the loop. She also struggles to feel included when she grew up without speaking Spanish and everyone else in her family is either fluent or learning. As this year's Día de Muertos celebration is approaching, Leo is determined more than ever to not be left out, but her curiosity leads her to a family secret that changes everything. The women on her mother's side of the family are all brujas, witches with individual gifts from conjuring objects out of thin air to communicating with the dead. Leo is ecstatic, but she must keep her new knowledge a secret because like everything else, her family thinks she's too young to learn about magic. In secret, Leo begins working spells to help her best friend Caroline, but it all starts to fall apart when her spells don't go quite as planned. Now Leo must figure out how to fix her out of control magic without anyone in her family finding out. Leo is such an earnest character who I could not help but love. She wants more than anything to not be treated as a child and while her decisions aren't always wise, her motivation comes from a good place. I loved all the different dynamics between Leo and her sisters and could picture each so clearly. Meriano includes real recipes in her novel (minus the magic) that are perfect for young readers to follow (with adult supervision) and hopefully helps bring this heartfelt and funny novel to life.
Rating: 4/5
★★★★
---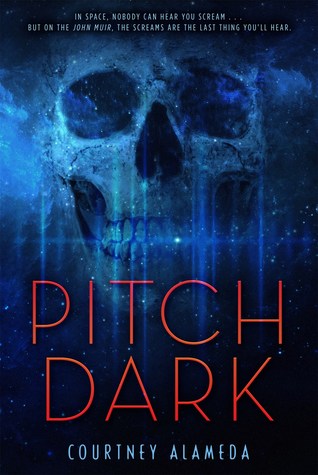 Title: Pitch Dark
Author: Courtney Alameda
Series: N/A
Pages: 384
Publisher: Feiwel Friends
Release Date: February 20th 2018

      "Tuck has been in stasis on the USS John Muir, a ship that houses Earth's most valued artifacts—its natural resources. Parks and mountains are preserved in space.
      Laura belongs to a shipraiding family, who are funded by a group used to getting what they want. And they want what's on the Muir.
      Tuck and Laura didn't bargain on working together, or battling mutant aliens who use sound to kill. But their plan is the only hope for their crews, their families, and themselves.
      In space, nobody can hear you scream . . . but on the John Muir, the screams are the last thing you'll hear."
"He groans, and the weight of his voice hits my temple, physical as a fist. Pain explodes from the crown of my head to my cheekbone. My nose cracks. Blood faucets from my left nostril, splattering over my mouth and chin."
Courtney Alameda's Pitch Dark takes the intricacies of science-fiction and combines it with all the thrills of a horror story in a novel that grabs readers from page one and doesn't let go. Alameda's two leads, Laura Cruz and Tuck Morgan, are both capable characters on their own, but they also make an excellent team and I loved the fact that they both had room to shine despite this fact. I was really impressed by the amount of detail that went into this novel from the descriptions of spaceships like the John Muir to the world-building. One of the novel's drawbacks, however, is the time-frame. The events of the novel occur very quickly making the development of a connection between characters feel a little hasty. Still, it was hard not to fall in love with Pitch Dark's characters and feel the excitement of the story. I also loved the fact that Pitch Dark is a multi-layered novel that also addresses humane nature, racism, and the politics of written history. I also want to say that if you get a chance, read Alameda's Author's Note at the end as it really resonated with me.
Rating: 4/5
★★★★