Can't-Wait Wednesday is a weekly meme hosted by Tressa @ Wishful Endings where bloggers share their most anticipated reads that haven't been released yet. Join us every Wednesday and watch your TBR list multiply. Cover is linked to Goodreads.
Before we get started, can I just say how much I love the cover for Lily Anderson's Undead Girl Gang? I have a mighty need to rock a denim jacket again after seeing this cover. Unfortunately, I don't think the one I owned as a kid would fit me now. Lily Anderson has become an auto-buy author for me. Her contemporary books are fun, witty, and so smart. Undead Girl Gang is different from what we're used to seeing from her, but I have no doubt that this book is going to be a delight. Also, this one comes out the day after my birthday and the MC is Mexican, so it kind of feels like she wrote this for me. Thanks, Lily 😉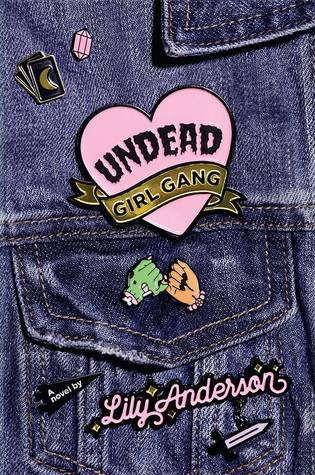 Title: Undead Girl Gang
Author: Lily Anderson
Series: N/A
Pages: 272
Publisher: Razorbill
Release Date: May 8, 2018
      "Mila Flores and her best friend Riley have always been inseparable. There's not much excitement in their small town of Cross Creek, so Mila and Riley make their own fun, devoting most of their time to Riley's favorite activity: amateur witchcraft.
      So when Riley and two Fairmont Academy mean girls die under suspicious circumstances, Mila refuses to believe everyone's explanation that her BFF was involved in a suicide pact. Instead, armed with a tube of lip gloss and an ancient grimoire, Mila does the unthinkable to uncover the truth: she brings the girls back to life.
      Unfortunately, Riley, June, and Dayton have no recollection of their murders, but they do have unfinished business to attend to. Now, with only seven days until the spell wears off and the girls return to their graves, Mila must wrangle the distracted group of undead teens and work fast to discover their murderer…before the killer strikes again."
Are you participating in Can't-Wait Wednesday or Waiting on Wednesday? Is this book on your TBR? Be sure to leave a link to your post in the comments and I'll visit!