I've been in a bit of a weird head space for the last couple of weeks. I DNFed an ARC for the first time and feel like I wasted almost a week trying to get through it before doing so. I'm trying to feel better about reading less, but it's a really hard switch to flip. I decided to join Can't-Wait Wednesdays as a way to fill the blog and not feel so much pressure to produce a certain number of reviews a month. Still, I managed to finish five books in February. I'm planning a two-week hiatus at the end of March, going into April, so expect an announcement around March 24th. Also, I will be posting a giveaway tomorrow for a few bookmarks I made, so look for that.
(Book covers below are linked to my reviews, unless otherwise specified.) 
Favorite Book This Month: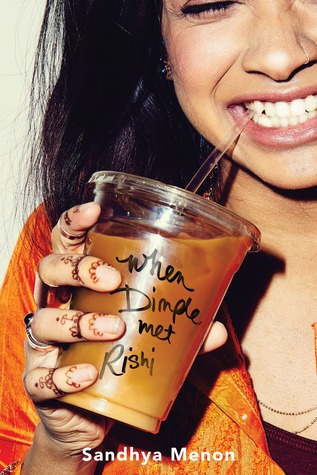 My favorite read this month was Sandhya Menon's When Dimple Met Rishi. I can't believe it took me this long to pick up this adorable rom-com. I loved both leads and smiled way too much reading it. My review will be posted in March. Cover is linked to Goodreads.
Least Favorite Book This Month:
No read this month received less than three stars from me.
Reviews Posted This Month:
Read, Review Coming Soon:
(covers linked to Goodreads)
Notable Blog Posts This Month:
Valentine's Day: Book Recommendations to Make You Swoon – Loved sharing some of my favorite swoon-worthy contemporary novels for this year's Valentine's Day.
Top Ten Tuesday: Popular Romantic Movies I've Never Seen – I have a lot of catching up to do when it comes to rom-coms and the like. Here are ten romantic movies (now nine), I have yet to see.
Can't-Wait Wednesday: The Poet X by Elizabeth Acevedo – This is my first time participating in this meme, which will be appearing on the blog at least a couple of times a month.
Reading Challenges:
Aside from the Goodreads challenge, I'm only participating in one reading challenge this year.
1. The 2018 Debut Author Challenge is hosted by That Artsy Reader Girl. This month I read one debut book: A Dash of Trouble by Anna Meriano.
Challenge Goal: 12 books; Current Count: 2 books
March Releases I'm Excited For:
How was your February? Which March release are you most looking forward to? Let me know in the comments and feel free to leave me a link to your own wrap-up post and I'll be sure to visit.