Can't-Wait Wednesday is a weekly meme hosted by Tressa @ Wishful Endings. This is my first time participating in this meme. Over the past couple of weeks I've been in a bit of a reading/reviewing slump and I came to a realization that I really need to make an effort to not put so much pressure on myself to review everything I read. As a result, you're going to see less reviews on the blog. That being said, I want to make sure that the blog isn't completely empty, so I will be participating in this meme at least a couple of times a month. For those unfamiliar, Can't-Wait Wednesday gives bloggers an opportunity to share with readers a book on their TBR that they are excited to read but hasn't been released yet. Cover is linked to Goodreads.
This week I'm spotlighting one of my most anticipated reads of the year: Elizabeth Acevedo's debut novel, The Poet X. If you don't have this book on your TBR, add it now. I can't wait to be immersed in the art of slam poetry and just look out how gorgeous that cover is! I might have accidentally preordered this while buying books for my niece and nephew's upcoming birthday. Whoops!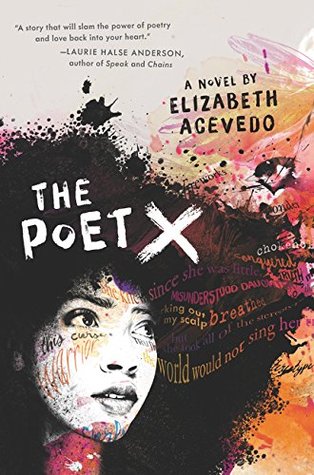 Title: The Poet X
Author: Elizabeth Acevedo
Series: N/A
Pages: 368
Publisher: HarperTeen
Release Date: March 6, 2018
      "Xiomara Batista feels unheard and unable to hide in her Harlem neighborhood. Ever since her body grew into curves, she has learned to let her fists and her fierceness do the talking.
      But Xiomara has plenty she wants to say, and she pours all her frustration and passion onto the pages of a leather notebook, reciting the words to herself like prayers—especially after she catches feelings for a boy in her bio class named Aman, who her family can never know about. With Mami's determination to force her daughter to obey the laws of the church, Xiomara understands that her thoughts are best kept to herself.
      So when she is invited to join her school's slam poetry club, she doesn't know how she could ever attend without her mami finding out, much less speak her words out loud. But still, she can't stop thinking about performing her poems.
      Because in the face of a world that may not want to hear her, Xiomara refuses to be silent."
Are you participating in Can't-Wait Wednesday or Waiting on Wednesday? Be sure to leave a link to your post in the comments and I'll visit!