Top Ten Tuesday is an original blog meme created by The Broke and the Bookish. and is currently being hosted by That Artsy Reader Girl. This week's topic is "Love Freebie (Romances, swoons, OTPs, kisses, sexy scenes, etc.)." So I'm going to do something way different this week and I'm listing popular romantic movies that I've never seen. I'm including the things I do know about these movies which isn't much. Prepare to be shocked. I am shockingly clueless. Also including a few random gifs of these movies and my reaction.
1. Dirty Dancing – I know there's dancing and that one famous line "No one puts Baby in a corner," but that's pretty much it.
Dirty Dancing gif reaction: Kind of looks like fun.
2. Notting Hill – Julia Roberts and Hugh Grant star in this one. It takes place in the U.K?
3. Love, Actually – There's that one scene where Rick Grimes is holding a sign.
4. The Notebook – This movie is the reason so many find Ryan Gosling attractive. I have never seen it, so it may explain why I don't find him very attractive.
The Notebook gif reaction: This…I…don't think this is a good idea.
5. Moulin Rouge! – There is music in this one and Nicole Kidman. Also, didn't know there was an exclamation mark until I looked up how to spell it.
6. Two Weeks Notice – Sandra Bullock is Hugh Grant's personal assistant? She doesn't feel appreciated and gives him her two weeks notice, but he then discovers he's in love with her? I don't know, sounds like he doesn't deserve her in the first place.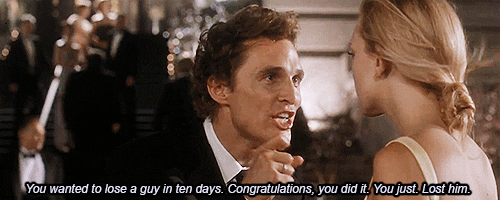 7. How to Lose a Guy in 10 Days – Both leads are trying to make the other break up with them. I'm pretty sure this is accurate.
How to Lose a Guy in 10 Days gif reaction: I know who wins. It's about winning, right?
8. The Time Traveler's Wife – There's time-travel. They somehow fall in love despite him traveling in time unexpectedly. This doesn't sound ideal for a relationship.
9. Step Up – Another dancing movie. That's all I got.
10. Definitely, Maybe – Little girl doesn't know who her mother is, so Dad decides it's a good idea to tell her stories about each of the women that could be her mother, further compromising this girl's emotional stability. I think I made that up.
Definitely, Maybe gif reaction: I like her.
Now's your chance to convince me to watch or not watch any of these movies. Any popular romantic movies you haven't seen? Leave me a link to your own TTT post in the comments, so I can visit.