I meant to post these mini-reviews before the end of the year, but with all the posts I was hurriedly putting together, I didn't get a chance to post this one. In a rare case, I actually regret not writing a full review for An Enchantment of Ravens as I enjoyed it more than my mini review implies, so if my brief thoughts don't convince you to pick it up, I'm hoping this little note will. Covers below are linked to Goodreads.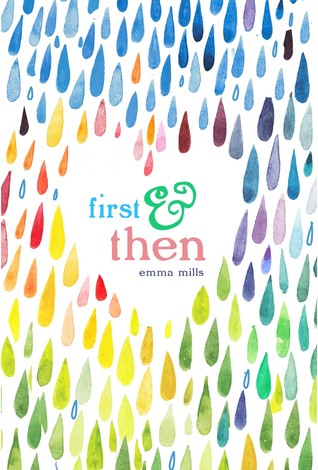 Title: First & Then
Author: Emma Mills
Series: N/A
Pages: 272
Publisher: Henry Holt and Co.
Release Date: October 13th 2015 
      "Devon Tennyson wouldn't change a thing. She's happy watching Friday night games from the bleachers, silently crushing on best friend Cas, and blissfully ignoring the future after high school. But the universe has other plans. It delivers Devon's cousin Foster, an unrepentant social outlier with a surprising talent for football, and the obnoxiously superior and maddeningly attractive star running back, Ezra, right where she doesn't want them: first into her P.E. class and then into every other aspect of her life.
      Pride and Prejudice meets Friday Night Lights in this contemporary novel about falling in love with the unexpected boy, with a new brother, and with yourself."

"It was endearing, in that way that almost ached sometimes, how much my folks wanted Foster to be okay. And I think even more than I did, they wanted Foster to be normal. For me, being normal meant fitting in. For them, I think it just meant being happy."
Emma Mill's First & Then is a Pride & Prejudice inspired contemporary that failed to grip me emotionally, making it difficult to enjoy. I had a hard time getting immersed in this book and a lot of this had to do with the protagonist. Though I understood that Devon's judgmental thoughts were meant to create that needed tension with her love interest Ezra and draw parallels to Jane Austen's Elizabeth Bennet, it was still difficult to get behind a protagonist who referred to the freshman gym girls as "prostitots." Her long-standing crush on her best friend Cas never radiated with me, but this was mostly the fault of the author never showing her readers why someone like Cas was worthy of such a crush. I wanted to swoon along with Dev over Ezra and knowing their relationship was gradual should have made my slow-burn loving heart skip a beat, but I mostly found the star athlete to be too wooden and meaningful interactions between the two to be lacking. The standout character and who really held the whole story together was Devon's younger cousin Foster. He gave Devon and Ezra a common purpose and added heart to a story that would have completely fallen apart otherwise. There isn't anything extraordinary about First & Then, but if you're looking for a simple Jane Austen retelling, you might enjoy this one more than I.
Rating: 2/5
★★
---
Title: An Enchantment of Ravens
Author: Margaret Rogerson
Series: N/A
Pages: 300
Publisher: Margaret K. McElderry Books
Release Date: September 26th 2017

      "Isobel is a prodigy portrait artist with a dangerous set of clients: the sinister fair folk, immortal creatures who cannot bake bread, weave cloth, or put a pen to paper without crumbling to dust. They crave human Craft with a terrible thirst, and Isobel's paintings are highly prized among them. But when she receives her first royal patron—Rook, the autumn prince—she makes a terrible mistake. She paints mortal sorrow in his eyes – a weakness that could cost him his life.
      Furious and devastated, Rook spirits her away to the autumnlands to stand trial for her crime. Waylaid by the Wild Hunt's ghostly hounds, the tainted influence of the Alder King, and hideous monsters risen from barrow mounds, Isobel and Rook depend on one another for survival. Their alliance blossoms into trust, then love, violating the fair folks' ruthless Good Law. There's only one way to save both their lives, Isobel must drink from the Green Well, whose water will transform her into a fair one—at the cost of her Craft, for immortality is as stagnant as it is timeless.
      Isobel has a choice: she can sacrifice her art for a future, or arm herself with paint and canvas against the ancient power of the fairy courts. Because secretly, her Craft represents a threat the fair folk have never faced in all the millennia of their unchanging lives: for the first time, her portraits have the power to make them feel."
"Just like that the wrongness spread. The breeze dropped away, and the air grew still and oppressively hot. The birds stopped singing, the grasshoppers stopped buzzing, and even the wheat dropped in the stagnant air. The stench of decay grew overwhelming."
Margaret Rogerson's An Enchantment of Ravens is a enjoyable fantasy with intriguing world-building and multilayered characters. Isobel lives her life dealing with the fair folk on a daily basis. As a talented portrait artist, many fair folk have commission her to paint their portraits in exchange for an enchantment. Isobel has learned that though the fair folk are beautiful, they are incredibly deceptive. She has relied on this knowledge and her own shrewdness when dealing with them. Her connection with the autumn prince Rook is more of an unspoken connection at first and it is for this reason that I hesitated to get behind their relationship. I'm not a fan of the insta-love trope, but as the story progressed, the author ended up selling their relationship better over time. I probably would have taken to the idea of Rook and Isobel sooner if the story had shown them interacting more during his portrait painting. The fair folk were fantastic antagonists in this book. I loved how dark and twisted Rogerson's wrote them. Their fascination with humanity helped, but also hindered Isobel as she tried to escape their realm. I loved the imagery of the different fairy courts and like Isobel, readers quickly learn that just because something is enchanting, doesn't make it innocuous. An Enchantment of Ravens does a wonderful job of showing two contrasting beings trying to navigate the other's world and after finishing, I'm really surprised that this won't end up being the start of a series rather than a standalone.
Rating: 4/5
★★★★