Goodbye, October! I'm really sad that this month has come to an end. My blog is no longer rocking a Halloween theme and it's time to take down all my creepy decorations. I had so much fun with October Fright this year where I put together many spooktacular posts. This month I read six novels plus three graphic novels. No five-stars this month, but still a really good reading month. Though I'm not fond of Christmas decor in stores so early, it's time to start thinking about gifts. I have an upcoming blog hiatus that is going to take me from the middle of November into December. I'm preparing for it now, so when I get back I don't have a ton of blogging stuff on my plate.
(Book covers below are linked to my reviews, unless otherwise specified.) 
Favorite Book This Month: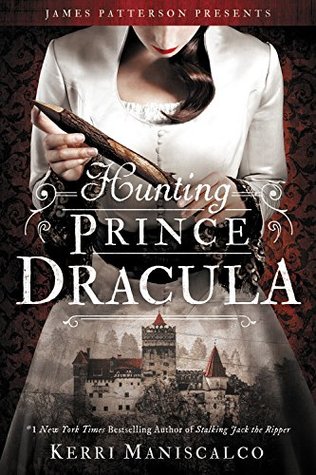 It was really hard to decide which four-star read was my favorite this month. I'm going with Kerri Maniscalco's Hunting Prince Dracula. I loved the Gothic feel of this sequel and can't wait for more.
Least Favorite Book This Month:
No books this month received less than three stars from me.
Reviews Posted This Month:
Read, Review Coming Soon:
(covers linked to Goodreads)
Graphic Novels Read This Month:
(These received four stars from me; covers linked to Goodreads)
Notable Blog Posts This Month:
October Fright 2017 – As mentioned before, I put together Halloween-themed posts that you can check out. My favorite from the bunch was October Fright 2017: Your Guide to Avoiding the "Just Moved Into a Haunted House and Am Now the Lead in a Horror Movie" Trope. It's a bit wordy, but I had so much fun with this advice post.
Top Ten Tuesday: Favorite Long-Winded Titles That Aren't Necessary But Are Undeniably Charming, Much Like This One — Long-Winded That Is, Maybe Not So Charming – Apparently I'm a fan of long-winded titles. Here I list some of my favorites.
FLYTIP: Make Your Mark – Got a chance to share some of my favorite bookmarks including some DIY ones. I am planning a giveaway in the future, but probably won't announce anything until after my hiatus.
Reading Challenges:
My October reading TBR was devoted to creepy reads, so I made very little progress toward these challenges.
1. The 2017 Debut Author Challenge is hosted by That Artsy Reader Girl. No debuts picked up this month.
Challenge Goal: 12 books; Current Count: 16 books
2. Flights of Fantasy Reading Challenge 2017 is hosted by Alexa Loves Books and Hello, Cherry. This month I read Hillary Monahan's The Hollow Girl.
Challenge Goal: 20 books; Current Count: 16 books
November Releases I'm Excited For:
Are you preparing yourself for the holiday season? How are your reading challenges going now that the end of the year is near? Favorite read in October? Let me know in the comments and feel free to leave me a link to your own wrap-up post and I'll be sure to visit.