For those who don't need October as an excuse for a scary read, this list is for you. Who says October is the only time you can pick up a frightfully fun book? If you're already counting down the days until next October, stay scared with these books set to be released later this year and next. Covers are linked to Goodreads (or titles if a cover is not available).
1. Devil in Ohio by Daria Polatin
Release Date: November 7, 2017

When fifteen-year-old Jules Mathis comes home from school to find a strange girl, her mother explains that Mae is one of her patients at the hospital and will be staying with their family for a few days. But shortly after, Mae is wearing Jules' clothes, sleeping in her bedroom, edging her out of her position on the school paper, and kissing Jules's crush. Then things get weird.

Jules walks in on a half-dressed Mae, she's startled to see a pentagram carved into her back. Soon white roses start turning up on the front porch, a rabid dog bites one of Jules' sisters, and Jules' parents, who never fight, start arguing behind closed doors.

Jules pieces clues together and discovers that Mae may be a survivor of the strange cult that has taken over a nearby town. And they will stop at nothing to get Mae back.
2. R.I.P. Eliza Hart by Alyssa B. Sheinmel
Release Date: November 28, 2017
When Eliza Hart, the most popular girl at Ventana Ranch boarding school, is found dead on the cliffs outside her dormitory, Ellie Sokoloff is determined to figure out what happened to her. After all, Eliza was Ellie's childhood best friend.

Never mind that ever since Ellie arrived at school Eliza has spread terrible rumors about her, calling her a liar and a stalker, when all Ellie wanted to do was rekindle their old friendship. Or that Ellie's claustrophobia limits where she can go and what she can do. Or that Ellie's suitemate, Sam, is the only one who will help her . . . because to everyone else, Ellie looks like the top suspect.

Can Ellie clear her name and solve the mystery behind Eliza's death? Her hunt for the truth will uncover secrets she never imagined, sending her deep into her own memories of her childhood with Eliza Hart.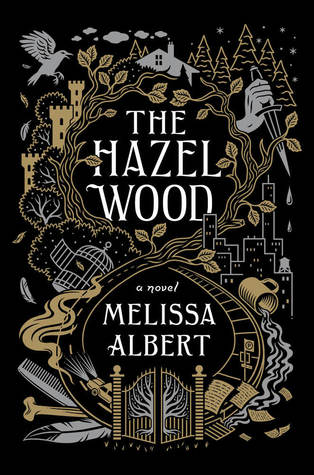 3. The Hazel Wood by Melissa Albert
Release Date: January 30, 2018
Seventeen-year-old Alice and her mother have spent most of Alice's life on the road, always a step ahead of the uncanny bad luck biting at their heels. But when Alice's grandmother, the reclusive author of a cult-classic book of pitch-dark fairy tales, dies alone on her estate, the Hazel Wood, Alice learns how bad her luck can really get: Her mother is stolen away―by a figure who claims to come from the Hinterland, the cruel supernatural world where her grandmother's stories are set. Alice's only lead is the message her mother left behind: "Stay away from the Hazel Wood.".

Alice has long steered clear of her grandmother's cultish fans. But now she has no choice but to ally with classmate Ellery Finch, a Hinterland superfan who may have his own reasons for wanting to help her. To retrieve her mother, Alice must venture first to the Hazel Wood, then into the world where her grandmother's tales began―and where she might find out how her own story went so wrong.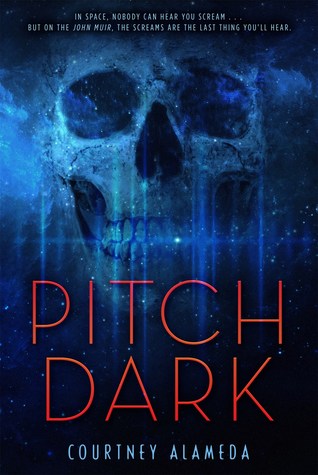 4. Pitch Dark by Courtney Alameda
Release Date: February 20, 2018
Tuck Durante is a shipraider, combing space for Earth artifacts from a war that ended 500 years ago. When his parents' ship crashes in the dead zone and the crew goes missing, Tuck hires a ragtag rescue team.

Meanwhile, curator Lana Gray is fighting to keep the US PANAM John Muir—and the remnants of its crew—alive. Their space capsule housing Yosemite National Park was hijacked. The hijacking turned ninety-five percent of her crew into nightmarish creatures called mourners who flay, dismember, or decapitate with nothing more than sharp-pitched shrieks.

Now, despite their differences, Lana, Tuck, and their crews must work together to save the John Muir. In space, nobody can hear you scream…but on the John Muir, the screams are the last thing you'll hear.
5. The Heart Forger by Rin Chupeco
Release Date: March 1, 2018
Synopsis currently unavailable, sequel to The Bone Witch.
6. By a Charm and a Curse by Jaime Questell
Release Date: March 6, 2018
LeGrand's Carnival Fantastic isn't like other traveling circuses. It's bound by a charm, held together by a centuries-old curse, that protects its members from ever growing older. Seventeen-year-old Emmaline King is drawn to the circus like a moth to a flame…and unwittingly recruited into its folds by a mysterious teen boy whose kiss is as cold as ice.


Forced to travel through Texas as the new Girl In the Box, passing out fortunes and searching for the poor soul she can transfer the curse to with one frosty kiss, Emmaline begins to fall for the quiet carnival carpenter Ben Singer. Ben is just as desperate to start a life outside the carnival as Emmaline is to escape her destiny—but giving in to their undeniable attraction means Ben's fate would be sealed.

Breaking the curse seems like their only chance at happiness—but no curse means no charm, either, dooming every circus worker they've grown to care about in the process.
7. In Her Skin by Kim Savage
Release Date: March 27, 2018
Sixteen-year-old con artist Jo Chastain is about to take on the biggest heist of her life: impersonating a missing girl. Life on the streets of Boston these past few years hasn't been easy, and Jo is hoping to cash in on a little safety, a little security. She finds her opportunity in the Lovecrafts, a wealthy family with ties to the unsolved disappearance of Vivienne Weir, who vanished when she was nine.

When Jo takes on Vivi's identity and stages the girl's miraculous return, the Lovecrafts welcome her back with open arms. They give her everything she could want: love, money, and proximity to their intoxicating and unpredictable daughter, Temple. But nothing is as it seems in the Lovecraft household—and some secrets refuse to stay buried. As hidden crimes come to the surface, and lines of deception begin to blur, Jo must choose to either hold onto an illusion of safety, or escape the danger around her before it's too late..
8. Circle Unbroken by Zoraida Córdova
Release Date: April 1, 2018
Synopsis unavailable, sequel to Labyrinth Lost.
9. The Missing by Jerico Lenk
Release Date: April 3, 2018
Jane McKeene was born two days before the dead began to walk the battlefields of Gettysburg and Chancellorsville—derailing the War Between the States and changing America forever. In this new nation, safety for all depends on the work of a few, and laws like the Native and Negro Reeducation Act require certain children attend combat schools to learn to put down the dead. But there are also opportunities—and Jane is studying to become an Attendant, trained in both weaponry and etiquette to protect the well-to-do. It's a chance for a better life for Negro girls like Jane. After all, not even being the daughter of a wealthy white Southern woman could save her from society's expectations.

But that's not a life Jane wants. Almost finished with her education at Miss Preston's School of Combat in Baltimore, Jane is set on returning to her Kentucky home and doesn't pay much mind to the politics of the eastern cities, with their talk of returning America to the glory of its days before the dead rose. But when families around Baltimore County begin to go missing, Jane is caught in the middle of a conspiracy, one that finds her in a desperate fight for her life against some powerful enemies. And the restless dead, it would seem, are the least of her problems.
10. Devils Unto Dust by Emma Berquist
Release Date: April 10, 2018
Ten years ago, a horrifying disease began spreading across the West Texas desert. Infected people—shakes—attacked the living and created havoc and destruction. No one has ever survived the infection. Daisy Wilcox, known as Willie, has been protecting her siblings within the relatively safe walls of Glory, Texas. When Willie's good-for-nothing father steals a fortune from one of the most dangerous shake-hunters in town, she finds herself on the hook for his debt. With two hunters, including the gruff and handsome Ben, to accompany her, she sets out across the desert in search of her father. But the desert is not kind to travelers, and not everyone will pass through alive.
11. Lizzie by Dawn Ius
Release Date: April 10, 2018
When sixteen-year-old Macie O'Sullivan and her masterfully manipulative mother Aubra arrive at the gates of Witchtown—the most famous and mysterious witch-only haven in the world—they have one goal in mind: to rob it for all it's worth. But that plan derails when Macie and Aubra start to dig deeper into Witchtown's history and uncover that there is more to the quirky haven than meets the eye. Exploring the haven by herself, Macie finds that secrets are worth more than money in Witchtown. Secrets have their own power.
12. The Life and Death Parade by Eliza Wass
Release Date: July 12, 2018
One year ago, Kitty's boyfriend Nikki Bramley visited a psychic who told him he had no future. Now, he's dead.

With the Bramley family grieving in separate corners of their home, Kitty sets out to find the psychic who read Nikki his fate. Instead she finds Roan, an enigmatic boy posing as a medium who belongs to the Life and Death Parade–a group of supposed charlatans that explore, and exploit, the thin veil between this world and the next. A group whose members include the psychic… and Kitty's late mother.

Desperate to learn more about the group and their connection to Nikki, Kitty convinces Roan to return to the Bramley house with her and secures a position for him within the household. Roan quickly ingratiates himself with the Bramleys, and soon enough it seems like everyone is ready to move on. Kitty, however, increasingly suspects Roan knows more about Nikki than he's letting on. And when they finally locate the Life and Death Parade, and the psychic who made that fateful prophecy to Nikki, Kitty uncovers a secret about Roan that changes everything.
13. Undead Girl Gang by Lily Anderson
Release Date: Summer 2018
Razorbill has bought Lily Anderson's Undead Girl Gang. Pitched as Veronica Mars meets The Craft, the novel follows teenager Mila Flores as she investigates the suspicious deaths of three classmates and accidentally brings the girls back to life, forming an unlikely vigilante girl gang.
Are any of these books on your TBR as well? Are there any future horror/paranormal/thriller books you're looking forward to not on the list? Let's discuss in the comments!