I didn't plan on putting together more than one set of mini-reviews for this month, but ended up with these ones. The Hearts We Sold is a mini-review from last month and The Women in the Walls is one of my final reads of October. They both have a horror feel to them, so they're perfect for my final reviews of the month. Covers below are linked to Goodreads.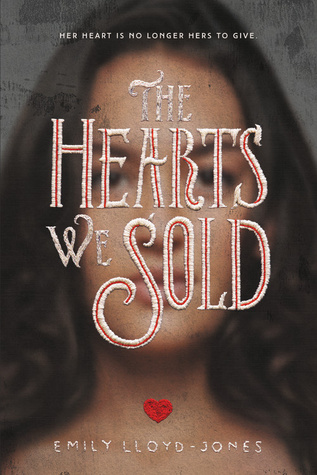 Title: The Hearts We Sold
Author: Emily Lloyd-Jones
Series: N/A
Pages: 381
Publisher: Little, Brown Books for Young Readers
Release Date: August 8th 2017 
      "When Dee Moreno makes a deal with a demon—her heart in exchange for an escape from a disastrous home life—she finds the trade may have been more than she bargained for. And becoming "heartless" is only the beginning. What lies ahead is a nightmare far bigger, far more monstrous than anything she could have ever imagined.
      With reality turned on its head, Dee has only a group of other deal-making teens to keep her grounded, including the charming but secretive James Lancer. And as something grows between them amid an otherworldy ordeal, Dee begins to wonder: Can she give someone her heart when it's no longer hers to give?"

"Magic was just another fantasy. It was something she created to comfort herself. There were no fairy tales, no knights in shining armor. Just herself and her own wits."
The first thing about Emily Lloyd-Jones's The Hearts We Sold that caught my attention was the premise. The idea that demons have not only made themselves known to the world, but that they grant wishes in exchange for part of a person is potentially horrifying. Despite the unique premise, the world-building still left something to be desired. The ending really threw me for a loop. The "twist" could have been established earlier on and its consequences explored which would have help with the world-building. I really appreciated reading about Dee. I'd like to see more protagonists who have to deal with their parents' addictions. As the child of alcoholics, Dee feels incredibly isolated. She internalizes a lot of negative thoughts about herself and others. This is a theme that runs throughout the entire novel and affects all of her relationships. At first, it's easy to scoff at the idea of giving up your heart to a demon for anything, but Dee's desperation really comes through and it's hard not to in some ways support with her decision. The side characters in this one were enjoyable, but never felt fully realized. Aside from Dee, James was the one character that stood out. It's always nice to get a love interest that isn't a clichéd brooding male. He's so full of life and lent a dose of levity to the Dee's world. The Hearts We Sold is good novel for those looking for a darker fantasy with an unusual premise, but probably won't blow you away in the end.
Rating: 3/5
★★★
---
Title: The Women in the Walls
Author: Amy Lukavics
Series: N/A
Pages: 278
Publisher: Harlequin Teen
Release Date: September 27th 2016

      "Lucy Acosta's mother died when she was three. Growing up in a Victorian mansion in the middle of the woods with her cold, distant father, she explored the dark hallways of the estate with her cousin, Margaret. They're inseparable—a family.
      When her aunt Penelope, the only mother she's ever known, tragically disappears while walking in the woods surrounding their estate, Lucy finds herself devastated and alone. Margaret has been spending a lot of time in the attic. She claims she can hear her dead mother's voice whispering from the walls. Emotionally shut out by her father, Lucy watches helplessly as her cousin's sanity slowly unravels. But when she begins hearing voices herself, Lucy finds herself confronting an ancient and deadly legacy that has marked the women in her family for generations."
"Lucy," I suddenly hear, a pleading, muffled voice coming from the wall. "You won't believe how much it hurts to be dead."
Amy Lukavics's The Women in the Walls is one of the creepiest books I picked up this October. I went into this not expecting too many thrills as the reviews for this one have been on the negative side. I'm a big fan of build-up and think tension is essential for any horror story, so I was put off at first when we are thrust head first into this story. There is also a lot of telling rather than showing and while I do think the book improved as it went on, this was one of its shortcomings. I do want to mention that this novel does deal with suicide and self-harm, both of which I was not expecting. The protagonist is already buckling under familial expectations when the people around her begin acting strange. Lucy's aunt disappears into the woods surrounding their estate and her cousin Margaret's behavior becomes erratic. With her aunt gone, her cousin Margaret pulling away, and an emotionally absent father, Lucy begins to come apart. The pacing really picked up once I was halfway through. Once Lucy starts to hear voices from the walls herself, I had to continue reading. If you do decide to pick this one up, there are plenty of spine-tingling scenes that will both terrified and delight the horror fan.
Rating: 3/5
★★★