Hello, friends fiends (see what I did there?). It's been a while since I posted a set of mini-reviews. I've been busy reading creepy books this month (I'm excited for Halloween, can you tell I'm excited for Halloween?) and so it's only appropriate to pair these two together for mini-reviews. Hope you enjoy. Covers below are linked to Goodreads.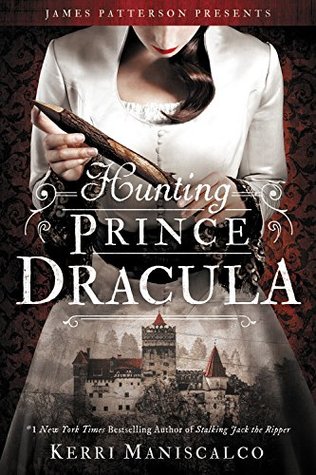 Title: Hunting Prince Dracula
Author: Kerri Maniscalco
Series: Stalking Jack the Ripper, #2
Pages: 434
Publisher: Little, Brown & Company
Release Date: September 19th 2017 
      "In this New York Times bestselling sequel to Kerri Maniscalco's haunting #1 debut Stalking Jack the Ripper, bizarre murders are discovered in the castle of Prince Vlad the Impaler, otherwise known as Dracula. Could it be a copycat killer…or has the depraved prince been brought back to life?
      Following the grief and horror of her discovery of Jack the Ripper's true identity, Audrey Rose Wadsworth has no choice but to flee London and its memories. Together with the arrogant yet charming Thomas Cresswell, she journeys to the dark heart of Romania, home to one of Europe's best schools of forensic medicine…and to another notorious killer, Vlad the Impaler, whose thirst for blood became legend.
      But her life's dream is soon tainted by blood-soaked discoveries in the halls of the school's forbidding castle, and Audrey Rose is compelled to investigate the strangely familiar murders. What she finds brings all her terrifying fears to life once again."

"Chills invaded the cracks of my emotional armor, sliding their icy fingers along my skin. I gave in to their prodding and shivered in the waning morning light."
Kerri Maniscalco's Hunting Prince Dracula is an action-packed historical thriller that had me guessing at every turn. Audrey Rose Wadsworth and Thomas Cresswell are quickly becoming one of my favorite literary pairs. Their relationship continues to evolve in this one and I really liked how the author balances this with both characters learning important lessons about themselves as well. Audrey Rose is still haunted by the events from the first book and isn't sure she still has what it takes to pursue a career in forensic studies. Thomas is concerned for her well-being and often oversteps, but I love how assertive Audrey Rose is with both him and her new classmates at the Academy of Forensic Medicine and Science. Thomas was a bit of an enigma in the first book, so I was happy to see him get backstory as well as becoming acquainted with his sister in this one. The majority of the novel takes place at Bran Castle and I loved the dark and dreary descriptions. The eerie atmosphere and murderous mystery is reminiscent of Gothic literature and made a perfect read for October.
Rating: 4/5
★★★★
---
Title: And the Trees Crept In
Author: Dawn Kurtagich
Series: N/A
Pages: 352
Publisher: Little, Brown Books for Young Readers
Release Date: September 6th 2017

      "Stay away from the woods…
      When Silla and Nori arrive at their aunt's home, it's immediately clear that the manor is cursed. The endless creaking of the house at night and the eerie stillness of the woods surrounding them would be enough of a sign, but there are secrets too—questions that Silla can't ignore: Why does it seem that, ever since they arrived, the trees have been creeping closer? Who is the beautiful boy who's appeared from the woods? And who is the tall man with no eyes who Nori plays with in the basement at night… a man no one else can see?"
"The terror is like a foghorn in the darkness. Like a spotlight pointed at me, notifying the monsters of the world exactly where I am: exposed, armorless. "
Dawn Kurtagich's And the Trees Crept In is a novel I've really been looking forward to this October. Like Kurtagich's previous novel, The Dead House, Kurtagich's uses various methods to tell her story. There's first person narration, diary entries, and flash backs. All these work together to bring the reader into the story and the mystery of La Baume, the home of Silla and Nori's aunt. The story opens with Silla and Nori arriving at their aunt's doorstep in search of refuge. We quickly learn that both these girls have been on the receiving end of their father's violent outbursts and while little Nori's wounds are very visible, Silla's injuries are more emotional and psychological. As their aunt's behavior grows more and more erratic, Silla begins to suspect that there is more to La Baume and the surrounding woods. Her aunt speaks of the Creeper Man, lying in wait for any who may enter Python Wood. I really liked the growing tension in this book and in many ways it's more of a psychological thriller than a horror novel. Silla is tormented by the isolation of the house, the lack of food for her and her sister, and unexplained behavior of her aunt. And the Trees Crept In isn't a perfect horror novel. I liked the beginning more than the latter part of the story. At times it felt a little too long and the ending is cliché, but if you're looking for a novel that might make you think twice before walking down the hall in the dark, then this is one you'll want to check out.
Rating: 3/5
★★★