I think I've been dreaming about October since the summer. I love love love Halloween. It's probably my favorite holiday. I've always been a fan of scary stories. Am I the only one who terrorized a younger sibling with scary stories? This October I will be picking up as many horror/paranormal/thriller/mystery novels that I can get my hands on in celebration. In the past I've kept this list reasonable short, but I thought it would be nice to compost a bit longer of a list to give myself plenty of options. Covers are linked to Goodreads.
1. And the Trees Crept in by Dawn Kurtagich
      "When Silla and Nori arrive at their aunt's home, it's immediately clear that the manor is cursed. The endless creaking of the house at night and the eerie stillness of the woods surrounding them would be enough of a sign, but there are secrets too—questions that Silla can't ignore: Why does it seem that, ever since they arrived, the trees have been creeping closer? Who is the beautiful boy who's appeared from the woods? And who is the tall man with no eyes who Nori plays with in the basement at night… a man no one else can see?"
2. The Women in the Walls by Amy Lukavics

      "Lucy Acosta's mother died when she was three. Growing up in a Victorian mansion in the middle of the woods with her cold, distant father, she explored the dark hallways of the estate with her cousin, Margaret. They're inseparable—a family.
      When her aunt Penelope, the only mother she's ever known, tragically disappears while walking in the woods surrounding their estate, Lucy finds herself devastated and alone. Margaret has been spending a lot of time in the attic. She claims she can hear her dead mother's voice whispering from the walls. Emotionally shut out by her father, Lucy watches helplessly as her cousin's sanity slowly unravels. But when she begins hearing voices herself, Lucy finds herself confronting an ancient and deadly legacy that has marked the women in her family for generations."
3. The Hollow Girl by Hillary Monahan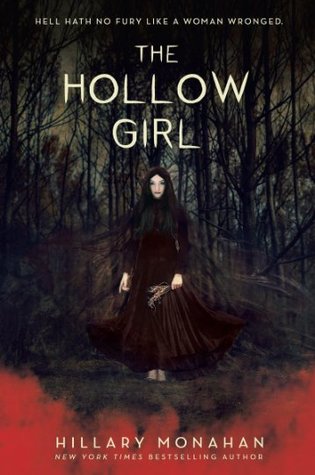 "Five boys attacked her.
      Now they must repay her with their blood and flesh.
      Bethan is the apprentice to a green healer named Drina in a clan of Welsh Romanies. Her life is happy and ordered and modest, as required by Roma custom, except for one thing: Silas, the son of the chieftain, has been secretly harassing her.
      One night, Silas and his friends brutally assault Bethan and a half-Roma friend, Martyn. As empty and hopeless as she feels from the attack, she asks Drina to bring Martyn back from death's door. "There is always a price for this kind of magic," Drina warns. The way to save him is gruesome. Bethan must collect grisly pieces to fuel the spell: an ear, some hair, an eye, a nose, and fingers.
      She gives the boys who assaulted her a chance to come forward and apologize. And when they don't, she knows exactly where to collect her ingredients to save Martyn."
4. Bad Blood by Jennifer Lynn Barnes
      "When Cassie Hobbes joined the FBI's Naturals program, she had one goal: uncover the truth about her mother's murder. But now, everything Cassie thought she knew about what happened that night has been called into question. Her mother is alive, and the people holding her captive are more powerful—and dangerous—than anything the Naturals have faced so far. As Cassie and the team work to uncover the secrets of a group that has been killing in secret for generations, they find themselves racing a ticking clock.
      The bodies begin piling up, the deaths hit closer and closer to home, and it soon becomes apparent that this time, the Naturals aren't just hunting serial killers.
      They're being hunted themselves."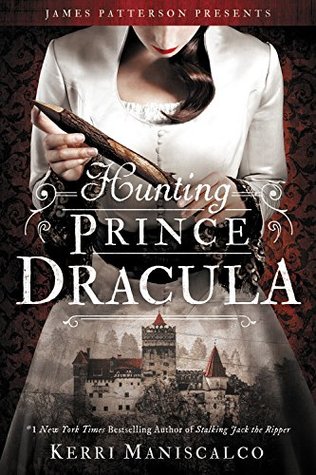 5. Hunting Prince Dracula by Kerri Maniscalco
      "Following the grief and horror of her discovery of Jack the Ripper's true identity, Audrey Rose Wadsworth has no choice but to flee London and its memories. Together with the arrogant yet charming Thomas Cresswell, she journeys to the dark heart of Romania, home to one of Europe's best schools of forensic medicine…and to another notorious killer, Vlad the Impaler, whose thirst for blood became legend.
      But her life's dream is soon tainted by blood-soaked discoveries in the halls of the school's forbidding castle, and Audrey Rose is compelled to investigate the strangely familiar murders. What she finds brings all her terrifying fears to life once again."
6. Last Call at the Nightshade Lounge by Paul Krueger
      "College grad Bailey Chen has a few demons: no job, no parental support, and a rocky relationship with Zane, the only friend who's around when she moves back home. But when Zane introduces Bailey to his cadre of monster-fighting bartenders, her demons get a lot more literal. Like, soul-sucking hell-beast literal. Soon, it's up to Bailey and the ragtag band of magical mixologists to take on whatever—or whoever—is behind the mysterious rash of gruesome deaths in Chicago, and complete the lost recipes of an ancient tome of cocktail lore."
7. Ghostland: An American History in Haunted Places by Colin Dickey
      "Colin Dickey is on the trail of America's ghosts. Crammed into old houses and hotels, abandoned prisons and empty hospitals, the spirits that linger continue to capture our collective imagination, but why? His own fascination piqued by a house hunt in Los Angeles that revealed derelict foreclosures and "zombie homes," Dickey embarks on a journey across the continental United States to decode and unpack the American history repressed in our most famous haunted places. Some have established reputations as "the most haunted mansion in America," or "the most haunted prison"; others, like the haunted Indian burial grounds in West Virginia, evoke memories from the past our collective nation tries to forget.
      With boundless curiosity, Dickey conjures the dead by focusing on questions of the living–how do we, the living, deal with stories about ghosts, and how do we inhabit and move through spaces that have been deemed, for whatever reason, haunted? Paying attention not only to the true facts behind a ghost story, but also to the ways in which changes to those facts are made–and why those changes are made–Dickey paints a version of American history left out of the textbooks, one of things left undone, crimes left unsolved. Spellbinding, scary, and wickedly insightful, Ghostland discovers the past we're most afraid to speak of aloud in the bright light of day is the same past that tends to linger in the ghost stories we whisper in the dark."
8. The Appearance of Annie van Sinderen by Katherine Howe
      "It's summertime in New York City, and aspiring filmmaker Wes Auckerman has just arrived to start his summer term at NYU. While shooting a séance at a psychic's in the East Village, he meets a mysterious, intoxicatingly beautiful girl named Annie.
      As they start spending time together, Wes finds himself falling for her, drawn to her rose-petal lips and her entrancing glow. There's just something about her that he can't put his finger on, something faraway and otherworldly that compels him to fall even deeper. Annie's from the city, and yet she seems just as out of place as Wes feels. Lost in the chaos of the busy city streets, she's been searching for something—a missing ring. And now Annie is running out of time and needs Wes's help. As they search together, Annie and Wes uncover secrets lurking around every corner, secrets that will reveal the truth of Annie's dark past."
9. The Sacred Lies of Minnow Bly by Stephanie Oakes
      "The Kevinian cult has taken everything from seventeen-year-old Minnow: twelve years of her life, her family, her ability to trust. And when she rebelled, they took away her hands, too.
      Now their Prophet has been murdered and their camp set aflame, and it's clear that Minnow knows something—but she's not talking. As she languishes in juvenile detention, she struggles to un-learn everything she has been taught to believe, adjusting to a life behind bars and recounting the events that led up to her incarceration. But when an FBI detective approaches her about making a deal, Minnow sees she can have the freedom she always dreamed of—if she's willing to part with the terrible secrets of her past."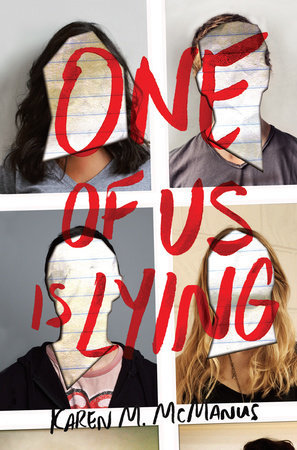 10. One of Us Is Lying by Karen M. McManus

      "Pay close attention and you might solve this.
      On Monday afternoon, five students at Bayview High walk into detention.
      Bronwyn, the brain, is Yale-bound and never breaks a rule.
      Addy, the beauty, is the picture-perfect homecoming princess.
      Nate, the criminal, is already on probation for dealing.
      Cooper, the athlete, is the all-star baseball pitcher.
      And Simon, the outcast, is the creator of Bayview High's notorious gossip app.
      Only, Simon never makes it out of that classroom. Before the end of detention Simon's dead. And according to investigators, his death wasn't an accident. On Monday, he died. But on Tuesday, he'd planned to post juicy reveals about all four of his high-profile classmates, which makes all four of them suspects in his murder. Or are they the perfect patsies for a killer who's still on the loose?
      Everyone has secrets, right? What really matters is how far you would go to protect them."
11. The Merciless II: The Exorcism of Sofia Flores by Danielle Vega
      "Sofia is still processing the horrific truth of what happened when she and three friends performed an exorcism that spiraled horribly out of control. Ever since that night, Sofia has been haunted by bloody and demonic visions. Her therapist says they're all in her head, but to Sofia they feel chillingly real. She just wants to get out of town, start fresh someplace else . . . until her mother dies suddenly, and Sofia gets her wish.
      Sofia is sent to St. Mary's, a creepy Catholic boarding school in Mississippi. There, seemingly everyone is doing penance for something, most of all the mysterious Jude, for whom Sofia can't help feeling an unshakeable attraction. But when Sofia and Jude confide in each other about their pasts, something flips in him. He becomes convinced that Sofia is possessed by the devil. . . . Is an exorcism the only way to save her eternal soul?"
12. My Best Friend's Exorcism by Grady Hendrix
      "Abby and Gretchen have been best friends since fifth grade, when they bonded over a shared love of E.T., roller-skating parties, and scratch-and-sniff stickers. But when they arrive at high school, things change. Gretchen begins to act…different. And as the strange coincidences and bizarre behavior start to pile up, Abby realizes there's only one possible explanation: Gretchen, her favorite person in the world, has a demon living inside her. And Abby is not about to let anyone or anything come between her and her best friend. With help from some unlikely allies, Abby embarks on a quest to save Gretchen. But is their friendship powerful enough to beat the devil?"
13. The Ravenous by Amy Lukavics
      "From the outside, the Cane family looks like they have it all. A successful military father, a loving mother and five beautiful teenage daughters. But on the inside, life isn't quite so idyllic: the Cane sisters can barely stand each other, their father is always away, and their neglectful mother struggles with addiction and depression.
      When their youngest and most beloved sister, Rose, dies in a tragic accident, Mona Cane and her sisters are devastated. And when she is brought back from the dead, they are relieved. But soon they discover that Rose must eat human flesh to survive, and when their mother abandons them, the sisters will find out just how far they'll go to keep their family together."
14. Anya's Ghost by Vera Brosgol
      "Of all the things Anya expected to find at the bottom of an old well, a new friend was not one of them. Especially not a new friend who's been dead for a century.
      Falling down a well is bad enough, but Anya's normal life might actually be worse. She's embarrassed by her family, self-conscious about her body, and she's pretty much given up on fitting in at school. A new friend—even a ghost—is just what she needs."
15. Through the Woods by Emily Carroll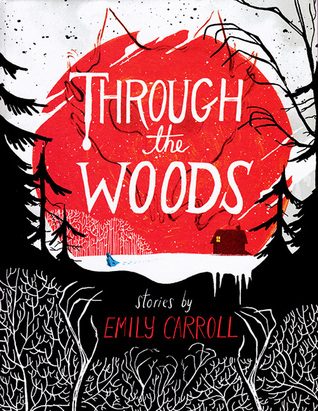 "Five mysterious, spine-tingling stories follow journeys into (and out of?) the eerie abyss.
      These chilling tales spring from the macabre imagination of acclaimed and award-winning comic creator Emily Carroll.
      Come take a walk in the woods and see what awaits you there…"
16. Chilling Adventures of Sabrina, Vol. 1: The Crucible by  Roberto Aguirre-Sacasa
      "On the eve of her sixteenth birthday, the young sorceress Sabrina Spellman finds herself at a crossroads, having to choose between an unearthly destiny and her mortal boyfriend, Harvey. But a foe from her family's past has arrived in Greendale, Madame Satan, and she has her own deadly agenda. Archie Comics' latest horror sensation starts here! For TEEN+ readers. Compiles the first six issues of the ongoing comic book series Chilling Adventures of Sabrina."
Have you read any of these books or are you planning to? Which spooky read are you most looking forward to reading this October? Let me know in the comments!