It's time for part two of my Latinx Heritage Month posts. If you didn't know, September 15th marks the first day of Latinx Heritage Month. Yesterday I shared some of my favorite books by Latinx authors that I've read over the past year. You can check that out here. Today I'm sharing a condensed list of TBR books by Latinx authors that I'm dying to read. Make sure to support Latinx voices by adding and picking up books by Latinx authors all year long! Covers are linked to Goodreads.
TBR Books By Latinx Authors:
1. North of Happy by Adi Alsaid
I haven't seen anyone really talk about Adi Alsaid's North of Happy, so I want to make sure I read and review it for the blog. Confession time: I have a thing for baking shows, but have never read a book about baking. It's a travesty.
      "Carlos Portillo has always led a privileged and sheltered life. A dual citizen of Mexico and the US, he lives in Mexico City with his wealthy family, where he attends an elite international school. Always a rule follower and a parent pleaser, Carlos is more than happy to tread the well-worn path in front of him. He has always loved food and cooking, but his parents see it as just a hobby.
      When his older brother, Felix—who has dropped out of college to live a life of travel—is tragically killed, Carlos begins hearing his brother's voice, giving him advice and pushing him to rebel against his father's plan for him. Worrying about his mental health, but knowing the voice is right, Carlos runs away to the United States and manages to secure a job with his favorite celebrity chef. As he works to improve his skills in the kitchen and pursue his dream, he begins to fall for his boss's daughter—a fact that could end his career before it begins. Finally living for himself, Carlos must decide what's most important to him and where his true path really lies."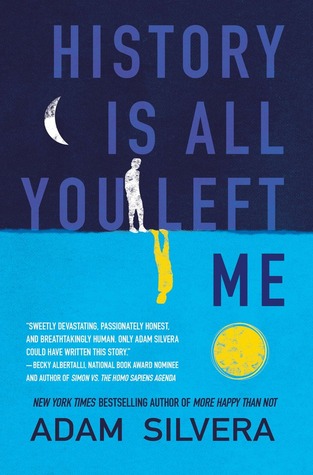 2. History Is All You Left Me by Adam Silvera

Because I apparently like my heart ripped out of me, I'm going to pick up another Adam Silvera book real soon. I must get to this one because another book of his just came out. Ah!
      "When Griffin's first love and ex-boyfriend, Theo, dies in a drowning accident, his universe implodes. Even though Theo had moved to California for college and started seeing Jackson, Griffin never doubted Theo would come back to him when the time was right. But now, the future he's been imagining for himself has gone far off course.
      To make things worse, the only person who truly understands his heartache is Jackson. But no matter how much they open up to each other, Griffin's downward spiral continues. He's losing himself in his obsessive compulsions and destructive choices, and the secrets he's been keeping are tearing him apart.
      If Griffin is ever to rebuild his future, he must first confront his history, every last heartbreaking piece in the puzzle of his life."
3. Shadowhouse Fall by Daniel José Older
Sequel to Shadowshaper, Shadowhouse Fall was released just a few days ago. I don't know about you, but I think Daniel José Older has created such a unique magical system with Shadowshaper and can't wait to see what happens next for Sierra.
      "Sierra and her friends love their new lives as shadowshapers, making art and creating change with the spirits of Brooklyn. Then Sierra receives a strange card depicting a beast called the Hound of Light — an image from the enigmatic, influential Deck of Worlds. The shadowshapers know their next battle has arrived.
      Thrust into an ancient struggle with enemies old and new, Sierra and Shadowhouse are determined to win. Revolution is brewing in the real world as well, as the shadowshapers lead the fight against systems that oppress their community. To protect her family and friends in every sphere, Sierra must take down the Hound and master the Deck of Worlds… or risk losing them all."
4. Wild Beauty by Anna-Marie McLemore
This one doesn't come out for another couple of weeks, but when it arrives, I'm dropping everything and reading it. Anna-Marie McLemore is shaping up to be one of my all-time favorite authors. Is it weird that I've had this preordered since March?
      "For nearly a century, the Nomeolvides women have tended the grounds of La Pradera, the lush estate gardens that enchant guests from around the world. They've also hidden a tragic legacy: if they fall in love too deeply, their lovers vanish. But then, after generations of vanishings, a strange boy appears in the gardens.
      The boy is a mystery to Estrella, the Nomeolvides girl who finds him, and to her family, but he's even more a mystery to himself; he knows nothing more about who he is or where he came from than his first name. As Estrella tries to help Fel piece together his unknown past, La Pradera leads them to secrets as dangerous as they are magical in this stunning exploration of love, loss, and family."
5. I Am Not Your Perfect Mexican Daughter by Erika L. Sánchez
You'll have to wait another month before this debut's releases, but I'm so stoked to read it. I already feel like Julia is incredibly relatable.
      "Perfect Mexican daughters do not go away to college. And they do not move out of their parents' house after high school graduation. Perfect Mexican daughters never abandon their family.
      But Julia is not your perfect Mexican daughter. That was Olga's role.
      Then a tragic accident on the busiest street in Chicago leaves Olga dead and Julia left behind to reassemble the shattered pieces of her family. And no one seems to acknowledge that Julia is broken, too. Instead, her mother seems to channel her grief into pointing out every possible way Julia has failed.
      But it's not long before Julia discovers that Olga might not have been as perfect as everyone thought. With the help of her best friend Lorena, and her first kiss, first love, first everything boyfriend Connor, Julia is determined to find out. Was Olga really what she seemed? Or was there more to her sister's story? And either way, how can Julia even attempt to live up to a seemingly impossible ideal?"
6. America, Vol 1: The Life and Times of America Chavez by Gabby Rivera (Illustrated by Joe Quinones)

Because this year I discovered a love for graphic novels, I had to add this one to the TBR. I got to wait until the end of October for it though. Grrr.
      "At last! Everyone's favorite no-nonsense powerhouse, America Chavez, gets her own series! Critically acclaimed young-adult novelist Gabby Rivera and all-star artist Joe Quinones unite to shine a solo spotlight on America's high-octane and hard-hitting adventures! She was a Young Avenger. She leads the Ultimates. And now she officially claims her place as the preeminent butt-kicker of the entire Marvel Universe! But what's a super-powered teenager to do when she's looking for a little personal fulfi llment? She goes to college! America just has to stop an interdimensional monster or two first and shut down a pesky alien cult that's begun worshipping her exploits before work can begin. Then she can get on with her first assignment: a field trip to the front lines of World War II – with Captain America as her wingman!"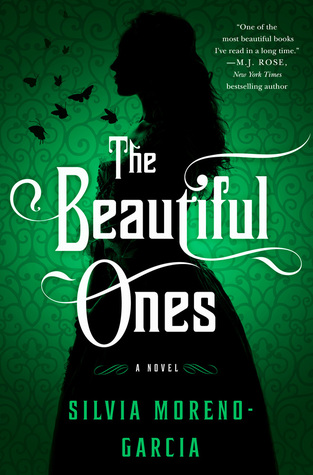 7. The Beautiful Ones by Silvia Moreno-Garcia
Another book I have to wait until the end of October for, but it's so pretty and I have all the confidence in Silvia Moreno-Garcia's world-building abilities. Can't I just have this one now?
      "In a world of etiquette and polite masks, no one is who they seem to be.
      Antonina Beaulieu is in the glittering city of Loisail for her first Grand Season, where she will attend balls and mingle among high society. Under the tutelage of the beautiful but cold Valérie Beaulieu, she hopes to find a suitable husband. However, the haphazard manifestations of Nina's telekinetic powers make her the subject of malicious gossip.
      Yet dazzling telekinetic performer and outsider Hector Auvray sees Nina's powers as a gift, and he teaches her how to hone and control them. As they spend more and more time together, Nina falls in love and believes she's found the great romance that she's always dreamed of, but Hector's courtship of Nina is deceptive."
8. Not Now, Not Ever by Lily Anderson

This one immediately went on my TBR when I heard of it and after finishing The Only Thing Worse Than Me Is You, I need this book real bad. Mark your calendars for November 21st. I should just preorder this one already. I did it, I preordered it.
      "Elliot Gabaroche is very clear on what she isn't going to do this summer.
      1. She isn't going to stay home in Sacramento, where she'd have to sit through her stepmother's sixth community theater production of The Importance of Being Earnest.
2. She isn't going to mock trial camp at UCLA.
3. And she certainly isn't going to the Air Force summer program on her mother's base in Colorado Springs. As cool as it would be to live-action-role-play Ender's Game, Ellie's seen three generations of her family go through USAF boot camp up close, and she knows that it's much less Luke/Yoda/"feel the force," and much more one hundred push-ups on three days of no sleep. And that just isn't appealing, no matter how many Xenomorphs from Alien she'd be able to defeat afterwards.
      What she is going to do is pack up her attitude, her favorite Octavia Butler novels, and her Jordans, and go to summer camp. Specifically, a cutthroat academic-decathlon-like competition for a full scholarship to Rayevich College, the only college with a Science Fiction Literature program. And she's going to start over as Ever Lawrence, on her own terms, without the shadow of all her family's expectations. Because why do what's expected of you when you can fight other genius nerds to the death for a shot at the dream you're sure your family will consider a complete waste of time?"
9. The Poet X by Elizabeth Acevedo
Reaching a little further into the future with this one, but have you heard of Elizabeth Acevedo's Poet X? This one isn't slated until March 2018, but doesn't it sound amazing? The cover is so gorgeous too. I cannot wait.
      "Xiomara Batista feels unheard and unable to hide in her Harlem neighborhood. Ever since her body grew into curves, she has learned to let her fists and her fierceness do the talking.
      But Xiomara has plenty she wants to say, and she pours all her frustration and passion onto the pages of a leather notebook, reciting the words to herself like prayers—especially after she catches feelings for a boy in her bio class named Aman, who her family can never know about. With Mami's determination to force her daughter to obey the laws of the church, Xiomara understands that her thoughts are best kept to herself.
      So when she is invited to join her school's slam poetry club, she doesn't know how she could ever attend without her mami finding out, much less speak her words out loud. But still, she can't stop thinking about performing her poems.
      Because in the face of a world that may not want to hear her, Xiomara refuses to be silent."
Are any of these also on your TBR? Adding any thanks to this post? What book by a Latinx author are you most looking forward to picking up? Let's talk in the comments.