September 15th marks the first day of Latinx Heritage Month. In celebration, I'd like to showcase some of my favorite books written by Latinx authors that I've read over the past year. I also want to share with you a few books on my TBR by Latinix authors that I'm really looking forward to. I made a similar post last year which you can find here and will do my best not to repeat recs. This will be a two-part post because there are so many great books out there that I want to share with you. Part II will be up tomorrow. Covers are linked to Goodreads.
Favorite Books By Latinx Authors:
1. When the Moon Was Ours by Anna-Marie McLemore
If you haven't had the pleasure of reading this book, buy it, run to the library, steal it from a fellow bookworm (kidding). It's one of the most stunning novels I've ever had the pleasure of reading and left me as gasping at its beauty. Anna-Marie McLemore's The Weight of Feathers is also a novel you must get your hands on.
      "To everyone who knows them, best friends Miel and Sam are as strange as they are inseparable. Roses grow out of Miel's wrist, and rumors say that she spilled out of a water tower when she was five. Sam is known for the moons he paints and hangs in the trees, and for how little anyone knows about his life before he and his mother moved to town. But as odd as everyone considers Miel and Sam, even they stay away from the Bonner girls, four beautiful sisters rumored to be witches. Now they want the roses that grow from Miel's skin, convinced that their scent can make anyone fall in love. And they're willing to use every secret Miel has fought to protect to make sure she gives them up."
2. Burn Baby Burn by Meg Medina

I need more people to talk about this book with. You know those characters that you just kind of understand and it feels like they're strangely enough an extension of you? This is how I feel about Meg Medina's protagonist in Burn Baby Burn.
      "After a freezing winter, a boiling hot summer explodes with arson, a blackout, and a serial killer named Son of Sam, who is shooting young people on the streets seemingly at random.
      Not only is the city a disaster, but Nora has troubles of her own: her brother, Hector, is growing more uncontrollable by the day, her mother is helpless to stop him, and her father is so busy with his new family that he only calls on holidays.
      And it doesn't stop there. The super's after her mother to pay their overdue rent, and her teachers are pushing her to apply for college, but all Nora wants is to turn eighteen and be on her own. There is a cute guy who started working with her at the deli, but is dating even worth the risk when the killer especially likes picking off couples who stay out too late?"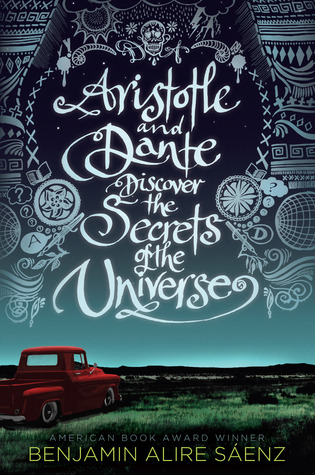 3. Aristotle and Dante Discover the Secrets of the Universe by Benjamin Alire Sáenz
Benjamin Alire Sáenz's Aristotle and Dante Discover the Secrets of the Universe is one of the most poignant novels I've ever read (or in this case, listened to). I related to these characters so much, especially when it came to them grappling with their Mexican-American identities. If you can get your hands on the audiobook, it's fantastic and is narrated by Lin-Manuel Miranda.
      "Aristotle is an angry teen with a brother in prison. Dante is a know-it-all who has an unusual way of looking at the world. When the two meet at the swimming pool, they seem to have nothing in common. But as the loners start spending time together, they discover that they share a special friendship—the kind that changes lives and lasts a lifetime. And it is through this friendship that Ari and Dante will learn the most important truths about themselves and the kind of people they want to be."
4. The Education of Margot Sanchez by Lilliam Rivera

I loved Lilliam Rivera's debut The Education of Margot Sanchez. I love when authors allow their teen protagonists room to grow. Margot makes a ton of mistakes in this one, but I felt myself rooting for her the whole way.
      "After "borrowing" her father's credit card to finance a more stylish wardrobe, Margot Sánchez suddenly finds herself grounded. And by grounded, she means working as an indentured servant in her family's struggling grocery store to pay off her debts.
      With each order of deli meat she slices, Margot can feel her carefully cultivated prep school reputation slipping through her fingers, and she's willing to do anything to get out of this punishment. Lie, cheat, and maybe even steal…
      Margot's invitation to the ultimate beach party is within reach and she has no intention of letting her family's drama or Moisés—the admittedly good looking but outspoken boy from the neighborhood—keep her from her goal."
5. Iron Cast by Destiny Soria
I loved nearly everything about Iron Cast. The world-building is wonderful. I haven't come across another magical world like this one. At the center of this story is two best friends and I really think it's their friendship that makes this one so amazing.
      "In 1919, Ada Navarra—the intrepid daughter of immigrants—and Corinne Wells—a spunky, devil-may-care heiress—make an unlikely pair. But at the Cast Iron nightclub in Boston, anything and everything is possible. At night, on stage together, the two best friends, whose "afflicted" blood gives them the ability to create illusions through art, weave magic under the employ of Johnny Dervish, the club's owner and a notorious gangster. By day, Ada and Corinne use these same skills to con the city's elite in an attempt to keep the club afloat.
      When a 'job' goes awry and Ada is imprisoned, she realizes they're on the precipice of danger. Only Corinne—her partner in crime—can break her out of Haversham Asylum. But once Ada is out, they face betrayal at every turn."
6. Certain Dark Things by Silvia Moreno-Garcia

If world-building is your thing, check out Certain Dark Things. Silvia Moreno-Garcia's world is so impressively fleshed out, it raises the bar for urban fantasy in my opinion.
      "Welcome to Mexico City, an oasis in a sea of vampires. Here in the city, heavily policed to keep the creatures of the night at bay, Domingo is another trash-picking street kid, just hoping to make enough to survive. Then he meets Atl, the descendant of Aztec blood drinkers. Domingo is smitten. He clings to her like a barnacle until Atl relents and decides to let him stick around.
      But Atl's problems, Nick and Rodrigo, have come to find her. When they start to raise the body count in the city, it attracts the attention of police officers, local crime bosses, and the vampire community. Atl has to get out before Mexico City is upended, and her with it."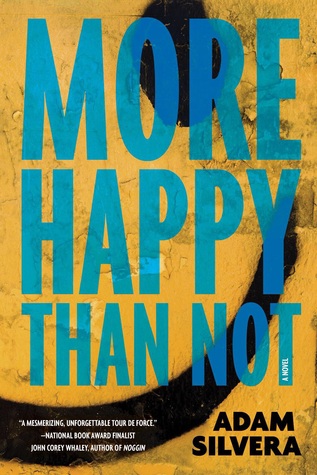 7. More Happy Than Not by Adam Silvera
This book ruined me. Ruined me. This is not an understatement. Reading Adam Silvera's More Happy Than Not is the closest I've ever come to putting a book in the freezer to hide from all the emotions I was feeling.
      "In the months after his father's suicide, it's been tough for 16-year-old Aaron Soto to find happiness again–but he's still gunning for it. With the support of his girlfriend Genevieve and his overworked mom, he's slowly remembering what that might feel like. But grief and the smile-shaped scar on his wrist prevent him from forgetting completely.
      When Genevieve leaves for a couple of weeks, Aaron spends all his time hanging out with this new guy, Thomas. Aaron's crew notices, and they're not exactly thrilled. But Aaron can't deny the happiness Thomas brings or how Thomas makes him feel safe from himself, despite the tensions their friendship is stirring with his girlfriend and friends. Since Aaron can't stay away from Thomas or turn off his newfound feelings for him, he considers turning to the Leteo Institute's revolutionary memory-alteration procedure to straighten himself out, even if it means forgetting who he truly is.
      Why does happiness have to be so hard?"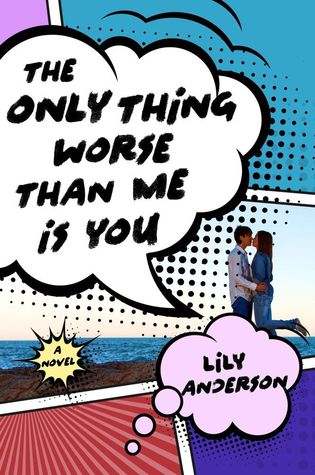 8. The Only Thing Worse Than Me Is You by Lily Anderson

I can't believe I didn't hear about this novel until this year. I just finished it and it was smart and funny and I loved it so so much. If you're looking for a modern retelling of Shakespeare's Much Ado About Nothing, this is your book.
      "Trixie Watson has two very important goals for senior year: to finally save enough to buy the set of Doctor Who figurines at the local comic books store, and to place third in her class and knock Ben West–and his horrendous new mustache that he spent all summer growing–down to number four.
      Trixie will do anything to get her name ranked over Ben's, including give up sleep and comic books–well, maybe not comic books–but definitely sleep. After all, the war of Watson v. West is as vicious as the Doctor v. Daleks and Browncoats v. Alliance combined, and it goes all the way back to the infamous monkey bars incident in the first grade. Over a decade later, it's time to declare a champion once and for all.
      The war is Trixie's for the winning, until her best friend starts dating Ben's best friend and the two are unceremoniously dumped together and told to play nice. Finding common ground is odious and tooth-pullingly-painful, but Trixie and Ben's cautious truce slowly transforms into a fandom-based tentative friendship. When Trixie's best friend gets expelled for cheating and Trixie cries foul play, however, they have to choose who to believe and which side they're on–and they might not pick the same side."
Have you read any of these wonderful novels? Will you be adding any of these to your TBR? What's your favorite book by a Latinx author? Let's talk in the comments.