I have one more mini-review from my July reads to share plus another book I picked up in August. You probably won't see another set of mini-reviews until the end of September, possibly October. Covers below are linked to Goodreads.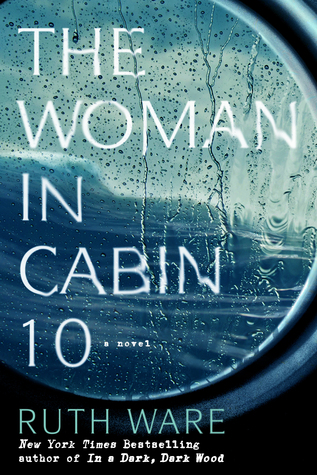 Title: The Woman in Cabin 10
Author: Ruth Ware
Series: N/A
Pages: 340
Publisher: Gallery/Scout Pres
Release Date: July 19th 2017

      "In this tightly wound story, Lo Blacklock, a journalist who writes for a travel magazine, has just been given the assignment of a lifetime: a week on a luxury cruise with only a handful of cabins. At first, Lo's stay is nothing but pleasant: the cabins are plush, the dinner parties are sparkling, and the guests are elegant. But as the week wears on, frigid winds whip the deck, gray skies fall, and Lo witnesses what she can only describe as a nightmare: a woman being thrown overboard. The problem? All passengers remain accounted for—and so, the ship sails on as if nothing has happened, despite Lo's desperate attempts to convey that something (or someone) has gone terribly, terribly wrong…"
"A hand grabbed at my wrist, the grip far stronger than mine. Blind, mad with panic, I groped in the pitch black with my free hand, searching for something, anything, to use as a weapon, and my hand closed over the bedside lamp."
Ruth Ware's The Woman in Cabin 10 did not have as many thrills as I would have liked, but is still the kind of novel that reminds me that I need to give this genre another go. The novel opens with a bang as the protagonist undergoes a traumatic experience with a burglary. Ware does a great job of showing the aftereffects of Lo's experience as she tries to regain a feeling of security. Still in an emotionally fragile state, she boards The Aurora, an upscale cruise liner, on its maiden voyage. Lo never gets a chance to catch her breath as she stumbles upon what she believes to be a murder, but with everyone on the boat accounted for, no one is taking her seriously. Lo's growing sense of isolation is what drives the story forward as she is determined to find answers. She doesn't know who to trust and begins to doubt herself. There are plenty of suspects in this one and I would have liked the author to have given more time to different players beside Lo. With mysteries, I always feel like as a reader I need to be a part of the unraveling portion of the story, so would have appreciated knowing more about the other people on the cruise. Overall, The Woman in Cabin 10 was a decent psychological thriller that has me contemplating what other books from the genre I need to pick up. Give me your book recommendations in the comments!
Rating: 3/5
★★★
---
Title: Wesley James Ruined My Life
Author: Jennifer Honeybourn
Series: N/A
Pages: 256
Publisher: Swoon Reads
Release Date: July 18th 2017 
      "Sixteen-year-old Quinn Hardwick's having a rough summer. Her beloved grandmother has been put into a home, her dad's gambling addiction has flared back up and now her worst enemy is back in town: Wesley James, former childhood friend—until he ruined her life, that is.
      So when Wesley is hired to work with her at Tudor Tymes, a medieval England themed restaurant, the last thing Quinn's going to do is forgive and forget. She's determined to remove him from her life and even the score all at once—by getting him fired.
      But getting rid of Wesley isn't as easy as she'd hoped. When Quinn finds herself falling for him, she has to decide what she wants more: to get even, or to just get over it."

"Unfortunately. I will never not see him because he's everywhere. And that has to change, because I just can't take it."
I wanted to enjoy Jennifer Honeybourn's Wesley James Ruined My Life so much. It had all the makings of a really entertaining, fast-paced contemporary, but as soon as I got more acquainted with Quinn's animosity for former friend Wesley James, it lost me. In truth, the only reason I ended up finishing this one instead of setting it aside was because it was so short. Quinn hatches an immediately plan to get rid of Wesley from her life as soon as he reenters it. He may be over their falling out that took place five years ago, but Quinn isn't. While I can buy into an eleven-year-old Quinn hating Wesley for revealing a secret that ended up being the last straw for her mother, ending her parents' marriage, I found it really silly that a sixteen-year-old Quinn would still use the same kind of flawed logic. While I understand that Quinn needs someone to blame and for her it's hard to see her father as the catalyst for the disintegration of her parents' marriage, it still bothered me that she needed this spelled out before she could even begin to forgive Wesley. I will say that I enjoyed both the complicated and rich familial relationships in this book. Quinn is incredibly close to her grandmother and has been struggling to come to terms with her Alzheimer's diagnosis and what it means for their relationship. Quinn's father has a gambling addiction that the protagonist isn't always sure how to deal with. I do think it would have been nice to see her mother take a more active role in helping Quinn cope with having a father with an addiction, but she was mostly absent.
Rating: 2/5
★★