Yes, I have yet another set of mini reviews for you. If you haven't written mini-reviews yourself for the blog, I highly recommend them when you don't have a lot of time to spend on a full review or you feel like the words just aren't coming as readily as they should. This week I have a few thoughts to share on Becky Albertalli's Simon vs. the Homo Sapiens Agenda and Kasie West's latest release Lucky in Love. Covers below are linked to Goodreads.
Title: Simon vs. the Homo Sapiens Agenda
Author: Becky Albertalli
Series: N/A
Pages: 320
Publisher: Balzer + Bray
Release Date: April 7th 2015 
      "Sixteen-year-old and not-so-openly gay Simon Spier prefers to save his drama for the school musical. But when an email falls into the wrong hands, his secret is at risk of being thrust into the spotlight. Now Simon is actually being blackmailed: if he doesn't play wingman for class clown Martin, his sexual identity will become everyone's business. Worse, the privacy of Blue, the pen name of the boy he's been emailing, will be compromised.
      With some messy dynamics emerging in his once tight-knit group of friends, and his email correspondence with Blue growing more flirtatious every day, Simon's junior year has suddenly gotten all kinds of complicated. Now, change-averse Simon has to find a way to step out of his comfort zone before he's pushed out—without alienating his friends, compromising himself, or fumbling a shot at happiness with the most confusing, adorable guy he's never met."

"So, I keep thinking about the idea of secret identities. Do you ever feel locked into yourself? I'm not sure if I'm making sense here. I guess what I mean is that sometimes it seems like everyone knows who I am except me."
Becky Albertalli's Simon vs. the Homo Sapiens Agenda is as charming as its reputation. Simon Spier has never officially come out and has been dreading it thanks to his overly enthusiastic family. When his emails to the mysterious "Blue" fall into the wrong hands, Simon's not-so-clear relationship with his secret penpal is in danger of crashing and burning before he ever figures out who Blue is in real life. I absolutely adored Simon's voice from the very first sentences. He's an emotionally complex character whose journey I really enjoyed reading about. His email exchanges with Blue are an absolute delight and if the You've Got Mail trope is your thing, you need to pick this one up yesterday. I had a pretty good idea early on who Blue was, but still really loved getting to know him along with Simon through emails first. He's very introverted and hesitant to open up. As much as this is about Simon finding himself, it's also about Blue as well and how the two teens find strength and inspiration in each other. Albertalli's minor characters are a treat. They all feel incredibly real and I was surprised to find how much depth each of them had. There's a really messy, yet interesting dynamic between Simon and his three best friends. It felt like those growing pains you go through when everyone in your close-knit group are all discovering who they are and how you relate to one another begins to evolve. Simon vs. the Homo Sapiens Agenda is a novel I regret not picking up sooner as it had me grinning from ear to ear with its final pages.
Rating: 5/5
★★★★★
---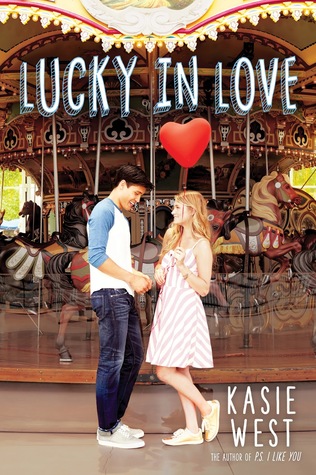 Title: Lucky in Love
Author: Kasie West
Series: N/A
Pages: 333
Publisher: Scholastic
Release Date: July 25th 2017 
      "Maddie doesn't believe in luck. She's all about hard work and planning ahead. But one night, on a whim, she buys a lottery ticket. And then, to her astonishment —
      She wins!
      In a flash, Maddie's life is unrecognizable. No more stressing about college scholarships. Suddenly, she's talking about renting a yacht. And being in the spotlight at school is fun… until rumors start flying, and random people ask her for loans. Now, Maddie isn't sure who she can trust.
      Except for Seth Nguyen, her funny, charming coworker at the local zoo. Seth doesn't seem aware of Maddie's big news. And, for some reason, she doesn't want to tell him. But what will happen if he learns her secret?Why does happiness have to be so hard?"

"In the kitchen, all by myself, I leaned against the counter and covered my face with my hands. I was a multimillionaire. All our problems were about to disappear. This is what true happiness felt like, I was sure of it."
While Kasie West's newest release Lucky in Love is not my favorite by her, it's nonetheless a fun and adorable contemporary read. Maddie Parker is a driven protagonist who has worked hard to earn her way into college. But with money tight at home, college seems like an impossible dream without financial assistance. When she buys a lottery ticket on a whim and wins, her life takes a dramatic turn. Maddie is a protagonist that I immediately related too. Family is incredibly important to her and she feels responsible for keeping them happy and together. There is a tension under every conversation between her parents. Her father lost his job several years ago and her mother juggles two jobs just to keep the family afloat. Her older bother Beau is back from school, hoping to find a job to pay for his next semester of college. Maddie is constantly trying to make things right between her parents, so winning the lottery feels like a godsend. She learns that money isn't always a blessing and that it can only be a temporary fix for people's real problems. So much of Maddie's life revolves around what makes other people happy and she doesn't often put herself first. She can be a bit of a pushover and I grew a little frustrated over how often she let other people manipulate her, but also understood it was a part of her personality and lack of experience with having this kind of wealth. I really liked the dynamic between Maddie and her friends, Blaire and Elise, but probably would have liked to have gotten to know both more. Seth was a sweet love interest who very much cared about Maddie. His easy smiles always brightened her day, but it was the small glimpses of the more serious side of his personality that I wanted to hear more about. Despite its flaws, Kasie West's Lucky in Love is still a must for fans of the author.
Rating: 3/5
★★★