I've got another set of mini reviews for you today and it won't be the last you see this month. I usually post one set of mini reviews per month, but in July I decided that I was going to spend more time reading and less time on reviews. This means for the majority of my July reads, I wrote mini-reviews instead of full ones. I got to say, I didn't hate the experience. This week I have a couple of contemporary reads that could not be more different in tone. Both I believe are worth picking up, but for different reasons. I read my first Adam Silvera novel More Happy Than Not as well as picking up Ashley Poston's fairytale retelling Geekerella. Covers below are linked to Goodreads.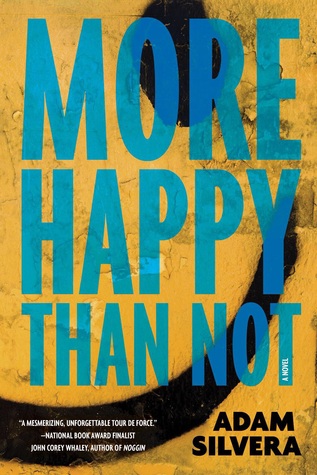 Title: More Happy Than Not
Author: Adam Silvera
Series: N/A
Pages: 304
Publisher: Soho Teen
Release Date: June 2nd 2015 
      "In the months after his father's suicide, it's been tough for 16-year-old Aaron Soto to find happiness again–but he's still gunning for it. With the support of his girlfriend Genevieve and his overworked mom, he's slowly remembering what that might feel like. But grief and the smile-shaped scar on his wrist prevent him from forgetting completely.
      When Genevieve leaves for a couple of weeks, Aaron spends all his time hanging out with this new guy, Thomas. Aaron's crew notices, and they're not exactly thrilled. But Aaron can't deny the happiness Thomas brings or how Thomas makes him feel safe from himself, despite the tensions their friendship is stirring with his girlfriend and friends. Since Aaron can't stay away from Thomas or turn off his newfound feelings for him, he considers turning to the Leteo Institute's revolutionary memory-alteration procedure to straighten himself out, even if it means forgetting who he truly is. 
      Why does happiness have to be so hard?"

"There's a hole inside me too, and questions in my head I can't ignore."
Adam Silvera's More Happy Than Not is one of the most emotionally-gripping novels I've read this year. Dealing with life after his father's suicide and his own suicide attempt isn't easy, but Aaron is taking life day by day. His girlfriend Genevieve has always been there for him and he's got a close group friends who have his back. When Thomas comes into his life, Aaron begins to question who he really is. Does he really care about Genevieve or only wants to? The more time he spends with Thomas, the more he comes to realize that he wants more than just friendship. Admitting he's gay to himself is one thing, but letting the people around him know is something else entirely. Silvera takes us on a roller-coaster of a journey as we follow Aaron struggling to come to terms with his sexual identity in a homophobic environment. Community plays a huge role in Aaron's life which makes their rejection of him so much more painful. Always in the foreground is the Leteo Institute with their experimental procedure that promises to rid its clients of unwanted memories. The harder Aaron's life gets, the more he considers this to be a better alternative than living in a world that refused to accept who he is. One of my favorite parts of this novel is how effortlessly Silvera explores both the ethical dilemma of this kind of procedure as well as asking readers to question who we are at our core. More Happy Than Not is brutally honest, gut-punching in its impact, and unforgettable at every turn.
Rating: 4/5
★★★★
---
Title: Geekerella
Author: Ashley Poston
Series: N/A
Pages: 320
Publisher: Quirk Books
Release Date: April 4th 2017

      "When geek girl Elle Wittimer sees a cosplay contest sponsored by the producers of Starfield, she has to enter. First prize is an invitation to the ExcelsiCon Cosplay Ball and a meet-and-greet with the actor slated to play Federation Prince Carmindor in the reboot. Elle's been scraping together tips from her gig at the Magic Pumpkin food truck behind her stepmother's back, and winning this contest could be her ticket out once and for all—not to mention a fangirl's dream come true.
      Teen actor Darien Freeman is less than thrilled about this year's ExcelsiCon. He used to live for conventions, but now they're nothing but jaw-aching photo sessions and awkward meet-and-greets. Playing Federation Prince Carmindor is all he's ever wanted, but the diehard Starfield fandom has already dismissed him as just another heartthrob. As ExcelsiCon draws near, closet nerd Darien feels more and more like a fake—until he meets a girl who shows him otherwise."
"I hide the phone under my pillow. Because I'm not a princess. And this is the impossible universe, where nothing good ever happens."
Ashley Poston's Geekerella is at its core an ode to fandom culture and all things deemed nerdy. If you've ever seen any kind of modern adaption of Cinderella, you'll be familiar with the bones of this one. Elle Wittimer is treated unfairly by her stepmother and stepsisters, who have always regarded her as more than a little weird because of her obsession with the cult science–fiction television show Starfield. For Elle, her connection to Starfield and its characters have a lot to do with the times she spent with her father geeking out over the show. In a way, being a part of the Starfield fandom helps her to feel wholly herself and gives her blog gives her an outlet to express who she is. When she comes across an old Starfield relic of her father's, she takes it as a sign that maybe she can finally do something for herself. In these types of stories, I'm used to reader's perspectives being limited to one protagonist, but Geekerella features a dual perspective and so we get more than just a glimpse at who our prince charming is. Darien Freeman has just landed the biggest role of his career, stepping into the shoes of Federation Prince Carmindor as a Starfield is set for a movie reboot. Die-hard fans are immediately skeptical, including one particularly harsh blogger, but Darien is determined to be the best Carmindor he can be. While Elle's character arc revolves around her learning to take a step of faith and finally gaining control of her own life, Darien grapples with fame being a double-edged sword. Feeling trapped most of the time, Darien is always playing a part. If it isn't the paparazzi keeping a close eye on him, then it's his father who is much better at playing the part of manager than being a supportive parental figure for his son. Geekerella is a quick read that encourages every nerd out there to embrace who they are in a world that may not always understand their enthusiasm while also having fun a familiar fairy tale trope.
Rating: 3/5
★★★