Writing slumps are the worst when it comes time to write a review or discussion post. I've found a way to work through those slumpy times by utilizing the mini-review. It's loads less stressful when I know all I got to do is make my brain work for a paragraph or so before allowing it to check out again. This week I've got mini-reviews for Alison Goodman's sequel The Dark Days Pact and Renée Ahdieh's highly anticipated Flame in the Mist. Covers below are linked to Goodreads.
Title: The Dark Days Pact
Author: Alison Goodman
Series: Lady Helen, #2
Pages: 496
Publisher: Viking Books for Young Readers
Release Date: January 31st 2017
      "June 1812. Just weeks after her catastrophic coming-out ball, Lady Helen Wrexhall—now disowned by her uncle—is a full member of the demon-hunting Dark Days Club. Her mentor, Lord Carlston, has arranged for Helen to spend the summer season in Brighton so that he can train her new Reclaimer powers. However, the long-term effects of Carlston's Reclaimer work have taken hold, and his sanity is beginning to slip. At the same time, Carlston's Dark Days Club colleague and nemesis will stop at nothing to bring Helen over to his side—and the Duke of Selburn is determined to marry her. The stakes are even higher for Helen as she struggles to become the warrior that everyone expects her to be."
"She wet her lips, remembering the animal savagery she had felt on the arrival of her full Reclaimer strength. She had lost precious reason, all control, and had tried to kill his lordship. It had been one of the most terrifying moments of her life. One that she did not want to repeat."
Alison Goodman delivers another intriguing novel with The Dark Days Pact, sequel to the first installment in her Lady Helen series. Since learning that the world is a much more dangerous place than she ever imagined, Lady Helen has finally embraced this new world full of demons and accepted that she has a role to play in protecting humanity as a Reclaimer. Lord Carlston is determined to complete her training before the Grand Deceiver makes his or her appearance, but time is running out and Lady Helen isn't quite sure if she can live up to his expectations. Just like the first novel, with this one I was hoping to read a more action-packed novel. If you don't go into this one or the previous installment understanding that it's a slow-paced kind of novel that does eventually culminate in an exciting ending, it might be a really frustrating read. The conflict in this sequel focuses more on the on-going politics within the Dark Days Club. Though its members should be looking out for the good of humanity, their personal biases and motivations pit them against one another. I did find it kind of frustrating that Helen was a bit naive when it came to the machinations of these players, but the storyline is really driven by Helen's big heart and thus her capacity to be manipulated because of it. The ending for this one knocked the air right out of me–even when I did see a particular twist coming–but I'm eager to read where Lady Helen's story goes from here.
Rating: 3/5
★★★
---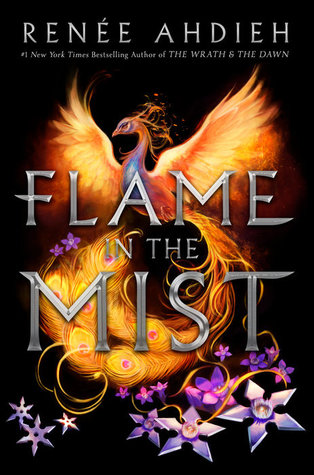 Title: Flame in the Mist
Author: Renée Ahdieh
Series: Flame in the Mist, #1
Pages: 393
Publisher: G.P. Putnam's Sons Books for Young Readers
Release Date: May 16th 2017

      "The only daughter of a prominent samurai, Mariko has always known she'd been raised for one purpose and one purpose only: to marry. Never mind her cunning, which rivals that of her twin brother, Kenshin, or her skills as an accomplished alchemist. Since Mariko was not born a boy, her fate was sealed the moment she drew her first breath.
      So, at just seventeen years old, Mariko is sent to the imperial palace to meet her betrothed, a man she did not choose, for the very first time. But the journey is cut short when Mariko's convoy is viciously attacked by the Black Clan, a dangerous group of bandits who've been hired to kill Mariko before she reaches the palace.
      The lone survivor, Mariko narrowly escapes to the woods, where she plots her revenge. Dressed as a peasant boy, she sets out to infiltrate the Black Clan and hunt down those responsible for the target on her back. Once she's within their ranks, though, Mariko finds for the first time she's appreciated for her intellect and abilities. She even finds herself falling in love—a love that will force her to question everything she's ever known about her family, her purpose, and her deepest desires."
"Mariko bit back a scream as clanking metal and rustling bodies converged in the nearby shadows. Chaos grew with each passing moment. The flames in the norimono leapt higher. Faster. Their heat turned her skin pink. She clasped her fingers tight, smothering her coughs as she shrank farther into the corner."
I had a tremendous amount of expectations going into Renée Ahdieh's Flame in the Mist, the first installment in her newest series. The Wrath and the Dawn is one of my favorite duologies and I am still struck by the beauty of Ahdieh's writing. Flame in the Mist unfortunately did not meet my expectations. It's a novel that I really wanted to like, but I never felt fully immersed in its world. I liked the concept of the story more than it's execution. I liked the idea of a girl disguising herself as a boy in order to uncover the truth about the failed assassination attempt on her life, but Mariko herself felt like an incomplete character. We're told countless times that she is odd and clever, but I never felt that the story actually showed these characteristics in action. She infiltrates the Black Clan, a group of thieves who she believes tried to kill her, but she never really has a concrete plan on how to find answers to her questions. I found myself really frustrated while reading this one because a lot of time is spent on character introspection. I wouldn't mind this normally since inner conflict is a good sign of a character-driven novel which I love, but so many times these characters were reflecting on things I'd already been told and it felt very superfluous. The book has this really interesting magical element that is not explored enough and which I wanted so bad to learn more about. In the end, I never felt an emotional connection to any of the characters which really affected the way I received this book.
Rating: 3/5
★★★