Why, June, why did you end so quickly? I can't believe that half the year is already gone. I read less than I thought I would this month. I can't entirely explain it, but I just found it hard to start a new book once I finished the last. I finished five books in June, coming close to six, but not quite. I've got some major reading plans for July however and am really excited to get started. The Summer 2017 Comment Challenge is currently underway. I really enjoy cohosting this challenge & love seeing the new connections bloggers make through their partnership.
(Book covers below are linked to my reviews, unless otherwise specified.) 
Favorite Book This Month:
Maurene Goo's I Believe in a Thing Called Love was so unbelievably cute. If you're looking for a fun contemporary for the summer, pick this one up. Review for this one coming soon. Cover linked to Goodreads.
Least Favorite Book This Month: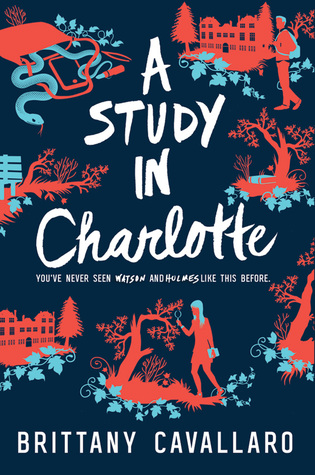 I really wanted to like Brittany Cavallaro's A Study in Charlotte, but in the end, there were too many things about it that I didn't enjoy. Review coming soon. Cover is linked to Goodreads.
Reviews Posted This Month:
Read But Not Reviewed Yet:
(covers linked to Goodreads)
Notable Blog Posts This Month:
Top Ten Tuesday: Favorite Reads of 2017 So Far – Loved sharing my favorite reads so far this year. I've picked up some amazing titles and can't wait for the second half of 2017.
Summer 2017 Comment Challenge: July Sign-up – The Summer 2017 Comment Challenge is happening now. Partners for July have already been assigned, but if you'd like to join us for August, our sign-up post will go up on the 3rd.
Armchair Book Expo – I had so much fun participating in this online book conference. Unfortunately, this is going to be the last Armchair Book Expo and while I am incredibly sad, I'm so thankful for all the hosts' hard work.
2017 Second Quarter Book Haul: I Feel a Book-Buying Ban Coming On – My latest book haul post in which I failed to restrain my book buying. Whoops.
Reading Challenges:
I will be making a separate post for my reading challenges this summer, so look for an update post very soon.
July Releases I'm Excited For:
How was the first half of your year? Any July releases you're really looking forward to? Let me know in the comments and feel free to leave me a link to your own wrap-up post and I'll be sure to visit.