Who else felt that May was really busy? I feel like there was always something going on and it was almost impossible to give my full attention to reading or blogging. This month I somehow managed to finish four novels and two graphic novels. I read less than I usually do, but it was simply because I really could not find the time. I should have finished one more book this month, but this past holiday weekend was so busy, I had very little time to read. In other news, the Comment Challenge is back for the summer. If you're interested in joining this challenge for July, a sign-up post will go up on the 3rd.
(Book covers below are linked to my reviews, unless otherwise specified.) 
Favorite Book This Month: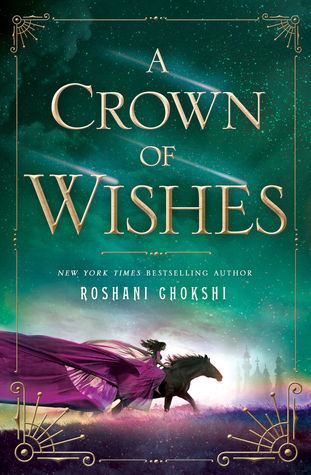 My favorite book this month is hands down Roshani Chokshi's A Crown of Wishes. I loved the setting, the writing, and the characters. I loved the world-building, the story, and the character development. Basically, I loved everything about this novel and it is officially my favorite read so far this year.
Least Favorite Book This Month:
All the books I read this month received a positive rating from me.
Reviews Posted This Month:
Read But Not Reviewed Yet:
(covers linked to Goodreads)
Notable Blog Posts This Month:
Top Ten Tuesday: Reading Wishlist for Female Characters – Yes, this post was my favorite TTT topic for May. It gave me a chance to talk about all my wants for female characters.
Summer 2017 Comment Challenge: June Sign-up – As I mentioned in the intro, the Comment Challenge is back for the summer. June signups are closed, but our July sign-up post goes up on June 3rd. We'd love for you to join us!
FLYLēF 2nd Anniversary: Friendship Tour & Giveaway – Always great to celebrate your fellow bloggers' blogiversaries. Lonna, who is my partner in crime for the Comment Challenge, is celebrating her blogiversary with a friendship tour and giveaway. If you haven't entered, be sure to do so!
FLYTIP: Dog-Ear-Me-Not – This was a really fun post to put together where I share some of the ways I save my place while reading.
Reading Challenges:
One of these months, I'm going to read an absurd number of fantasy novels…
1. The 2017 Debut Author Challenge is hosted by That Artsy Reader Girl. This month I didn't finish any debut novels.
Challenge Goal: 12 books; Current Count: 9 books
2. Flights of Fantasy Reading Challenge 2017 is hosted by Alexa Loves Books and Hello, Cherry. This month I read two fantasy novels for this challenge: Roshani Chokshi's A Crown of Wishes and N.K. Jemisin's The Hundred Thousand Kingdoms.
Challenge Goal: 20 books; Current Count: 8 books
June Releases I'm Excited For:
Was your May as busy as mine? Did you enjoy your Memorial Day weekend? What's your favorite 2017 read so far? Let me hear from you in the comments and feel free to leave me a link to your own wrap-up post and I'll be sure to visit.