I finally picked up Ms. Marvel! This year I've picked up my very first graphic novels and I can't believe I've waited this long. They've been perfect for whenever I'm really not feeling like picking up a traditional novel. I've been trying to decide what the best way to review graphic novels is. Should I dedicate a full review to each one or wait until after I've read a few? I figure utilizing the mini-review is the best way to do this for now. Below are my mini reviews for the first two volumes of Ms. Marvel and Stephanie Tromly's Trouble Makes a Comeback. Covers below are linked to Goodreads.
Title: Ms. Marvel, Vol 1: No Normal
Author: G. Willow Wilson
Illustrator: Adrian Alphona
Series: Ms. Marvel, Vol. 1
Pages: 120
Publisher: Marvel
Release Date: October 30th 2014 
      "Kamala Khan is an ordinary girl from Jersey City — until she's suddenly empowered with extraordinary gifts. But who truly is the new Ms. Marvel? Teenager? Muslim? Inhuman? Find out as she takes the Marvel Universe by storm! When Kamala discovers the dangers of her newfound powers, she unlocks a secret behind them, as well. Is Kamala ready to wield these immense new gifts? Or will the weight of the legacy before her be too much to bear? Kamala has no idea, either. But she's comin' for you, Jersey! "
"These powers mean something, something scary but good. And for the first time, I feel big enough for this, big enough to have greatness in me."
Story time: I inadvertently read the first two volumes of Ms. Marvel without knowing it. I checked out Ms. Marvel, Vol. 1: No Normal and didn't notice that the edition I received also included the second volume, Ms. Marvel, Vol. 2: Generation Why. So when I went to pick up my hold for volume two, it turns out I had already read it.  So this mini-review covers the first two volumes though it reads like I'm only covering the first.
Ms. Marvel Vol. 1: No Normal is the kind of graphic novel I would have loved as a teen. Kamala Khan is such a relatable character. She tries to please her parents, but at the same time is also trying to forge her own identity, which isn't easy when she isn't sure who she is herself. She wants to fit in at school, but it can be hard when you're Pakistani and Muslim and some of your classmates don't understand and won't take the time to understand your culture or religion. When Kamala first gets her powers, she believes she needs to be someone else, but discovers through a series of mishaps and some sage wisdom from an unlikely source that she is brave enough and her heart is big enough do take on the responsibility of being a hero. With a lovable sidekick and a cameo appearance from none other than Wolverine, Kamala will experience all the ups and downs of what it means to be a superhero as well as trying to find the right balance between this new life and her personal one.
Rating: 4/5
★★★★
---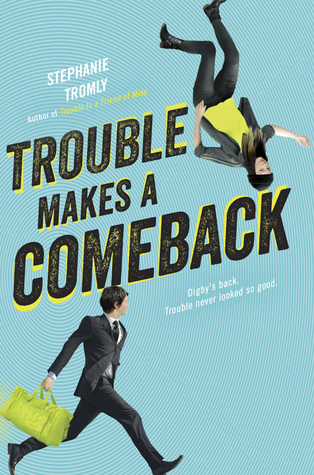 Title: Trouble Makes a Comeback
Author: Stephanie Tromly
Series: Trouble, #2
Pages: 336
Publisher: Kathy Dawson Books
Release Date: November 22nd 2016

      "Achieving high school "normal" wasn't as hard as Zoe Webster expected, but she's beginning to think Hollywood oversold how much fun it all is. Isn't dating a jock supposed to be one long Instagram dream? Shouldn't she enjoy gossiping 24/7 with her two BFFs? And isn't this, the last year before the finish line that is Princeton, meant to be one of her best? If "normal" is the high school goal, why can't Zoe get Philip Digby—decidedly abnormal, completely chaotic, possibly unbalanced, undoubtedly rude, and somehow…entirely magnetic—out of her mind?
      However normal Zoe's life finally is, it's about to get blown up (metaphorically. This time. She hopes, anyway.*) when Digby shows up on her doorstep. Again. Needing her help to find his kidnapped sister. Still. Full of over-the-top schemes and ready to send Zoe's life into a higher gear. Again.
      It's time for Zoe Webster to choose between staying in the normal lane, or taking a major detour with Digby (and finally figuring out what that stolen kiss actually meant to him)."
      "Do you think it's bad I'm disappointed no one's turned up to murder us?"
Stephanie Tromly's Trouble Is a Friend of Mine is one of the most charming and funny debuts I've read. Zoe Webster and Philip Digby made quite the team as he managed to find trouble around every corner and she found herself going along with his schemes despite her better judgement. In this sequel, Trouble Makes a Comeback, Digby finally returns after a five-month absence. Since Digby left, Zoe has settled into a more normal life. She has new friends, a new boyfriend, and hardly ever thinks about her adventures with Digby. But once he's back in her life, Zoe finds it hard to juggle these two very different parts of her life. After finishing the first book, I really hoped that we would get a sequel because I, like Digby, desperately wanted to know what really happened to his sister after she was kidnapped years ago. While we finally get some answers to this mystery, it did feel like there was no proper climax to the story and in this way, I'd say this sequel does fall into the sophomore slump trap. One of my favorite parts about Trouble Is a Friend of Mine is the undeniable chemistry and banter between the two lead characters. In this second book, their rapport didn't feel quite as sharp and while I enjoyed seeing how their relationship had evolved, I kind of wish this part of the story could have been wrapped up earlier, so we could focus more on the mystery of Digby's sister. Still, Trouble Makes a Comeback was a lot of fun and I look forward to reading the conclusion.
Rating: 3/5
★★★