Much to my own astonishment, I picked up seven books this month. I say astonishment because I've been combating a bit of a reading slump these past couple of weeks. I could read, but I really had to make myself pick up a book. This month I participated in a readalong of Jane Austen's Emma which I found so enjoyable. I'm planning on taking a little blogging hiatus in April, so you can look for that post around the 12th. I feel myself falling into a blogging/reading funk and I don't want to continue to force myself into finishing posts/books. This month I also posted my book haul for the last three months and surprisingly, I wasn't as out of control as I thought I was. Progress, people.
(Book covers below are linked to my reviews, unless otherwise specified.)
Favorite Book This Month: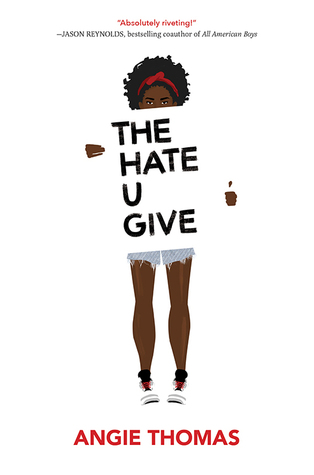 If you're breathing, you've probably heard of Angie Thomas's The Hate U Give. If this book isn't on your TBR, it needs to be. Buy it. Request it. Read it.
Least Favorite Book This Month:
All the books I read this month received a positive rating from me.
Reviews Posted This Month:
Read But Not Reviewed Yet:
(covers linked to Goodreads)
Notable Blog Posts This Month:
Top Ten Tuesday: Spring TBR List – I've stopped making TBR lists every month, but every once in a while I don't mind taking a look forward and sharing what books I'm hoping to get to.
2017 First Quarter Book Haul – I bought some really amazing books these last three months. I've read quite a few and the rest are ones I'm really excited to pick up.
Reading Challenges:
I'm starting to fall behind on my Flights of Fantasy challenge. I've been meaning to pick up more fantasy books, but I just haven't really found the time.
1. The 2017 Debut Author Challenge is hosted by That Artsy Reader Girl. This month I read two debuts: The Education of Margot Sanchez by Lilliam Rivera and The Hate U Give by Angie Thomas.
Challenge Goal: 12 books; Current Count: 8 books
2. Flights of Fantasy Reading Challenge 2017 is hosted by Alexa Loves Books and Hello, Cherry. This month I read The Bone Witch by Rin Chupeco.
Challenge Goal: 20 books; Current Count: 5 books
April Releases I'm Excited For:
Which March read was your favorite? What's on your spring TBR? Let me hear from you in the comments and feel free to leave me a link to your own wrap-up post and I'll be sure to visit.